Sunday morning. The sun picked through the big window of the Four Points in West Lafayette. My three-year-old still wrapped in the hotel sheets. His sleepy face shined with a broad smile:
– Where are we, Mommy?
– We are in Lafayette, honey!
– Lafa-ette?
Midwest travel took us to so many places this year. My 3-year-old stopped trying to remember the names this summer. He differentiated everything by HOME and NOT HOME.
There is something to be said about merging rooms: they are amazing! My older kids are 9 and 11, but the sibling dynamics sometimes is more than I can handle. Hours in the car together calls for some space when we are in the hotel. I mean, seriously, I need some separation from my two children. That is where merging room comes very handy.
I can still hear and see them (if I want to), yet they are technically in a different room. I have also noticed that when my children are in a separate space from us, they get along easier too. They will most likely be on their iPads watching TV. Wide beds of the Four Points can fit kids' suite cases, toys, and there is still plenty of room left for sleeping.
But it's time to get going! We had a fantastic time in Lafayette, Indiana, but what to do next?
The Adventure
Today's adventure is all about this country history. Weekend travel have thought us to pack light and only and soon after we loaded the car with the luggage and pull off the hotel parking lot
Tippecanoe Battlefield
If I was to search for a historical field trip, this address would immediately catch my attention: Tippecanoe Battlefield. 200 Battleground Ave, Battle Ground, Indiana.
Even if the names Prophetstown and Tippecanoe don't mean much to you, you will most likely think of a link to the Native American history you won't be wrong. These two words were two different sides of the battle in the Battle Ground, Indiana in 1800s. Right here you can stand where Governor William Henry Harrison rallied the troops in 1810. Travel a few minutes and find yourself in the prairie where Prophet united Native American tribes against the American Army.
Tippecanoe Battlefield
As we approached our destination, the GPS announces,
"Approaching Tippecanoe Battlefield is on your left."
Toward us was moving a tall monument surrounded by trees and picnic tables. We parked and looked around. This is the place where an American camp once stood!
Shooting up in the sky, there was an 85-foot marble obelisk. Its presence so monumental and silent said: it.. happened… here… On November 7, 1811, a battle took place. William Henry Harrison forces went against Tecumseh's Native American confederation.
Territorial Governor William Henry Harrison wanted Indiana to join the Union. He needed land, and he worked hard on negotiating treaties and playing off tribes against each other. His efforts were slowed down by Tecumseh and his brother Prophet. Tecumseh and Harrison had several meeting but couldn't find common ground. Governor called for reinforcement. Tecumseh decided to recruit other tribes to join his growing camp in the price for the standoff.
Today this national historic landmark in the Battle Ground, Indiana is surrounded by historical and scenic hiking trails. There is also a museum.
Tippecanoe Museum
The Tippecanoe Museum has been created to tell the story of the Tippecanoe battle with the exhibits and a fiber-optic map of actions. It also put the fight into perspective with other historical events and led to the War of 1812 between the United States and the United Kingdom. It also had a direct link to the Battle of Lake Erie in September of 1813 that we visited earlier while exploring Ohio.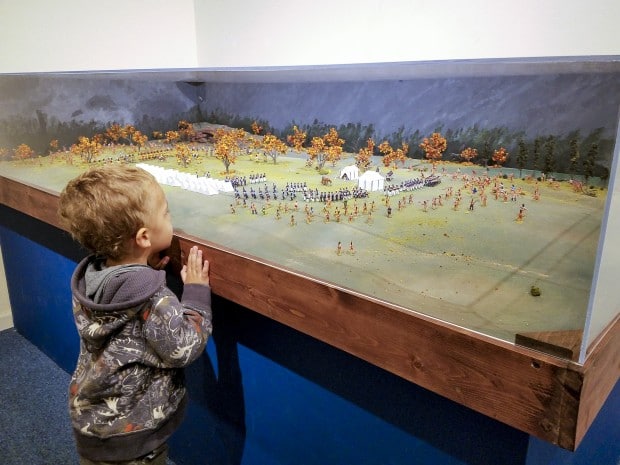 Tecumseh, the leader of the Native American Warriors, left to recruit other Native American Tribes. Harrison used his absence to bring 1,000 army men to reinforce his camp. The conflict was unavoidable!
Prophet decided to strike. Tribes attacked the American camp in the middle of the night. As Prophet prayed, his men fought. But with a sunrise, the tables have turned and forced Indians to withdraw. Next day Harrison advanced on Prophetstown, and it abandoned. He burned what remained to the ground.
Prophetstown
We had a hard time getting to Prophetstown, Indiana. Prophetstown State Park is 900 acres! It's huge! We could see yet our GPS was going haywire. They are telling us to go for several miles in one direction and suddenly telling us to make a U-Turn and go into the opposite directions. Later we were told, it's a common occurrence – even tour buses often get a run around before finally reaching the destination.
Prophetstown Tribes
Growing up in the world with Native Americans corrupted by Europeans, Tecumseh and the Prophet wanted to create a traditional community with Indian values. They chose settlement location at a junction of the Wabash and Tippecanoe Rivers. At least fourteen tribes join the pan-Indian confederacy at stayed at the Prophetstown.
Prophetstown State Park
What used to be a Prophetstown back in the nineteenth century is now a Prophetstown State Park.
The park's landscape has been shaped by ice from glaciers, moving water, fire and human hands that helped maintain the vast tall prairie grass. This is where Native Americans hunted and lived for thousands of years. Later here they set aside their differences came together to stop their common enemy.
This is the place where a camp might have a stand. A replica of a Woodland Native American village was created here to show visitors the village life in the 1800s. Prophetstown, Indiana hosts educationals tours to introduce kids to Native American way of living.
There is a monument near in the memory of Native American Tribes that used to live in this area – 14 known tribes and two stones for the tribes we don't know about.
Connected by the hiking and bicycle trails, Natural History Museum connects you to an observation deck, biking and hiking trails, a farmhouse, Aqua Park, and camping areas.
The State Park is in the process of restoring wetlands, prairie, and woodlands to their native state.
Gibson Farmhouse
The Farmhouse is located on the top of the hill and is impossible to miss when you first enter the Prophetstown state park. It has very little to do with the Lives of Native Americans in the area but instead shows a farm lifestyle of the 1920s. The farmhouse is a museum that combines things that might have been in a house around that time. The house is set up like a traditional farmhouse, complete with furniture and baking. There is a wood burning stove, and a washing board, a self-playing piano, and a big black phone mounted to the wall. Livestock outside and other smaller buildings is a part of the immersive XX century begin the experience.
It's not a museum, but a training farm for sustainable agriculture, homesteading, gardening, canning, and a farm-to-table living.
While the 1920s sounds like a century ago, I remembered a wood burning stove from my grandparent's summer home. Before I came to the United States twenty years ago, I considered a washing board the only way to get my clothes clean.
It didn't seem right to leave the Prophetstown park just yet. It looked like the State Park had other stories to tell, but my youngest one was getting tired, and the older kids had enough if history for one day.
I-65 carried us out of a history textbook and merged with I-90 toward Chicago. The kids were sleeping after an eventful day while my husband and I couldn't stop talking about the adventure we had.
What else to do in Lafayette? We have a couple of other good ideas
5 Things to do in Lafayette, Indiana:
Drive or

Fly

?

Lafayette is only two hours away from Chicago. Easy drive down Rt 65 will get you there in no time

How Long to Stay Here.

A perfect weekend trip! Historical field trips, Wildlife, and farms will keep you busy for a while.

Will you need a car to get around?

Yes! Everything is

relatively

close, yet you will need a car.

Family Activities.

Too many to list, but Columbian Park and Zoo, as well as the Wolf Park and Exploration Acres, are great for a family with little kids

.

Local food not to

be missed

. Triple XXX, Town and Gown Bistro, Dog N Sud's, Igloo Frozen Custard. Read more about our 7 Best and Unique FOOD SPOTS in Lafayette, IN.