Do you adore Holiday Attractions in the Midwest? While some dream of a white Christmas others can't wait to see colorful lights twinkling on trees adorned with ornaments and displays in the neighborhood.
The neat thing about this time of the year is that you can have it all, plus more.  The Midwest is home to amazing holiday attractions, from life-sized manger scenes to drive-thru holiday light displays.
Here's a look at some of the best holiday attractions around the Midwest.
Walk and Drive-Through Holiday Attractions in the Midwest
Covid-19 alert: Before you plan your visit, check the website or Facebook page of the attraction to learn its Covid requirements or restrictions.
Illinois
Warren: The Warren Community Building at the Old Stone Hotel is the site of Warren's Festival of Trees, which runs through Jan. 9. It features more than 50 uniquely decorated Christmas trees, the trees were designed by community organizations, churches, school children. Warren is located about 40 minutes east of Galena.
Gurnee: Six Flags Great America hosts Holiday in the Park with over 3 million sparkling lights, themed entertainment, and holiday treats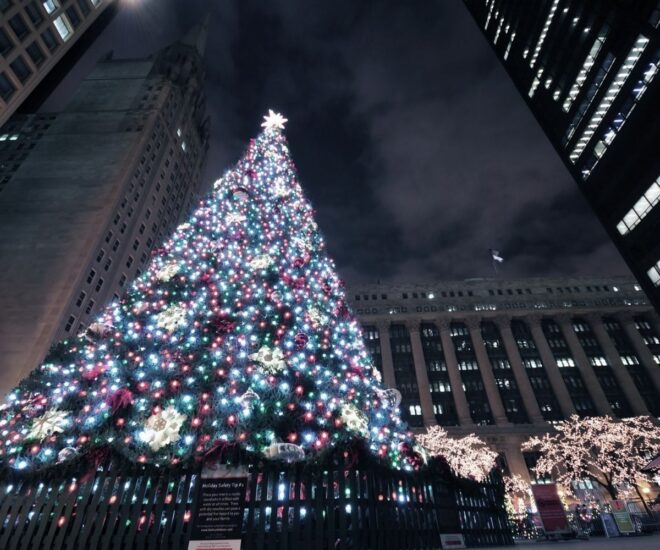 Lisle: An amazing illumination experience with Tree Lights at The Morton Arboretum. This year's driving experience (20–30 minutes long) features an unparalleled spectacle of color, light, and music you won't experience anywhere else.
Pingree Grove: Goebbert's Pumpkin Patch is known for it's Harvest display. However, their drive-through Winter Light Show amazing light display is set to music and is featuring one million lights! The event takes place from November 20 to January 3rd.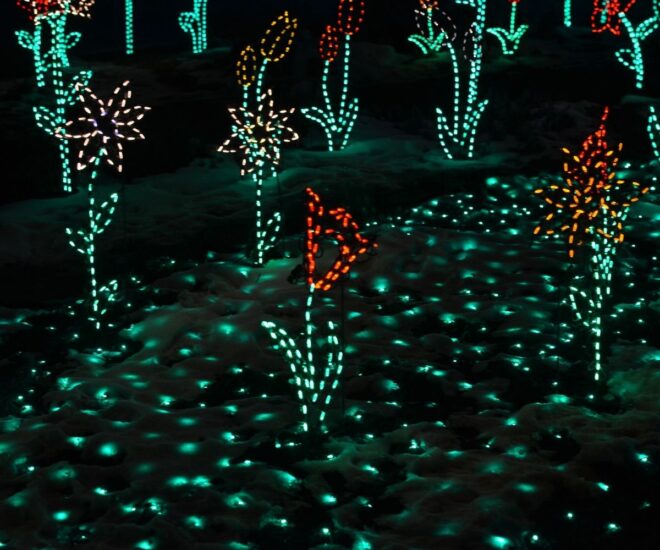 Rolling Meadows: The Christmas Light Show here runs nightly 4.30 to midnight. The admission is a non-perishable, unexpired food donation!
Northbrook: Let It Shine Drive-Through experience spreads the holiday cheer as you cruise past dazzling archways, sparkling candy canes, glowing snowmen, and more illuminated installations.
Glenview: A Mesmertastic Holiday Lightacular is the Kohl Children's Museum's newest outdoor activity. This is a walk-through display with a number of activities for kids.
Winnetka: Christmas on Evergreen Light show takes place from November 29 to January 9. Organizers ask for Donations to Make-A-Wish.
Indiana
Christmas is never complete without a visit to the world-famous Santa Claus Land in Santa Claus. Enjoy the Santa Claus Land of Lights 5-9 p.m. weekends through Dec. 6 before changing to nightly displays Dec. 11-27.
The show includes thousands of festive lights over a 1.2-mile long drive-thru route at the Lake Rudolph Campground and RV Resort. The Jolly Old Elf himself will visit with children at Santa's Toys 3-6 p.m. Dec. 10, 15, and 23, and 4-7 p.m. Dec. 19-20.
Hammond is the inspiration for the book and movie, A Christmas Story. The comedic childhood memory is told each year at the Hammond visitors center. You can catch the exhibit, featuring six animatronic displays, daily through Jan. 3.
Iowa
Roughly 1,700 German prisoners of war held at a camp near Algona, about an hour west of Clear Lake in North Iowa, during World War II. While at the Iowa POW camp, the Germans carved a life-size manger scene to display in the community.
The tradition started in 1945, continues each year, as the city displays exhibit Dec. 1-31. While visiting Algona for the Christmas wonder, you can also teach children about the war and the prisoners' time in Iowa.
Kansas
A 70-year tradition continues in WaKeeney, as the city in western Kansas embraces its role as Christmas City of the High Plains.
A four-square-block area features festively adorned trees, wreaths, and more. A 35-foot-tall, decorated Christmas tree planted firmly in the middle of the town's main street. Santa's village feature holiday-themed murals, buildings, and cutouts, WaKeeney truly is Kansas' Christmas city.
Michigan
The Michigan International Speedway in Brooklyn comes to life during the holiday season as a drive-thru holiday lights show. More than a million colorful lights will twinkle as part of several exhibits over a five-mile route along the race track. Nite Lites races around the track nightly 5:30-9 p.m. Sunday-Thursday and until 10 p.m. Friday-Saturday through Dec. 31.
Minnesota
Bentleyville Tour of Lights in Duluth is a drive-thru event this year. With a $10 per vehicle admission, the festival features millions of colorful, twinkling lights in a variety of displays. It runs nightly through Dec. 31
With shows starting 5-9 p.m. Sunday-Thursday and until 10 p.m. Friday-Saturday. Plans call to return to a free walk-thru show in the future.
Missouri
Kansas City's Zona Rosa shopping center brought back a city tradition in 2001 when it started displaying holiday crowns around the outdoor center. The giant crowns hang above intersections in west KC.
You can drive or walk around Zona Rosa to enjoy the illuminated crowns. You can want to visit the 50-foot-tall Christmas tree in the town square, as well as enjoy several smaller trees decorated for the season. 
Nebraska
Omaha's Lauritzen Gardens celebrates the Christmas season with a 20-foot-tall tree made of…poinsettias. A rare design, the tree, located in the visitors center, is created using 700 poinsettias. The botanical garden features more than 5,000 poinsettias from about 20 species, nestled among model trains that travel around the area. The annual Holiday Poinsettia Show runs daily through Jan. 3 (closed Christmas and New Year's).
North Dakota
Santa Claus visits Fargo weekends during December. Santa here hosts children of all ages. Meanwhile, Santas Village offers a view of Santa and his team hard at work at the North Pole weekdays with a virtual view at Rheault Farm.
Each Saturday and Sunday through Dec. 20, Santa and his reindeer will be at the village to listen to children's Christmas wishes. The holiday villages also feature holiday light displays.
Ohio
Home to the world's most famous zoos, it seems a natural fit to visit the Columbus Zoo and Aquarium for the annual Wildlights exhibit. Running nightly until Jan. 3 (closed Christmas Eve and Christmas Day), Wildlights features a variety of light shows and exhibits at Adventure Cove and Conservation Lake. Hop aboard the Polar Express or enjoy a camel ride.
Santa Claus is there to meet with children at the North America exhibit. 
South Dakota
Falls Park in Sioux Falls comes alive each night with a drive-thru or walk-thru Winter Wonderland at Falls Park exhibit. Seasonal green and red lights shining brightly in the falls as the Big Sioux River runs through the area. The park features more than 355,000 colorful lights in a variety of shapes, such as dancing Christmas trees or candy canes.
The event includes seasonal music on a specially-programmed station, runs nightly through Jan. 10.
Wisconsin
Milwaukee celebrates the holiday season with the Holiday Lights Festival. More than 500,000 festive lights, animated exhibits, displays cover several city blocks. Enjoy the festival through Jan. 1 as a drive-thru event, or a walk along the exhibits.
However you observe the holiday season, the Midwest is home to a bevy of celebrations, from a life-size manger created by World War II prisoners of war to drive-thru light shows, as well as plenty of opportunities to meet Santa Claus.
Looking to travel through Midwest for the holidays? Check out our Midwest Holiday Trip ideas!