This post is brought to you by DiaResQ and The
Motherhood. All opinions are my own.
I know it's not a secret that my family loves to travel. However, the holidays add an entirely new spin on things as we travel for the holidays with the loved ones waiting on us and wanting to see us. That is an altogether new different kind of travel – very different from our usual weekend trips!
Holiday Travel with Kids:
Basics of Staying Healthy and On Time
The schedule of events is vastly different. Additionally, we work hard to keep our children healthy during holiday travel, because you just never know when they might get sick.
Holiday Travel Schedule is Tight!
During our holiday travel, we don't always have the luxury of stopping and taking our time to see the sights along the way. Holiday travel means we need to arrive at our destination on time and not make our family wait. We help keep our schedule tighter with these tricks:
We use a family calendar app – This helps to make sure we are all aware of what time we are scheduled to be somewhere.
I like paper planners, paper checklists, and wall boards as well – Sometimes things just work better on paper. Additionally, it's good to have a paper copy for those drives when you don't get any service on your phone.
Work harder to stay healthy
I don't like bringing germs and sickness to others, but it might be hard to keep everyone healthy all the time. Kids who attend school are often around cold and flu germs during the holidays. This year a stomach bug found my son on Halloween, and he spent most of the day in the bathroom instead of having fun with his classmates. He even missed the Halloween parade!
Family health is a priority for all of us but the holiday season is the time to really step up the health building. Follow these rules during cold and flu season to help your family stay healthy:
Take a vitamin C supplement. Vitamin C helps boost our immune systems, so vitamin c is a staple in our family's regime.
Follow healthy diets. It's important to follow a healthy diet and help to keep the immune systems healthy. That means eating well-balanced meals, with plenty of fruits and vegetables.
Drink lots of water. Maximize your water intake each and every day since we know how much water can help boost our health.
Keep necessary supplements on hand. I like to keep extra vitamin C, cough drops (just in case), and other items on hand that are made from naturally-derived ingredients.
Got Sick? Act Fast!
Of course, we can't predict every little thing, and if you have a schedule to follow, you need an emergency plan. That's why I always travel with an In-Case-of-Emergency bag that has all my go-to items. While you can mask your cough with cough drops, diarrhea is difficult to hide, especially if you are driving to a family gathering.
Did you know that the average American child experiences 7-15 episodes of diarrhea by age five? Depending on the destination and season of travel, up to 70% of travelers will experience diarrhea.
Diarrhea is the body's natural immune response to try and remove an invading microorganism, and some other products work by slowing that response (and trapping that organism in your body). DiaResQ is different – it works with your body to address the underlying issue fast.
Why DiaResQ?
DiaResQ is safe for adults and children as young as one year of age and can safely address diarrhea head on – so you can keep your children happy and healthy and your busy life on track!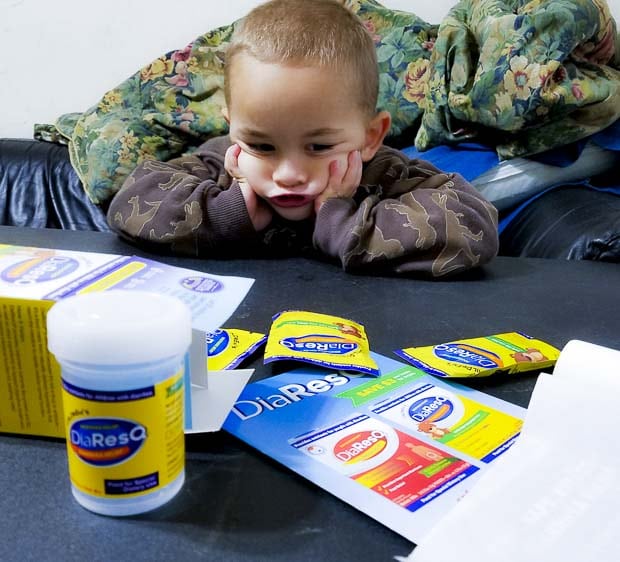 A food made from safe, naturally-derived ingredients, DiaResQ has been clinically demonstrated to
resolve most cases of diarrhea on day 1 of use.
So, yes, holiday travel can be a little bit more difficult than travel any other time of the year, but boy is it worth it! If I am ready for holiday travel, I look forward to it!
What I like the most is that this product is safe for the whole family and easily accessible. This kid-friendly, vanilla flavored powder that comes in small, nonperishable packets and easily mixes with water. Just add water, shake and drink! DiaResQ is available at CVS and Amazon. Visit diaresq.com/momapproved to learn more and keep your child happy and healthy!
DiaResQ is not intended for the relief of chronic diarrhea, nor for infants (children aged 12 months or less).