My family was invited to visit Santa Claus, IN. We have received complimentary Lake Rudolph lodging and Holiday World admission in Indiana.
I love to vacation as much as the next person, but since I have a full-time job and a limited number of the vacation days to use, I need to get creative. This summer I wanted to spend more time exploring destinations close to Chicago by taking weekend trips and just and was super pumped to open my summer season with a family trip to a Santa Claus, Indiana.
Have you heard of Santa Claus in Indiana? According to some websites, it is where Santa Claus spends his summers and where your child's "letters to Santa" go to, but could it really be true? How come have I never heard of this place? I started asking around and was shocked to find out that many of my Chicagoland friends have no idea of the magical place that screams Christmas just a drive away from the windy city.
I asked around but most of my Chicagoland friends had no idea of the magical place that screams Christmas just over in the next state. I was intrigued!

Santa Claus, Indiana is a town with a population of about 2,500 people. The town was originally called Santa Fe. When its citizens asked for a post office in 1856, they were told that Indiana already had a Santa Fe post office and that they would have to change their town's name. It became Santa Claus, IN. and it also has The Santa Claus post office that gets on average half-million-holiday cards and roughly 10,000 letters from children (Santa's address is 45 North Kringle Place, Santa Claus, IN 47579, if you are asking). This place has landmarks like Santa Claus Museum, Original Santa Claus Statue, Candy Castle, and a great Holiday World Theme Park.
This town is all about Christmas with the street names, local shops, and great local attractions, yet it's a small town with fewer crowds and very accommodating to the families with little kids.
Holiday World Theme Park in Santa Claus, Indiana
If you spend a day at the Holiday World you will ask yourself "Why wouldn't you come here every year?"
Santa Claus Land opened in 1946 as the theme park with a toy shop, toy displays, a restaurant, themed children's rides, and, of course, Santa! The park grew over the years and in 1984 Santa Claus Land expanded to also include Halloween and 4th of July and changed its name to the Holiday World. Later the Splashin' Safari Water Park came along covering nearly 40 acres and features two water coasters and wave pools, a river, family raft rides and water slides.
Today The Holiday World includes Christmas, Thanksgiving, Halloween, 4th of July, as well as the Splashin' Safari and that means one day will most likely not be enough to experience this park to the fullest.
There are great areas designed especially for the little kids with lots of exciting rides. I love that these play areas are bit out of the way to make it easy for me as a parent to follow my toddler around the playground or sit back and enjoy my refreshment.
And speaking of the refreshment, the Holiday World in Indiana has FREE unlimited soft drinks and the variety is amazing and cold every single time!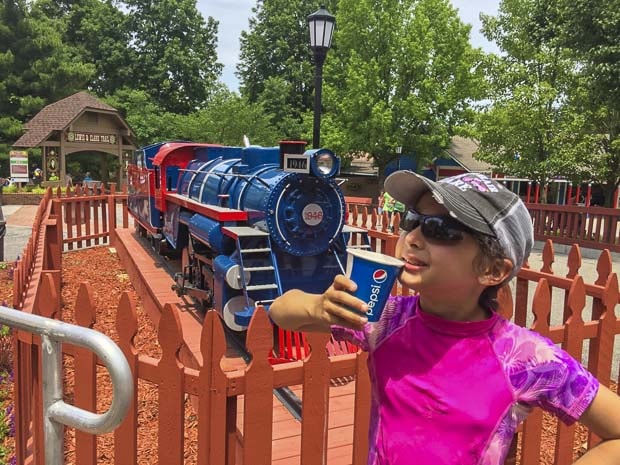 The other thing you will absolutely love is the free sunscreen stations because you know you will forget to re-apply the sunscreen even if you bring it with.
As you can imagine the food is essential when you spend a whole day at the theme park, but imagine having Goblin burger or Safari pizza for breakfast, Thanksgiving lunch, and Mrs. Claus's cookies for an afternoon snack?
Each section has a restaurant that compliments the theme.
And let's not forget about the roller coasters – they are breathtaking! Learn more about my experience at the Holiday World – HERE
Where to Stay at the Santa Claus, Indiana?
Originally opened by The Koch family, the owners of the Holiday World in 1958 on the opened Lake Rudolph Campsites to accommodate visitors to Santa Claus Land Theme Park. Included were a 7-acre lake (Lake Rudolph) and a swimming beach.
Today Lake Rudolph Campground & RV Resort sits on 160 acres and features 289 family rentals: 135 Rental RVs, 53 Cabins and Cottages, 187 full-hookup RV sites, and 40 Tent sites.
The cabin we stayed at had a beautiful screened porch and very comfy rocking chair kids absolutely adored. And I sure loved the full kitchen, spacious living room, shower, and bunk beds.
While Lake Rudolph is located a few minutes away from the Holiday World, they provide complimentary shuttles for anyone staying at the campground.
Probably the coolest thing in the park is the golf carts. Considering how big the park the cart comes very handy when you try getting to the camp shop, water park, pool, playground or any other places and activities hosted by the campground. The park has a fleet of 200 gold carts available for rent and I found it fascinating that people decorate their golf carts and even hold a golf cart parade in the evening.
There is enough to do at the campground even if you are not planning to go to the Holiday World, Indiana and I only wish we had more time to spend at the campground. Besides an activity program that is fun for both kids and adults, Lake Rudolph also has a fishing lake with paddleboat, kayak, and rowboat rentals, 2 basketball courts, Santa's Splash Down WaterPark, Blitzen Bay swimming pool & Baby Blitzen pool, 2 playgrounds, an outdoor pavilion and 18-hole mini golf course. More about the Lake Rudolph Resort HERE! 
Want to know more about Santa Claus, Indiana? Check out these posts from other Midwest Travel writers:
Unique Christmas Decorations at Santa Claus, IN
What to Expect at Holiday World and Splashin Safari Theme Park
Santa's Candy Castle: Santa Claus, Indiana
Corn mazes part of the fun at Holiday World's Happy Halloween Weekends