These Hotel Transylvania 3 Goodies were sent to use free of charge
Guess what landed on our doorsteps one night just as we were about to go to sleep?
Yeah, it's not every day a coffin shows up on the front porch of our house, yet this will probably be the only time when a grim thing like coffin would be good news! This one was hiding a special delivery from the Hotel Transylvania 3 (see the hashtag?) You can imagine, this was a cause for the celebration, and instead of going to sleep our kids spent an hour going BANANAS over all things Hotel Transylvania.
First and foremost
Get your copy of the Hotel Transylvania 3. Hotel Transylvania 3 in available on Blu-ray, DVD & Digital October 9. You know you can't wait to see the turn of events on the cruise ship.
Hotel Transylvania 3 is filled with more than an hour of engaging bonus materials including three "All-New Scary-Oke Sing-Alongs," a monster dance party dance along to "I See Love" by Joe Jonas featuring Jonas Blue, plus a fun zing-tastic read along with Drac.  
I can't think of a better way to get into the spirit of Halloween than have my children carve their pumpkins on the front porch while I kick back with a box of a special edition popcorn and enjoy the Hotel Transylvania movie. Joking! I don't think it would be possible to keep the kids away from the TV once the DVD is out of the box. I guess the pumpkin carving will have to wait.
More ways to have a Monster Party for your
Hotel Transylvania 3 premiere event 
Host an Epic Sleepover
Bring on the popcorn and get cozy on the living room floor – the movie is about to start (you did pick up your copy, right?).
This Blu-Ray+DVD combo pack is hiding a lot of great secrets including the frightful fun with a "Plan Your Spook-tacular Sleepover" feature and "Vampire Make Over: Mavis and Drac Tutorial," as well as behind-the-scenes to explore the amazing talent who bring these characters to life in "Behind the Screams – The Voices of Hotel Transylvania 3.
Create a Fantastic Drink
Feeling up to a challenge? You are about to create a mix that would be worth serving at the famous monster hotel or the Hotel on the water
Go Hotel Transylvania on your pumpkin
Click the image below to download your printable. Your pumpkin might be rocking a Drac look in no time.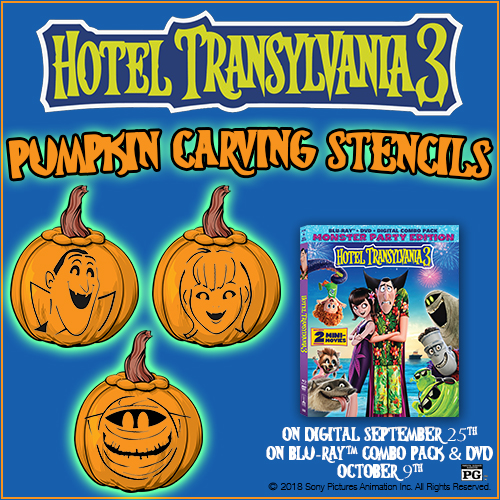 I do have to note that Drac is not the cutest in the stencil bunch. Here is our personal favorite:
And before you head out to the Halloween Party, make sure you're dressed for the occasion:
Create Mavis Look (or Drac)
Party Favors
Don't forget party favors and lucky you – the stores are full of them – just check out what my little Mavis found in the coffin!
Love these ideas? Great! Tell us which activities you will do with your kids. I got to run – the TV is on, the popcorn is ready and I don't want to miss a minute of this movie. See you later!
MORE HALLOWEEN IDEAS: 
Water Themed Homemade Halloween Costumes
Easy Halloween Treat Ideas for Busy Moms and Kids