We received the product listed below free of charge. However, the stories are all ours.
It sure is exciting to have a tween around the house! Rolled eyes, Closed doors, and this new sassy attitude – I feel like one "lucky" mom in my own home, and there is not much I can do about it.
However, I found a new way to remind myself that my little girl is still my little sparkle who loves me very much. I can picture her in her glittery toddler shoes, pig tales with pink bows and an adorable sunglass. I added a sparkle to her room!
LOVE Pillow with Reversible Pink & Silver Sequins is a centerpiece that sparkles shares the love with anyone who enters. This pillow is a one-of-a-kind way to show important people like me how special they are. With a white and pink front and a back glistening with our magical, move-able sequins, this pillow embodies all things happy!
That means that every day I walk into her room I see love sparkling from the bed surrounded by plushes.
No, she is not a teenager yet – this is just a preview of what is however to come, I can tell you right away – that ride is going to be bumpy. I know she promised me to stay cute and little forever. Lies! She is growing and growing up fast. I feel a little bit like Jessy from the Toy Story 3 – I look at the toys moving around her room and getting pushed out by other things I don't quite understand – an unmistakable sign of the changing and growing.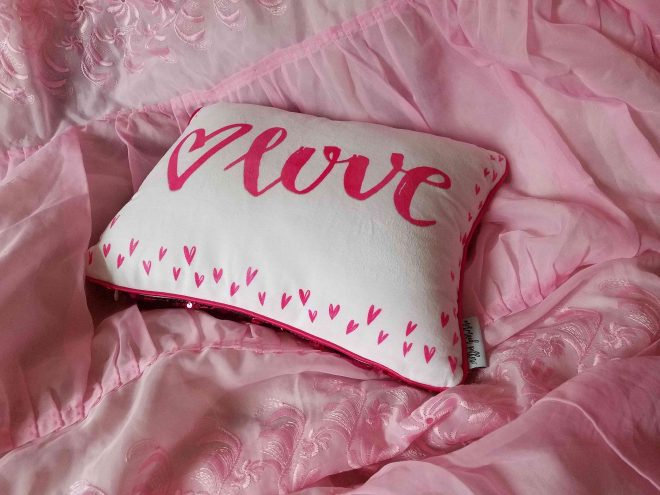 However, there is LOVE in her room, and that makes me happy!