This post is sponsored by BabbleBoxx.com
If you spend weeks getting ready for a long week vacation, you're most likely have a mile long summer plans.  Since my husband and I work, we do what we can – spend evenings grilling and playing water balloon fights and reserve weekends for travel and exploration. With the intense summer schedule, I often find myself looking forward to workweek for relaxation and some quiet time.
A busy working mom like myself often needs help to keep things going, and this week my relief came in a BabbleBoxx with a variety of summer essentials to keep things easy for me and fun for everyone in my family.
AfterShokz Trekz Air Open-Ear Headphones
Do you ever have to choose between an audiobook and listening to the world around you? When I wash the dishes, I enjoy the sweet sound of the latest mystery novel but how do I also keep a close ear to what is going on in my house that is anything but quiet? While Trekz Air headphones are inspired by the demands of elite and aspiring athletes, they also can be the headphones for a mom to rely on.
AfterShokz Trekz Air Open-Ear headphones are lightest and most organically designed open ear headphones to date, and with the titanium parts they not only fit more securely but sound better too.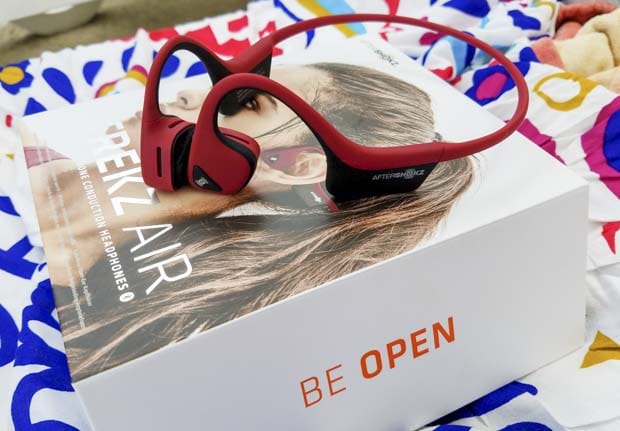 This Canyon Red model is a deep earthy red hue and looks like nothing else I have around the house which means it is easy to spot even if I leave it on a kitchen table or a nightstand. These lightweight headphones also an excellent choice for hot sweaty summer days with a bud-free listening experience and a new level of comfort.
And while it might sound a little silly, my favorite feature will still be listening to my favorite podcasts, books, and music, while knowing exactly what's going on in my house. Learn more about AfterShokz Trekz Air Headphones.
Brew Dr. Kombucha
What is your favorite summer drink that is full of flavor, great for hydration, and also great for the whole body? I grew up in Russia drinking Kvas all summer, and I couldn't think of a better summer beverage until I tried Kombucha (a distant relative of Kvas). Kombucha is a fermented tea and Brew dr. Kombucha is live and active, 100% RAW and unpasteurized. Non-Alcoholic, Brew Dr. uses a form of non-heat distillation to gently extract the alcohol but keep the best ingredients – tasty, low sugar, low calorie, better-for-you beverage.
Clear Mind – Slightly sour, this flavor hints rosemary and sage. Each herb in the recipe is noted for its ability to assist in mental clarity and focus.
Strawberry Basil – a perfect summer flavor and my personal favorite. Strawberry Basil combines high-quality green tea with strawberries and two types of basil.
While it requires refrigeration (like most fermented beverages), having a bottle of Brew Dr. in a cooler on a trip to the pool and a family outing means better hydration and delicious taste. Learn more about Brew Dr. Kombucha flavors and ingredients at Brew Dr. Kombucha.
Heliocare® Daily Use Antioxidant Formula
Health and Summer – you need one to enjoy the other! I have to say that any supplement that gives me more energy is my friend. Heliocare contains Fernblock® PLE Technology, an exclusive and powerful antioxidant extract that is naturally derived from a tropical fern native to Central and South America (the extract of Polypodium leucotomos) that helps to eliminate free radicals to maintain younger-looking, more resilient skin*. 40's might be the new 30′, but it sure takes a lot more to keep my skin looking and feeling young. Clinically proven, this dermatologist-recommended natural dietary supplement does just that by providing antioxidant effects on the skin.  Heliocare Daily Capsules are Vegan, Gluten-free, Free of artificial dyes.
Learn more about HelioCare supplements and look for the Anti-oxidant formula capsules at your local Walgreens.
*These statements have not been evaluated by the Food and Drug Administration. This product is not intended to diagnose, treat, cure or prevent any disease.
Skratch Labs Drink Mixes, Energy Chews & Energy Bar
Energy is one thing my kids always have a lot of, and I always look for the ways to keep up with them mainly on a hot summer day or during summer fitness activities. That is where Skratch products come very handy with a line of products to keep me going:
Sports Hydration Drink Mix – if you sweat you need to replace the sodium you lose to feel good and perform well. Skratch sports drinks formulated with 800 mg of electrolytes per liter (twice the level of Gatorade) which is the average amount of salt active people lose when they sweat. The mix is Non-GMO, Gluten free, dairy free, vegan., and Made with real fruit.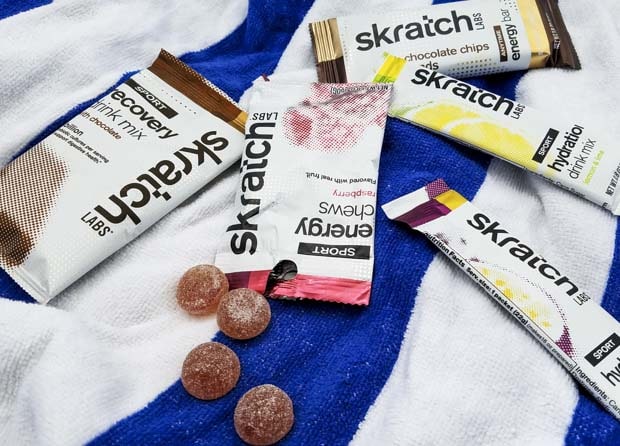 Sports Recovery Drink Mix: This recovery mix is perfect right after a workout or race to help you recover faster as it enables you to bounce back faster than using carbs or protein alone.
Sports Energy Chews: My family's favorite, the chews are perfect for any exercise and play activities. These chews are made with real fruit and covered in powdered sugar instead of wax or oil and provide slow drip energy that won't make you crash.
Energy Bar: This bar is powerful enough for the pros but tasty enough to eat all day long. Made with quinoa, brown rice crisps, and nut butter. Gluten free, dairy free, vegan and non-GMO, this bar is an ultimate winner for my dietary restrictions.
Anytime Hydration Drink Mix: If you hate sports drinks, this is the mix to try for you. This is a sports drink for people who hate sports drinks. Made with natural cane sugar, real fruit and nothing artificial, the electrolyte level is similar to that of national sports drinks like Gatorade, except it is Non-GMO, Vegan, Dairy Free.
Learn more and get 20% off your entire order with code: TRYSKRATCH at Skratch.com
T-Rex® Tape
Move over an ordinary duct tape – T-Rex Tape is here to get the job done faster and more effective. This ferociously strong tape is built to last for the house repairs, weekend projects or anything else that requires longlasting results. T-Rex Tape's double-thick adhesive holds up in about any climate and environmental condition. It needs no pre-care, and it's strong enough to work on rough or dirty surfaces without sacrificing sticking power. Weather-resisting qualities make it an essential to have in the camping bag, fishing bag or a boating kit. Keep it around and know where to look for it.
Learn more about T-Rex Tape and get a roll for your next adventure.
MORE SUMMER FUN IS JUST A CLICK AWAY:
25 Things to do outside for summer fun
5 Budget friendly ways to keep kids active this summer