This article is sponsored by Best Buy. However,
the opinions and crafts are all authentic.
Have you watched all How to Train Your Dragon movies and indulge in TV series? In that case, you probably had your family in the theater as soon as How to Train the Dragon: The Hidden World came out. That also means that you will absolutely love How to Train Your Dragon: The Hidden World 4K Blu-Ray Collectible Steelbook. It's exclusive and will only be available for a limited period of time.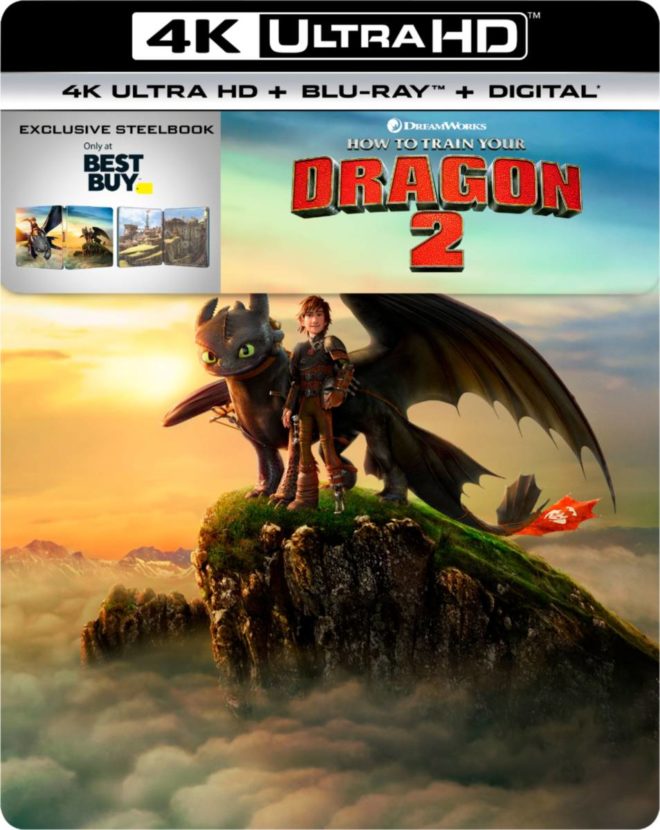 In this chapter, Hiccup and Toothless will finally discover their true destinies — Hiccup as ruler of Berk alongside Astrid, and the dragon as leader of his own kind. As you can imagine – this road to discovery isn't easy and tests their relationship like never before.
Let me start with this: if you followed How To Train Your Dragon franchise throughout the years, you have to get How to Train Your Dragon: The Hidden World 4K Blu-Ray Collectible Steelbook. It comes with some exciting extras and let's face it, you be watching this epic finally more than once!
The Beginning
Do you remember the first How to Train Your Dragon movie? It got me glued to the screen, but I am bias – I absolutely adore dragons. I have been enchanted by these fictional characters since I was a kid and even today I love a good dragon movie. The story in the first movie was simple – a Viking village deals with nasty pests – dragons. The animation was great for 2010, voices were right on point (for Hiccup specifically), and the storyline intrigued with the right amount of humor and drama. It was a great movie! to keep it interesting … it was an awesome movie.
How To Train Your Dragon TV Series
I didn't even realize when the TV series started to come out and only caught wind of it when stumbled over while browsing Netflix offerings. Can you imagine an epic binge with popcorn, pizza, and kids excited to spend the weekend watching TV?
Do you know how sometimes you feel like authors starting to run out of ideas? This wasn't the case! The story kept unwinding and the format allowed us to follow events easy. Exciting adventures, villain battles, new dragons – this was a thrill! Season after season, we watched them all.
How To Train Your Dragon 2
When How To Train Your Dragon 2 came out, I got that nagging feeling that the story is coming to an end, but quickly got swapped away by breathtaking animation and a new storyline. Hiccup finds his mom and becomes the Chief, Toothless "graduates" to new class… All this action left me wanting more – the story couldn't possibly end now!
How To Train Your Dragon: The Hidden World
A famous character once said, "Part of the Journey is the End" and as much as I wanted the story of Hiccup and Toothless to go on forever, their adventures came to end as well.
The day I saw the first trailer of How To Train Your Dragon: The Hidden World I went to the library and rented the entire storyline from the first movie to the latest – this was going to be an insane binge to prepare us for the Hidden World. It was interesting to see Hiccup and his crew grow right before my eyes. I could also see graphics becoming more complex, detailed as the story progressed.
I put the last disc into its plastic box – I was ready to see How To Train Your Dragon: The Hidden World. Not to give up any spoilers, this was logical and weighed out the conclusion to an epic story that very nicely wrapped it all up leaving nothing but good feeling at the end.
I hope you already have How To Train Your Dragon in your shopping basket, but if you don't, remember 4K Blu-Ray Collectible Steelbook is only available for a limited time.
Want to take your dragon to a whole new level? How about making a dragon egg charm bracelet?
Dragon Eggs Charm Bracelet
Supplies
Quarter-Sized Polymer Clay in Green, Orange, and Red
Gold Metallic Craft Paint
Black Craft Paint
3 Eye Pins
3 Jump Rings
Chain Bracelet
Instructions
Don't multitask – work on one egg at a time (meaning one color of clay).
Work the clay into a ball, then narrow and lengthen one end to make a general egg shape.
Make 30+ teeny-tiny balls of the same color clay. Set aside.
Cut an eye pin to fit the size of your egg.
Insert eye pin into the top of the egg.
Flatten each of the teeny-tiny balls and place on the egg, starting from the bottom and overlapping them by about half of the size of each smashed ball.
This forms the scales, so don't mush them down where they overlap.
Bake in the oven per the directions on your clay package. Allow the eggs to cool completely.
Dry brush bottom 1/3 of each egg with a little bit of the black craft paint.
Dry brush entirety of each egg with the gold metallic paint. Allow the paint to dry fully.
Affix a jump ring to each eye pin.
Affix jump rings to links of the bracelet.
Enjoy!