We were invited by Visited Quad Cities. Some of our meals were covered.
When traveling how do you decide where to eat? Do you look for budget-friendly restaurants or opt-in for the unique food experiences your travel destination has to offer? Do you splurge on desserts, go for fancy drinks or pack sandwiches from home to save some money on travel?
While we travel on the budget, I do usually look for the food spots that make my destination different, unique in a way that I will remember without breaking the bank.
While visiting Quad cities we discovered a few fun places that had something to offer for the whole family and can't wait to tell you more about it:
LAGOMARCINOS
Family owned and operated since 1908, Lagomarcino's is always busy. Greeted by the line of candy displays in the front of the store my kids were a bit upset that we had to eat sandwiches first: "But Mom isn't this a candy store? Why would you eat anything else here?" Yeah, right!
While it is known for its desserts, this restaurant also serves sandwiches, which makes it a perfect mid-day stop. Start with soup, salad or a sandwich to satisfy your hunger. A stuffed tomato called my name from the menu page – EAT ME!

And I had to fight my husband to take a picture of his sandwich before he devoured it – can you blame him? I am getting hungry just looking at it!
However, here is the real reason why we came here – Lagomarcino's is well-known for its beautiful homemade chocolates and old-fashioned ice cream. It's hard to pick between malts, ice cream sodas, egg cremes and ice cream sundaes, so we got a few things to try. That is what makes these kinds of trips so much fun in my personal opinion: more people you have – more things you can try!
This ice cream sundae is big enough for two or three people – what would you eat first?
Bent River Brewing
Have a craft beer lover in your family? You have to visit the Bent River Brewing! Within walking distance of the I-Wireless Center and the John Deere Pavilion in downtown Moline, Bent River Brewing Co.'s Moline Brew Pub is a popular destination for the best pub fare, exciting beer dinners, holiday brunches and the best beer garden in the Quad Cities metro area.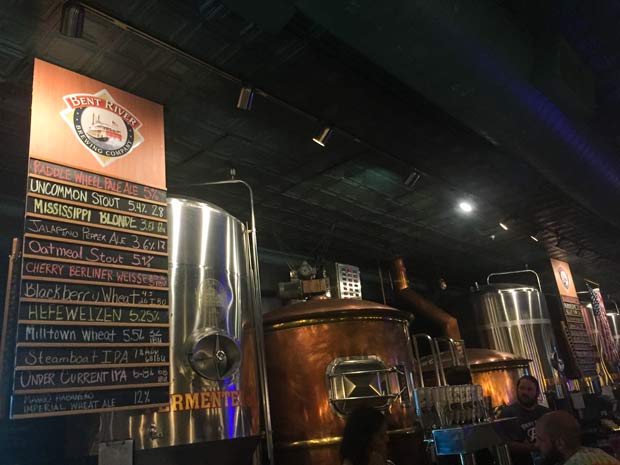 But what if you have young children? With kids ages 2 to 10, I wasn't sure if I would have to grab a burger-to-go, but as we found out – families with kids are welcome in this pub before 10 pm. It is like getting the best of both worlds – great food and tasty brew. That is precisely what we got by coming to the Bent Brew Co!
My husband and sister, self-proclaimed beer snobs, attempted to try every craft brew this place had to offer with this 12 craft beer taste. I am still yet to edit the video of that experience (look at the beer on the very right!), but I promise – it is coming!
However, I had an eye on something a lot more carb filling – an Uncommon Burger, one of the restaurant's specialties burgers – just the looking of the crescent pretzel bun was making me hungry as I was trying to take this picture.
DRIFTWOOD PUB
If you are looking for lunch or dinner with a view, you have to visit the Driftwood Pub. Located right on the Mississippi river, grab a table outside if the weather allows – it is worth it! My toddler fell asleep right as we pulled into the parking lot and we had to leave my husband in the car with him, but we took the table closest to the parking spot.
The Driftwood Pub had something to offer for all travelers, big or small. Mushrooms stuffed with bacon, cheese, and onion were an instant hit with the adults, while the children tackled lightly breaded basket of onion straws.
A perfect Cucumber Mojito with just the right amount of freshness! Made with EFFEN cucumber vodka (WHAAAAT?), fresh mint and lime it is what a tired tourist needs on a hot afternoon.
Shrimp-Wrecked Bloody Mary. My choice anytime anywhere. This appetizer-and-drink combo came with shrimps, pickles, blue cheese, olives, celery, pickled asparagus, lemon, and lime.
I picked my burger ahead of time – meet Avocado Bacon Burger. Why haven't I thought of this combination before? It is astonishing!

Download your Quad Cities Travel Itinerary
Have other favorites at the Quad Cities? Tell us – we would love to try it the next time we are in town!
MORE ABOUT QUAD CITIES:
Hungry in Quad Cities? Check out These Food Spots
Fun and Free Activities in Quad Cities
Weekend Destination Stoney Creek Hotel