This shop has been compensated by Collective Bias, Inc. and its advertiser.
All opinions are mine alone. I am also participating in a contest as an additional aspect of this campaign.
What is your drink of choice in the morning? Do you indulge in a Starbucks coffee or do you enjoy a glass of juice from the fridge? I often find myself dreaming of iced tea or coffee on a hot summer day.
I am all about coffee and that is something I have in common with my sister. As much as she might be complaining about waking up in the morning, I am pretty sure she loves our morning coffee experience.
And there is nothing better than a cup of coffee brewed over ice to help me get my morning going in the summer. My only problem is that my little sister is addicted to the coffee, while I am taking a break of caffeine.
That is where out little Keurig comes very handy – one cup of coffee at a time with whatever flavor or caffein we desire.
I love K−Cup® coffee because it gives me same the delicious coffee shop experience without the hassle of driving, and at portion of the price. Besides that, any time during my busy day, I just take a five minute break with a cup of something delicious for a quick separation from reality. My escapism is further supported with an overwhelming variety of tea and coffee at my local Walmart – from Hazelnut Coffee to Half Coffee – Half Lemonade brewed over ice – I can't think of a better summer beverage, but can they give me a pick me up without the cafinated jitters?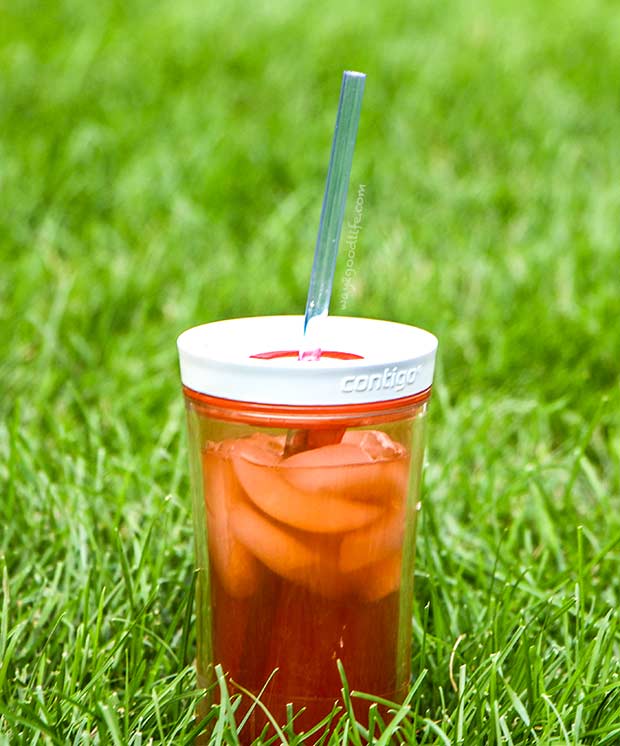 I found the Keurig website being very handy in narrowing down my choices to the desired results based on the preferences and that is how I have discovered my new favorites:
Vitamin Burst makes me think of sun-warmed strawberry and the flavor of sweet pomegranate, combined to create a delicious fruit brew high in antioxidants, vitamin C and it is caffeine-free.
The first time I tried Burst, I couldn't believe the flavor and it sure is a great conversation starter.
My other favorite is the Half and Half Tea and Lemonade. It is still considered to be a regular tea, but I absolutely love the taste combination. Great product from Celestial Seasonings, this Iced Tea features equal parts all natural lemonade and smooth black tea; with just the right amount of cane sugar, it's vibrant and refreshing.
Looking for creative recycling ideas of K-Cups?
Here are few Ideas
Grow Something
Use the K−Cup® as seed starters. To do so, empty the caplet saving a small amount of the coffee grounds and fill it with potting soil. Cover the starter capsule with plastic to create a greenhouse effect and see the seeds sprout.
Create Something
Pinterest is full of crafting ideas to make you fall in love with upcycling used K-Cups, but how about creating your own original K-Cups Art?.
[alpine-phototile-for-pinterest src="board" uid="Keurig" board="keurig-art" imgl="pinterest" pinit="1″ dl="1″ dlstyle="medium" style="gallery" row="6″ grwidth="100″ grheight="80″ size="75″ num="11″ shadow="1″ border="1″ highlight="1″ curve="1″ max="100″]
Thank You #BrewOverIce, #BrewItUp and #CollectiveBias for making this post possible.