This post is made possible with support from the Association of University Centers
on Disabilities through a cooperative agreement with the Centers for Disease Control
and Prevention's"Learn the Signs. Act Early." program. All opinions are my own.
Do you have a toddler at home? Have you been paying attention to whether or not they are reaching the milestones that they should be reaching the stage in which they are two? If you have not been paying attention, you should start. The thing is, the earlier you notice that they are falling behind in their milestones, the easier it will be to deal with.
When I had my first child, I lived by the milestone chart. I could spend hours watching what she was doing with my checklist and question just about everything. By the time her brother was born, I was a pro – I knew what I was doing, had no use for the charts, and could teach anybody anything in the mommyhood business. Or so I thought… Looking back at it now, I think my son started missing his milestones at about 12 months. However, since the misses seemed so minor, I didn't pay much attention.
He was around 2 when I started questioning certain things, but friends and relatives suggested that boys develop at a slow paste and since my son is growing up in a bilingual household, it was ok for him to be behind on his milestone marks. However, by the time he turned 2.5, I had more questions than answers and started looking for help. While being very well physically developed, my toddler seemed to have very delayed speech with a vocabulary or 10 words or so, not very responsive to any instructions, and not interested in expressing himself verbally at all. All this often resulted in lots of confusion and tears.
There are specific milestones that you should be looking for when your child hits specific ages. The toddler years are particularly important because so much learning and growing is done in such a short timespan – it might be easy to miss something.
At two years old, toddlers imitate parents, show independence, rebel against the authority, points and names objects, assemblies 2-4 word sentences, follows simple directions, builds towers, and more – see a full list of the miles for 2-year-olds and 3-year-olds.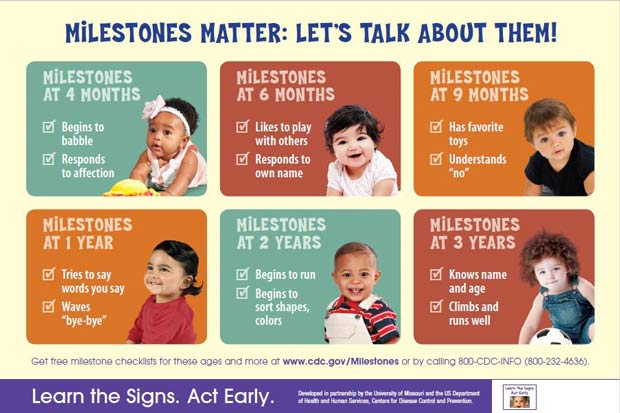 If you read through the listed milestones and you find yourself concerned that your child hasn't reached a specific one, there are steps that you can take.
Steps to take if you see delays in Toddler's Milestones
Talk to the doctor. If you are concerned, act on it and let your child's doctor know about your concerns. The doctor recognizes that, as a parent, you see best. Share your concerns with the doc ASAP. They will know what direction you should go from here.
Print out a Milestones Checklist. There are milestones checklists available to print out (or request from your child's doctor) to track your baby's development. Fill these checklists out and share with the doctor at your next visit.
Request that the child's doctor would do a developmental screening. The American Academy of Pediatrics recommends that all children be screened for developmental milestones at the ages listed above. If you are concerned, request that your child's doctor does one of these screenings.
Ask for a referral. If you do all of the things listed above, yet you are still concerned, be sure to ask your child's doctor for a referral to a specialist.
Request a "Child Find" evaluation. At any point in this process, you can ask for a Child Find evaluation by making a phone call to the public early childhood system and asking for this assessment or finding out more about the process.
MORE ABOUT MY STORY
Mother knows best – I should have asked for help earlier, but I am glad I did it when I could no longer dismiss my questions. The importance of early intervention is undeniable, and I only wish that more parents knew what resources are available for kids under 3-years-old. From the in-home evaluation to a medical diagnosis, from one-on-one therapies to help with specialized pre-school enrollment – early intervention made a huge difference for my family!
If you are concerned about your child development, start asking questions, find resources here and get a Milestones App!
Order a FREE "Parent Kit" – it includes a Milestone Moments booklet with checklists for ages two months to 5 years and a growth chart.
#MilestoneMonday