When I enrolled my 6-month old infant into a swim class, I expected him to learn essential skills and secretly hoped for him to transform into one of these underwater babies we see in the videos. While I didn't get to play paparazzi underwater with my son, he learned to climb out of the pool among other skills and started climbing out of the crib very early.
My least favorite part of the class, however, was a walk from the changing room to the swimming pool in my prenatal swim suite that felt snug around my not-so-beach-body. I know I am not the only one with the problem: when I invited my toddler's daycare peers and not a single person RSVPed I got it –  other moms were not keened on parading in front of each other in their mom suits either.
However, every swim class my son and I had a blast – the little guy loved climbing out of the pool and jumping from the deck in the water, and I loved seeing how much he enjoys the water.  However, as the time progressed and my baby approached his second birthday, he started to look bored and more opinionated about what he wanted and what he didn't want to do in the class.
There are a two infant class levels at the Goldfish Swim School. Mini one is designed for babies 4-15 Months, and Mini 2 covers 16-35 Months Old. As you can imagine, my little dude had taken swim classes for 1.5 years by the time he turned 2. He pointed at his brother and sister in the next lane, and he wanted to do something new.
Levels Mini 3 and four are designed for toddlers, 24-35 month and require no adult supervision. The next step is the Junior class, designed for the lids 3 – 4 at the end of each student are expected to swim 10 ft independently.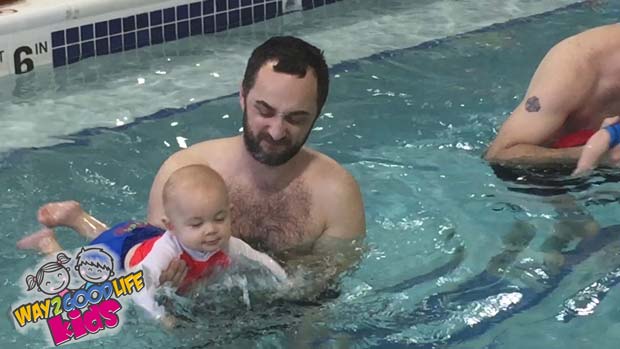 Would you trust your toddler?
My husband and I knew that the baby needed to advance to the next level, yet we were very hesitant – how can he be in the class on his own? Would you trust your toddler to sit on his own on the deck and not fall or jump in the wanter while nobody else is looking?
Finally, we decided to give independent classes a try. The husband agreed, but to make sure nothing goes wrong, he volunteered to sit on the deck in his swim trunks getting ready to jump into the water and rescue our precious child from any danger.
If we had to compete for the title of the helicopter parent, between my husband and I, he would win hands down. He even accused my a few time of not carrying enough, but let's agree that sitting on the pool deck in the swimsuit would never make my to-do list. Somehow, I convinced my overbearing husband to observe the class from the general area in his regular clothes as the bench next to the pool is usually occupied by a small group of professionally trained swimming instructors who in a case of the emergency would jump into the pool to rescue our son. Besides that, with no more than three children per instructor, the teacher seemed to have a good handle on the situation.
Give me my mommy back
The first day of the independent class brought some tears. He cried, didn't want to let me go and cried some more. I walked away from the deck and tried not to cry myself. He cried for the entire class. He followed the instructions, yet his face said: "I know what I am doing, but I am no enjoying it. Give me my mommy back". It took five classes for my child to understand that his parents don't want to hang out with him in the water and he has to rely on a person in an orange shirt with his safety. So he stopped crying.
I continued watching him from behind other parents and furniture because anytime he would turn around and find me in a crowd his eyes would get big and wet. Eventually, that stopped too. He got his pair swim goggles and would remind him that he needs to go swimming.
And just like that my son's new hobby was sitting on the deck splashing water with his feet. He now loves swimming diving into the water to get a treasure from the bottom of the pool and swims on his own short distance. And the best thing – I get to sit on the other side of the glass wall with other parents and watch him. I do sometimes take breaks to stare at moms in swimsuits parading from changing rooms to the pool with babies – I am so glad I don't have to do it anymore.