Travel Iowa invited my family to visit Jester Park as a part of the 99 Parks campaign and covered our expenses. All thoughts and opinions are my own.
Imagine standing on the crossroad holding a suitcase in one hand and your son's hand in the other. Go left and find yourself on a busy street surrounded by buzzing tourists and music. Go right, and you will walk a road less traveled, show your child a bluejay, into a small town, listen to chirping birds, show your son a bluejay. Where will you go?
If this were me, I would pick a small town every time. However, I will most likely be driving a minivan, though, and my children will be arguing with each other beyond an end
Something to keep in mind, I am a full-time working mom who wants to spend time with my family in a big way on a minimal budget. After all, I want to teach my kids to look for uniqueness anywhere they go.
99 Parks
A few months ago, Travel Iowa asked me to take part in their 99 parks campaign. The idea was simple: Iowa would feature 99 of its county parks with the world, and I get to discover one of such parks – Jester Park in Granger, IA and tell you all about it.
The 99 Parks campaign highlights one park in each of Iowa's 99 counties to give people a taste of the wide range of scenery and activities they can experience on a visit to any of Iowa's county parks.
Jester Park
Granger, IA
Jester Park has been around since 1958 and is considered one of central Iowa's favorite outdoor playgrounds. This 1,675-acre park on the western shore of Saylorville Lake offers camping, picnicking, and golfing. All that in a quiet country setting a half-hour from downtown Des Moines.
Located roughly six hours away from Chicago, it is a fantastic park to visit for a long weekend. On the other hand, it could also make a wonderful week-long vacation if you plan a few other discoveries along your drive.
Walk the streets of Amana colonies – learn about this unique community near Williamsburg, IA and have a meal in their communal kitchen. Visit Des Moines and do some touristy things. We spent a day at the State Iowa Fair, enjoyed the Adventureland theme and water park another day. At the end of your adventure, you will be surprised how different Iowa might look depending on your stops.
Jester Park Nature Center
As we entered the park looking for the campground and cabins, we couldn't miss the Jester Park Nature Center. It is both an entertaining and educational stop.
The Nature Center hosts guided hikes and educates visitors of all ages about wildlife. Looking at the artwork of local artists while sipping coffee and letting kids loose in the educational center is my idea of fun. Moreover, we got a sneak peek of the backrooms with the help of our new friends.
The room in the back of the educational center was filled with shelves and bins and labels like "hooves," "skulls," and more. That's what the endless knowledge looks like! My daughter, who absolutely loves all things nature wanted to know about the displays of huge bugs and enormous butterflies and my son was curious about the fish tank room.
However, we had more discoveries to make beyond the Jester Park Nature Center – we had a Guided Nature Hike to do!
Guided Nature Hike
Lewis, Jester Park naturalist and our guide carried a walking stick and a mid-size backpack that seemed a bit too much for a morning hike. We soon got to found out that the backpack was just big enough to hold everything Lewis wanted to share with us on our walk. Furthermore, it had a picture of a Bluejay, bison skin, and even a mammoth tooth.
Lewis goes on hikes likes this with groups of kids as young as preschool and possesses the level of patience I never mastered. He finds anything kids ask "a great question" and gets sincerely excited about discoveries we make on our hike. Likewise, He knows the answers to a million nature-related questions.
Bluejay
Just as we go into the woods, Lewis stops abruptly and turns to us, "I have a mission for you if you choose to accept it…"
Who knew that a Bluejay, a small blue bird living in these woods is a guardian of the forest? By staying quiet, we could discover new things, but get loud and the Bluejay will alerts all to hurry up and hide. If I knew it sooner, I would've gotten a home base Bluejay a long time ago to quiet my ever arguing kids.
Nature Playscape
Have you ever been to a nature playground? Built out of natural materials, this open-ended concept of a playground encourages kids' creativity and discovery. Play and learn!
Take a sandbox, for example. It is a box full of sand, right? Yes, and kids can spend hours and days loading buckets with it and building sandcastles. But at some point, they just might stumble upon dinosaur fossils hidden quietly on the bottom of the box.
Furthermore, this tiny oasis is all about self-discoveries and self- education. Watch your kids discover funky rocks on the bottom of the shallow pond. While they are busy, take a minute and admire gorgeous flowers surrounding the playground. Look around and find symbolic art elements all around.
Bison / Elk Exhibit.
If I was here on my own, I would've most likely walked down this road admiring the art elements. Yet, I would have completely missed the deeper meaning of this walk. This is an art exhibit following the path with facts on how increased population and technological development affected prairie and lead to the disappearance of bison in the area.
The road guided us onto the observation area overlooking a pond. There are several groups of elks hiding in the water from the summer heat. We spotted a bull and five cows when our guide suggested that there calves nearby.
"They are near water – close enough to their mothers yet completely hidden from us."
Right at the Creek
"Do you want to return the same way back or take the road less traveled?" Lewis asked.
This wasn't really a decision. He might've as well asked my kids to pick a small polished rock over a piece of candy. To be completely honest, the adults in the group (my sister and I) were intrigued too. Why wouldn't we want to walk on the bottom of the creek?
"Let's take the hard way!"
Lewis explained, "As the water erodes, earth near creek exposes tree roots. These hundreds and thousand-year-old trees might be hiding treasures."
Walking by the creek is also a fantastic way to get very close to nature. If you think about it, standing by the creek stream you're looking at the world from the underground level. Nevertheless, this walk comes with its own challenges. Ten minutes into our journey, we abandoned the idea of trying to stay dry and clean. Being wet and dirty became a part of the experience – an adventure of its own!
DID WE FIND A PRE-HISTORIC MAMMAL?
What a silly thought, but thank you for asking. We found things though, observed other things, caught some of them long enough to study, and collected a few objects too.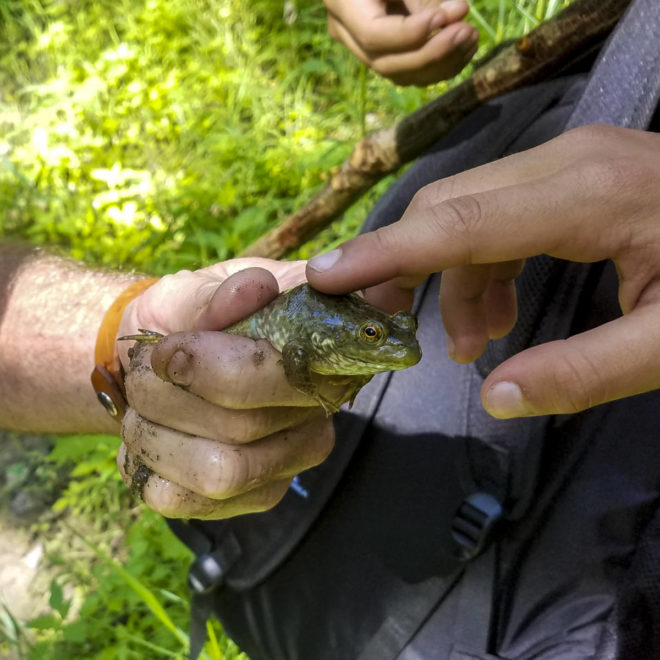 The environment looks different if you are looking into the little things. My daughter proved herself to be very good at finding dead things. Don't cringe, it is all a part of discovery! She spotted a dead frog and a mouse that must've fallen into the creek during the last night storm. After that, she found a moth and cicada. And she also was the first one to announce to us the animal bones.
Whaaaat?
Lewis was very excited, "Amazing find! Want to guess what animal this is?"
The bones were white clean washed by the rain – a skull, a spine, and some other bones. What is it?
"Is it a raccoon?" my daughter wasn't sure.
"It is!" – Lewis replied excitedly.
"Can I take it home?"
"You should!" he answered, "Just the skull and spine. I wouldn't touch any bones with meat on it."
"You are so lucky!" her brother grumbled as she collected her treasure.
Down The Stream, We Go
Further down the stream, we came across a wall of clay. Where one side of the creek was all dirt and roots hanging in the air, the other side was a playground for an inspiring potterer. We could stay here all day making figurines and letting them dry out in the sun. Yet we were encouraged to come back to this nature playground later.
Soon we continued our hike and soon came across some shards of old dishes near the water. Who would bring a dish here just to break it? Lewis shared that these pieces were most likely what here because of the dairy farm located nearby in the 1940s. Can history really be this close to us? Yet, how would we know that this is it unless someone tells us about it?
We finally had to part our ways with Lewis thanking him for an incredible experience. I promised myself to do more guided hikes like this arranging our muddy boots in front of the cabin.
Jester Park Cabin
I realized that I haven't told you about the cabin. We stayed in the cabin #1 "Hickory," one of four cabins on the big open lawn connected by cement walkways in the middle with a fire pit. From reading a guestbook I found above the fireplace, I learned that often families book several cabins for family reunions. I could see myself sitting by the fire roasting marshmallows next to my cousin and her kids!
Opening the door, we found ourselves in the kitchen with everything a family might need for cooking. My son already spotted a grill and a smaller fire pit in the back of the cabin for the full camping experience.
A master bedroom, a shower, a living room, and a door onto the outdoor deck completed the first-floor layout.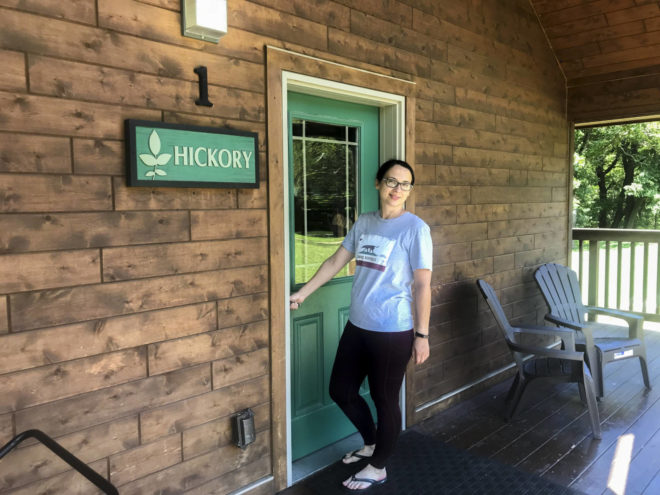 The first night after I finally got the kids to settle down, I came out onto this patio and listened. It's funny what you can hear when you stay completely quiet in the woods.
An owl was leading the chorus with it never end WOO-WOO song. Somewhere behind me, the frogs replied with organized ribbit melody. I could hear cicadas clicking their backup tune and another night bird echoing the choir somewhere on the left.
I stood there listening to the night symphony for a while until my sister called me inside. She found a big box of puzzles and books hidden in the closet. I might've forgotten to mention that cabins at the Jester Park have no television or internet? Talking about disconnecting. The only thing missing was a big safe by the door with a sign "Deposit your electronic devices upon an entrance."
The spiral staircase was leading from the main floor downstairs of the cabin – another room with two beds, a bathroom, and a door outside onto the lower deck.
Jester Park Kayaking
Hannah, another naturalist we met at the Jester Park Nature Center, walked with us to the pond. She helped us unlock kayaks and gear up for water fun. Since my sister has never kayaked, my ten and eleven-year-olds couldn't wait to teach her. In no time they were in the middle of the lake in bright red life vests showing off their paddling skills.
Olga pushed the water with a paddle and giggled. It's funny how easy it is to maneuver a kayak even if you don't know much about it. While I was getting my kayak in the water, she made it halfway to the other side of the pond. By the time I caught up with her she idled in front of the log. There on the big white log, a turtle enjoyed August sun.
We heard kids arguing on the other side of the pond but hoped that wouldn't come any closer to us and scare the creature. However, while we observed wildlife, my children competed in collecting Chinese mystery snail shells floating on the surface.
Chinese mystery snails got their name because they shut entrance into the shell and make it impossible to know what kind of species hides inside. However, mystery snails are unwelcome guests here. They are invasive species distracting local environment. By the time we finished kayaking, my kids had a box full of stinky shells they insisted on taking home with us.
Mini Golf
My family loves the game of chasing the ball around obstacles for hours and Jester Park Mini Golf guaranteed a few things on a Monday Night:
– A beautiful sunset view across an unobstructed skies
– Unlimited do-overs for every shot my golf players missed.
With only a few other groups on the course, we could make a lot of do-overs shots, which might be saying something about our golfing skills.
There is also something to be said about the sunset sky here in Jester Park. Being in an open space and surrounded by prairies and fields you really get to see the sky in its sunset glory. It is absolutely breathtaking!
Equestrian Horse Wagon Ride
If we would've visited the Equestrian Wagon Ride in Jester Park on the weekend, we could have taken a horse ride. However, as we parked our minivan on their lot on Tuesday morning, we had a Horse-Drawn Wagon Rides to look forward to.

To our excitement, some of the crew working at the Jester park joined us on our morning ride along the timber trail near the lake. From time to time the Saylorville Lake floods the path and after water come down the trail has to be cleaned before they can use it again.
Jester Park Equestrian Center offers pony, horse, and self-guided trail rides along with horse wagon rides.
Horses Helping Heroe
In addition to rides, the Equestrian Center hosts Horses Helping Heroes program. This Veterans Program is something uniquely important to talk about. In 2016 Jester Park Equestrian Center partnered with the United States Department of Veterans Affairs to create an equine-assisted therapy program to support veterans in need.
In fact, this program utilizes horses and expertise at Jester Park Equestrian Center to facilitate the V.A. Equine Therapy Program. It's a part of Mental Health Residential Rehabilitation and Treatment Programs. With three years running, this program has already made a difference for so many vets dealing with homeless, struggling with substance abuse, PTSD, or have experienced combat-related trauma during their time serving and defending our country.
While the Jester Park Equestrian Center was the last stop on our list we couldn't help but take a long drive around the campground, playgrounds, and art exhibits once more. What a fun place! Not to mention, the new things we learned, the people we met, and the things we collected and brought back to Chicago. And in case you wondered, the mystery snail shells and a raccoon skull made it home with us.
Check out Travel Iowa's 99 Parks website, find a county you would like to visit and learn something new!