KIA wanted us to check out their Kia Sedona (yes – for free and yes – for review purposes). We took this gorgeous car for a week, loaded it two always fighting siblings, one mother-in-law, one husband, one wife, and one baby and took it on the road.
How often does it happen, when you plan something, but life in a matter of minutes re-arranges your affairs? The day this car was dropped off at my house was our packing day. My family could use a vacation with a busy year, and everyone was excited. However, a few hour later my husband found himself in the ER with the lower stomach pains. I suggested that he had sympathetic cramps – the doctor said, it's his appendix. I didn't plan to drive a car for 6 hours. I didn't  want to cancel the trip. I didn't want to unpack before even leaving the house.
My husband didn't want to miss out on fun and insisted on getting cleared by a doctor. He couldn't drive, but he was in the car with us going away for a weekend.
I am the least technical person I know. I can't assemble a side table from IKEA or put together a Lego set. The minute I realized that I would have to drive a new and very complicated car, I got scared – I am never the one to drive for hours on our road trips.
DAY 1
I had to figure out how to start the car with a push of a button – that took me 5 minutes. While looking for a manual, I turned the lights on and couldn't figure out how to turn them back off. 10 minutes before I found out how to turn it off. To my surprise, 6-hour drive didn't bring any unpleasant surprises. Most important, the baby was happy, and my passengers didn't complain. No backaches, no headaches.
DAY 3
Just wrapped up our activities at the amusement park and we are about to go back home.  I have to say I am more confident about driving this car knowing how well it can do.  The amusement park was so much fun – it was overwhelming. I'm kind of happy that I have a big car where I will be in the front and the kids all the way in the back.
DAY 5
We are back in Chicago, and I am back to commuting to and back from work. I discovered the most adorable feature EVER. Whenever I approach the car, it senses me (and the remote control) and unfolds its mirrors. It looks like a puppy flopping its ears.
AFTERTHOUGHTS
We just said goodbye to Kia Sedona.  It was so much fun to drive, it was a huge adjustment going from 2004 van to 2015 Kia Sedona, it was pretty cool.  At the end of the week I was still getting confused with all the functions.  I accidently turned the heat and the steering wheel, and it took me forever to find how to turn it back off.
I think the coolest moment in this entire week was at the blogging conference.  I was talking to my friend Sarah and discovering that we both drove Kia Sedona to the conference – instant Kia buds.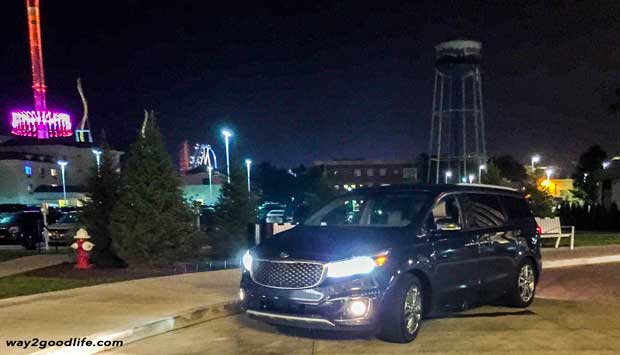 I am not a fan of the blind spot sensors! I understand it's a great technology but I Live in Chicago, and we have traffic.  The minute when I turn the blinker on it goes beep..beep..beep. I know there is a car, but I still need to change lanes.
This minivan does not come with a TV, but TV can be put in a van as an option. However, it's not on a ceiling it's on a floor, so if you're in a third-row seat, you can hardly even see it.  I told my kids that you can start putting money aside for tablets because in the future cars do not come with a TV in the ceiling.
Once again, my whole family would like to say a big thank you to Kia Sedona for giving us this unbelievable cool experience for a whole week.