How many credits cards do you have? Do you carry debt from month to month? Do you think we should be teaching money lessons to out kids sooner rather than later?
Today, an average household with credit card debt has balances totaling $16,748. In my family, we carried $10K+ credit card balance for over ten years before… We have no outstanding credit card debt now, and I will work my very best it stays this way!
However, unlike many, I don't believe that credit cards are evil. I think that they are an excellent way to learn money management. Nevertheless, Just like in a board game you need to know the rules to be able to play the game well and win.
Why is Teaching Money Safety With Credit Cards So Important?
It might come as a surprise, but often modern age kids think that a credit card is like a magic wand – You can buy anything you want with it! I can't blame them – they observe us every time we go shopping, fill our carts to the top, swipe the card, and walk out of the store with loads of goodies.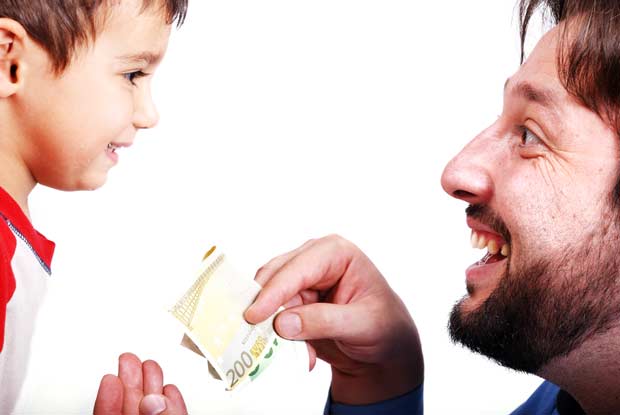 Whenever my child tries to insist on a new toy, I am tempted to say that we have no money. However, the concept of money is almost impossible for our kids to understand as all they see us, the adults, swiping a plastic card but not "actually" paying for the merchandise we buy. How often do your kids see you paying credit card bills at the end of the month? 
Here is what we can do today to help our children develop healthy financial habits int he future:
CASH IS KING
At least once in awhile take your kids grocery shopping with cash, so that they can see how much things cost.
BILLS
As a home chore ask your child to help you pay your bills.
PLAY CREDIT CARDS
Make a game out of reading a credit card bill together! Highlight different categories of purchases with various markers and count how many time you got gas, how many times you want to the supermarket
LOAD EM UP!
If your child gets an allowance, load it onto a gift card. Every time you go to the store make sure he knows how much money he has and show him on the receipt the balance on his card
MORE RESOURCES:
Check out one of these financial games that teach kids how to handle credit cards
Thrive Time for Teens

Thrive Time for Teens is a board game for kids 13+. In this game players are faced with decisions such as buying cars, managing expenses, charitable giving, using credit and paying for college. $29.95
The Game of Life Twists and Turns
The Game of Life Twists and Turns has an updated version of the old favorite; it offers dozens of new life choices centered on the core themes of living, learning, earning and living. Goodbye play money; hello charge cards!
Monopoly: Electronic Money
Monopoly: Electronic Money. Same game. But the cash is gone and you buy Boardwalk by swiping your bank card.
Beat Debt

Beat Debt is a board game for kids 10+. Here you can use your disposable income for investing or paying off credit card debt. The first person to pay off debt and have an investment balance of $5,000 wins. $39.99
Charge Large

Charge Large is a board game for kids 12+. Purchase buildings and businesses with a combination of cash and credit and watch your credit-card limits increase. To win, you need to have zero debt. $24.99
Celebrity Calamity
Celebrity Calamity is an online game for young adults, where players are financial managers for stars who spend beyond their means. This game teaches the value of minimizing credit card finance charges, avoiding late fees and making good APR choices. Free
Stage Coach Island
Stage Coach Island is another online, virtual game for kids 14+. Learn how to maintain good credit using credit cards, use your money wisely and chat with real people via online messages. Free
Jump$tart's Reality Check
Jump$tart's Reality Check is a quick quiz for kids – fill in the choices on the next page to see if you can afford your dream life. FREE
Financial Soccer
Put your financial skills to the test with Visa's World Cup-themed Financial Soccer, a multiple choice question video game for kids 11+. FREE
Financial Football
Give your brain a Financial Football workout — play the NFL-themed video game developed by Visa for kids 11+. FREE
Money Metropolis
This is an online gameNavigate Money Metropolis' multi-dimensional world while making life decisions that will affect whether virtual bank accounts shrink or grow. FREE
Peter Pig's Money Counter
Peter Pig's Money Counter is an app for ages 5–8. Join Peter Pig and learn to recognize U.S. coins and understand the value of saving. FREE
Road Trip to Savings
Meet the challenges of a month with Road Trip to Savings on the road as you steer your way to financial stability and make decisions about income and savings. FREE
Do you have tips on teaching money management? Share with us – we'd love to know!