Lake Rudolph Campground hosted our stay. We are excited to share our story with you!
A few weeks ago we packed a car and took a drive to a town called Santa Claus in Indiana. How is this even possible that we lived within a driving distance of the Santa Land and had no idea it even existed I don't know! Didn't you know that either? Well, I am happy to tell you that this place is real and it is full of Christmas spirit even in the middle of summer.
Imagine going to the SANTA CLAUS POST OFFICE, SANTA CLAUS CHRISTMAS STORE, SANTA CLAUS MUSEUM and SANTA'S CANDY CASTLE all in one day! Believe it or not, all these places are practically next to each other in a little town Santa Claus, IN with population around 2,500 people.
And you probably wouldn't be surprised to know that we stayed at the LAKE RUDOLPH CAMPGROUND & RV RESORT and that place is amazing! If you decide to make your way to the Santa Claus, IN, Lake Rudolph campground is where you want to stay.
Originally opened by The Koch family, the owners of the Holiday World in 1958 on the opened Lake Rudolph Campsites to accommodate visitors to Santa Claus Land Theme Park. Included were a 7-acre lake (Lake Rudolph) and a swimming beach.
Today Lake Rudolph Campground & RV Resort sits on 160 acres and features 289 family rentals: 135 Rental RVs, 69 Cabins and Cottages, 187 full-hookup RV sites, and 40 Tent sites.
I absolutely loved the rental RVs. My husband and I have been talking about possibly getting an RV, but what a great way to experience RV life without actually buying an RV!
This time around we stayed in one of the cottages, and this one had a great living room, two bedrooms, and a kitchen!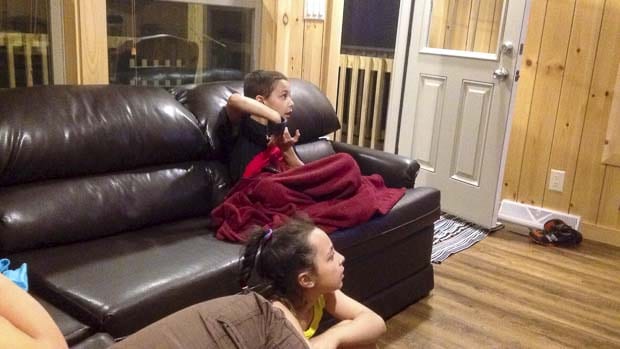 However, I could see myself having a party in one of these!
This cottage has a special place in my memory book – it is one of the original ones and it is the closest to the Holiday World Park. Doesn't it look like the slide is almost sitting on the roof?
These cottages also have great screen rooms with the rocking chairs! Guarded by the screen doors, we got to enjoy the great outdoors without the mosquitos – this probably was the best part of the day just to chill on the porch with my family.
There is enough to do at the campground even if you are not planning to go to the Holiday World. I only wish we had more time to spend at the campground fishing lake, kayaking, and paddle boating.
The campground also has 2 basketball courts, Santa's Splash Down WaterPark,
Blitzen Bay swimming pool & Baby Blitzen pool, 2 playgrounds, an 18-hole mini golf course, beach volleyball court, laundry facilities, free WiFi available at nearly every site & rental, Blitzen Kitchen Ice Cream & Pizza, discounted Holiday World tickets for guests, and free shuttles to and from Holiday World Theme Park, etc. (I might have missed a thing or two – LOL)
I also discovered very quickly that a golf cart here is a necessity around here unless you love hiking.
The campground has a fleet of 200 golf carts, but what I loved is how creative some of the residents got with the golf carts.
What is Halloween Weekends?
Halloween Weekends are seven Halloween-themed weekends offered in September and October. The campground and resort feature games for all ages including the Rudy's kid's carnival, Hadi Shrine Clowns, pumpkin decorating, Hallo-TEEN games, and Mummy's bingo party.
Kids staying at the campground can trick or treat on Saturday evening. Other features include a site decorating contest, Halloween dance, costume contest, frightful film classics, Rudy's haunted hayrides and a ghostly golf car glow parade. The RiverTown Story Tellers host Bonfire Ghost Stories each Friday evening.
What do you think is the best thing about Lake Rudolph Campground?
Want to learn more about Santa Claus in Indiana? Check out posts by other Midwestern writers:
The AVALANCHE at Santa's Candy Castle
Brick Oven Pizza: Santa Claus, Indiana
Holiday World a must for coaster enthusiasts