This shop has been compensated by Collective Bias, Inc. and its advertiser.
When it comes to picture driven social media sources, we all have perfect (or at least extremely adorable) lives. I know it isn't true, but often when I am very tired, exhausted from a day, I grab a snack bar, browse through these pictures and smile. It is like having a 5 minute summary of my perfect life.
However, there is a flip side to every picture. As adorable as my husband and my son might look sitting at the craft table, this was a difficult day. I was late making dinner and the pre-school project had to get done. Exhausted and hungry, I only wished the dinner would cook fast enough, preferably without my help.
The Apple Run
Love this picture – we drove to the market to get enough apples to last us for months. So much deliciousness!
However, this was a very early morning and despite all of my preparations, I forgot the most important part of the equation – breakfast! I can remember my stomach rumbling and grumbling as I pulled into the parking lot of the farmers' market. From personal experience: shopping on a hungry stomach just isn't a good idea. Thanks to the emergency snack in my purse, I got a quick breakfast that made my tummy happy once again.

Happiness is…
This is one of my favorite pictures. It is not every day you get to see your kids sitting quietly hugging each other – it is my definition of happiness.
This was a long day for me – I just came back from a business trip and was ready for sleep. Since the kids missed me so much, we ended up playing, camping in the middle of the living room with the headlamps, snack bars, and stories.
Personal Shopper
I love taking my daughter grocery shopping and she loves being helpful.
However, this grocery trip wasn't one of my favorites as we were both hungry and irritated. The upside of this day was us discovering Life Choice Bars.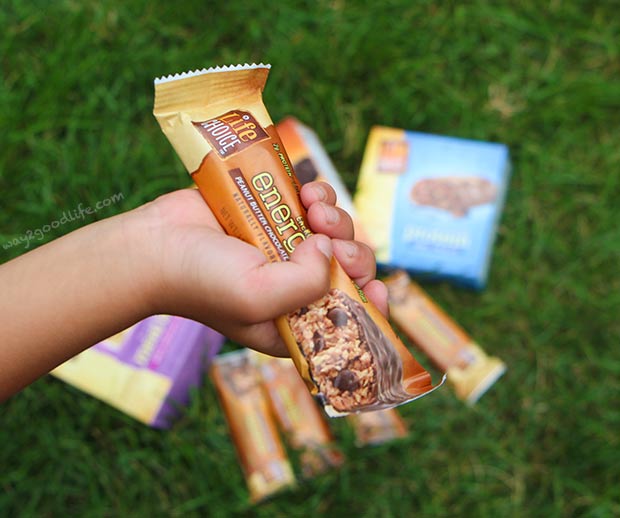 I picked up Energy "Peanut Butter Chocolate Chip Bar" – creamy peanut butter with rich chocolate, packed with protein and nutrients. To my delight, it costs a lot less than regular protein and weight loss bars.
The energy bar combines protein, carbs and sugar to deliver an extra burst of energy, which makes a perfect afternoon snack or  a just-in-case-you-forget-to-eat bar. Life Choice Energy Bars has all of the right nutrients to power you through a long afternoon or a long workout. Considering the nutritional content, I was surprised to find it in the cereal aisle at Walmart  –  not near the pharmacy, where weight loss products are generally located.
Life Choice bars offer a variety of great tasting bars. They are organized into four distinct categories – wellness, protein, energy and meal replacement to help take the guess work out of choosing the right nutrition bar for you!
 Thank You #BarNutrition #CollectiveBias for making this possible.