– Mommy when are we going to Mexico?
My daughter looked at me as I was trying to wash the dishes.
– Mexico?
– My friends go to Mexico. I want to go too.
WOW – I honestly didn't expect to have that kind of conversation with my 5-year-old. Little Passports Geography ayone?
 – One day we will, but what do you know about Mexico?
Now it was her turn to look at me with a puzzled look.
 – Sweetie, I have an idea! Let's find it on the map.
My daughter brought her Little Passport suitcase where she keeps her World Map. I have an advantage (I know where to look for it), but she found it pretty quickly.
– Mom, it is not that far
– It is not as far as the other countries on the map. Would you like to learn about another faraway country?
 Of course she did and lucky for us, we had another Little Passports Envelope sitting patiently waiting for our attention.
This month's trip took our little friends to Japan.
Would you like to guess what kind of souvenir we received in our package? Did you say eraser shaped like sushi? You are absolutely correct. Apparently both Sam and Sophia, our little travelers, love sushi and that's why they took their magic scooter to this wonderful country.
While Sam was consuming massive amounts of sushi at the restaurant, Sophia did something she immediately regretted. What can go wrong when you don't know how to eat sushi?
But as we know there is more to Japan than sushi. The activity sheet tells us a bit more about Japan with crossword puzzles and other games.
What else is in this month's package? Paper origami – we are making flying paper dinosaur – just follow the instructions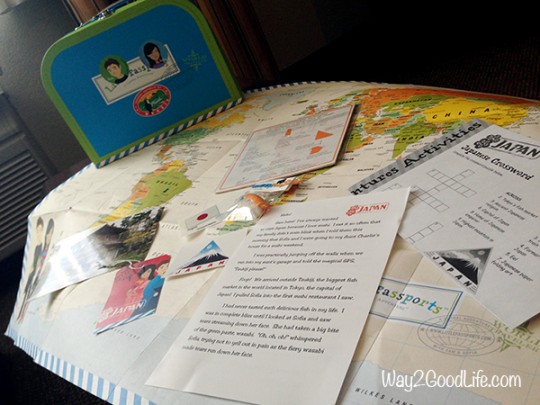 There is another tag for our suitcase, sticker in the passport, and a pin for the map.
Good times, Japan!
Want to learn more about the Little Passports? Check them out on their website as well as their Facebook, Pinterest, and Twitter.
Want to learn more about Little Passports subscriptions? Check out our other Little Passports articles here.