Over the course of year I have shared some of the virtual adventures my family went on with help of the Little Passports subscription. I honestly couldn't imagine better last-minute present (that is what it was for us last year) that lasted a whole year. Every month a yellow padded envelope shows up at our house with a new country – great story, fan facts, exotic souvenir, and other fun activities.
I am proud to say that my daughter is getting very good at finding different countries on the map and absolutely loves adding new country steps to her passport.
WHAT IS IN THIS MONTH PACKAGE?
LETTER
As always, it starts with the letter that tells us how and why our virtual friends travelled to Australia. There was a play and few very interesting facts about this great country. And of course Sam and Samantha made a new friend, who shared some cool stuff about the place where he lives.
MAP
I hope you know where to find Australia on the map, but we had a competition. I did have the unfair advantage of knowing where to look for it though. 
 LUGGAGE TAG
It is getting a little bit crowded on a suitcase handle, but it makes it that much more fun to browse through the countries.
PASSPORTS
This month Sam and Samantha, characters of the Little Passports took us on an adventure to Australia and that mean bright shiny stamp for our Travelers Passports. 
FROM AUSTRALIA WITH LOVE
This month souvenir is just super awesome – at least according to my daughter. We got a scratch kit.
With the help of the stick, you can create absolutely unique and colorful art boards by scratching the surface of the card. Some cards already had drawings on it:
And some were open to our imagination: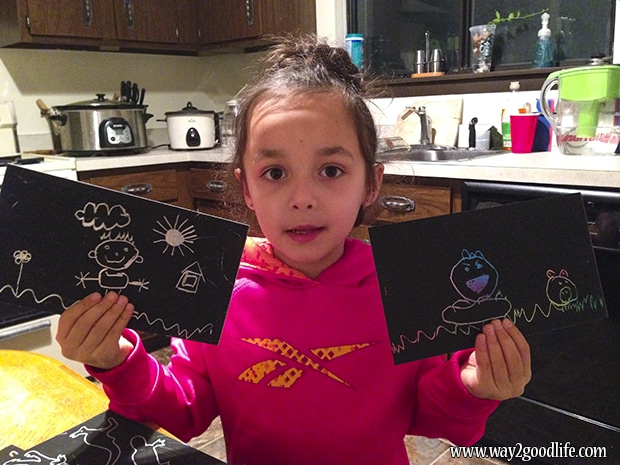 I swear all this Australian talk makes me hungry – I haven't been at the Outback in a while. Hmmm, I think this might the time to go back – LOL
Where do you think the next month with the Little Passports will take us?
Learn more about Little Passports
Want to learn more about Little Passports subscriptions? Check out our other Little Passports articles here.