Let's be honest… Socially responsible dressing may not be at the top of your priority list when juggling the everyday tasks of our hectic lives: managing children, family, and household responsibilities, and often working outside of the home. However having key accessories that fall into this category can make you feel good, keep your outfit and outlook fresh, and provide you an opportunity to teach your children about what it means to be a responsible global citizen.
Reclaimed, repurposed, upcycled, & sustainable are all terms to look for when becoming a responsible shopper. There are also many websites, such as our nonprofit Shopping for a Change, where you can purchase items that are both beautiful and do good for the world. Here's how:
Tip #1: A pop of color to brighten your outfit and your day. Color is always in style and we have some beautiful lightweight statement pieces made of Tagua, a nut that grows on a palm tree only found in South American Rainforests. Eco friendly jewelry may also have the bright seeds from Acaí berries (yes, the same one whose juice you might drink). Both of these sustainable "ingredients" look great with jeans and chic with office apparel.
Tip #2: Heavy metal doesn't need to be heavy or metal.
If you love the look of metallic but don't want all the metal or the weight, this line of recycled paper jewelry is sure to rock your world. Made to resemble metallic stones, these fun(ky) pieces will turn heads for all the right reasons, and won't weigh you down.
Tip #3: Tooting your horn can be fashionable and responsible.
Bring new life to your outfits with horn accessories and do good doing so.  The horns of water buffalos and bulls are often reborn as jewelry and accessories following the animals' passing, thus creating work for artisans from countries such as Vietnam and Peru, where they believe in reusing every part of the animal after it has passed away.
Salvaged and sustainable ingredients are bringing a new life to those crafting them into fashionable necklaces, earrings & bracelets. Making use of such components offer a healthy solution for the environment, provides new materials and jobs for artisans, and offer a socially responsible option for sophisticated dressing.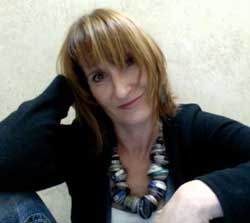 About Shopping for a Change:
Shopping for a Change (SFAC) is a nonprofit organization that helps artisans, artisan co-ops, and companies from impoverished areas around the world sell fair-trade goods online. Profits are donated to international community improvement projects focused on clean water, healthcare, and education in the artisans' communities, and to U.S.-based nonprofits which shoppers choose during the checkout process. In the four years since their launch, SFAC has grown from partnering with 11 artisan groups in Africa and South America to over 40 artisan groups spanning 4 continents and 28 countries. That's over 25,000 lives that the organization has touched. You can connect with SFAC on Facebook, Twitter and Instagram. You can donate to their current Indiegogo campaign here.