Kids absolutely love the holidays and the magic that comes with it, but how about us adults? I remember being so happy about this time of the year growing up. What happened?
The sad reality is that the magic of Christmas sometimes feels like an obligation to be happy when we really are not. Yes, more people are unhappy around the holiday season than any other time of the year, because life doesn't necessarily gets  all magical sparkly just because it's a Christmas time. Can you think of anyone who can use a friendly hand this holiday season? A friend or a person you hardly know? A neighbor or a local shelter? Is there a possibility that you have anything they can use?
Our local non-profit organization Creatively Caring recently asked for help for one of its members who has been dealing with A LOT.
Knowing that Erin had to be the rock for her sister who recently lost her baby to SITS, while caring for her husband who was admitted to the hospital with MDS, a form of blood cancer, and continue being a great loving mother to her young kids; the community wanted to do something special for her – anything really!
I really wanted to help! I have been working with Huffy as one of the Huffy Moms on Bikes and the company has been so generous to me throughout the year, I had a box sitting waiting for this kind of special occasion.
And here is what it looks like unboxed (the one my son is riding).
My son has one just like this one and he absolutely loves it. What pre-schooler wouldn't like Cars bicycle, in red bold color that screams "I AM SO COOL!" and has a special tool kit in front. This is only the coolest present EVER!

So exciting to put a smile on someone's face. However, if you don't have a bicycle to spare, consider to help others with what you have – surprisinly enough bringing a little bit of magic into someone else's life feels … pretty awesome!
Long Lost Treasures
Go through your purse or shelves and look for old gift cards – you know you have them! Just double check that they haven;t expired – some of mine go as far back as 6 years and still working. During the event for Erin, Creatively Caring did just that – the gifted her a purse with gift cards community members found laying around.
Re-Gifting
Do your kids open all the gifts they get for their birthdays? I usually ask to pick one they agree to donate to kids less fortunate. Even so I have discovered 4 boxes my daughter hasn't opened since her birthday in October, and you know someone out there would really appreciate it.
Your Time is Worth A Lot
Have you considered helping at the shelter or a community project? If you go and help – good for You! However, how about just finding time to talk to the people you know. I am sure you know a lot of people you haven't seen in a while – find time to spend some time with a person or two and just really be there for them. Talk less and listen more!
Remember "I"
Get yourself something special – something that really makes you feel good about yourself! We neglect our needs throughout their year – use the holiday season to indulge yourself (hopefully not just in food)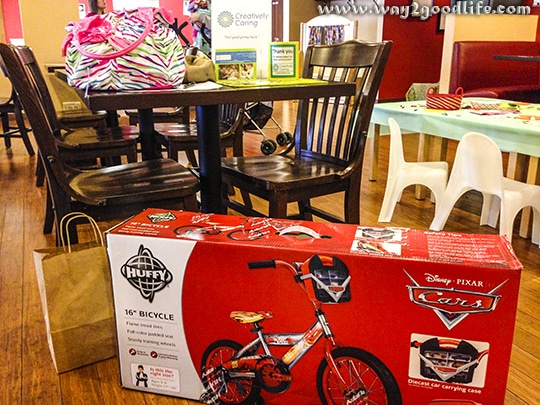 Enjoy Your Holidays!