Have you explored McHenry County? Just an hour away from Chicago, McHenry county weekend just might be what your family needs.
I don't know about you, but I am trying to stay as far from the airports as I can this year. I usually travel by car, but with the gas prices this year, I am looking for ways to travel close and have fun!
McHenry County recently invited us to spend a weekend exploring their area by hosting our trip.
Where to Stay?
Cherry Inn Bed and Breakfast has an incredibly charming with a back in a day kind of feel and incredible history.
Do you remember The Groundhog Day movie with Bill Murray? It is a story about a bitter weatherman going to Punxsutawney, PA, and gets stuck in the time loop. That's the one!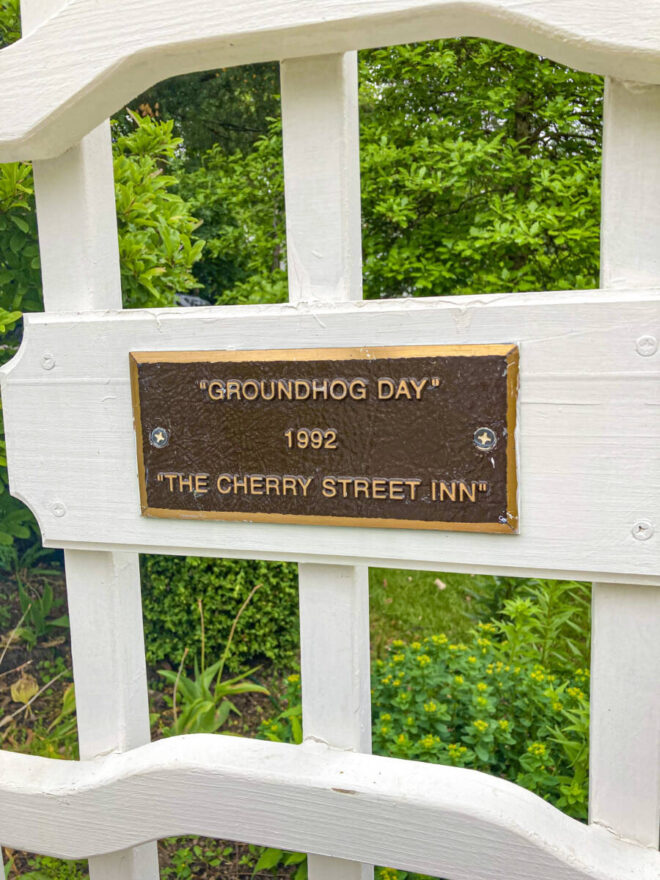 Fun Fact: a brief moment of this movie was filmed in Pittsburgh, showing Bill Murray's character and his crew heading off to cover The Groundhog Day festival. The rest of the movie was filmed right here in McHenry County.
Where did Phil Connors wake up every morning of this movie? Cherry Tree Inn B&B.
The first floor of the B&B has a shrine dedicated to the legendary movie. But that is not the best part of your stay. We absolutely loved walking around the building – it looks gorgeous day or night. All guest rooms are located on the house's first and second floors. The groundhog day theme is subtle but present throughout the house – would it be with a groundhog decor, a room key, or a Groundhog Day DVD in each guest room of the house.
The made-from-scratch breakfast will make you fall in love with the house all over again with various breakfast options.
Cherry Inn B&B is a splurge that will upgrade your McHenry County weekend experience. It's perfect for couples. However, the owners also own another B&B in town that families with kids will love.
Where to Eat
Duke's Alehouse & Kitchen
Located next to the Crystal Lake Metro Station, Duke's Alehouse might be challenging to find parking on a Friday night, but it is definitely worth the hassle (plus, parking by the Metra station is free on weekdays after 4 PM & weekends).
Duke's Kitchen creates gourmet comfort foods and artisan sandwiches using sustainable ingredients from local farmers and producers. I also loved Duke's Grain Bowl. It is a fantastic blend of chickpeas, short grain brown rice, quinoa, sweet potatoes, roasted peppers, vegan chipotle mayonnaise, avocado, kale chips, and toasted almonds. Some of their other favorite dishes include Steamed Mussels, Duke's Burger, and Apple Crumble Dessert.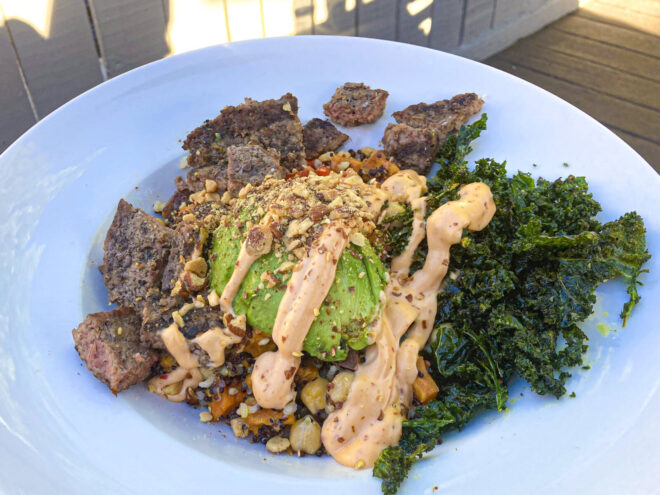 Duke's commitment to sustainability goes above and beyond regular recycling. The restaurant implemented 70 environmental steps to meet the Green Restaurant Association's rigorous certification program. 90% of their light is LED; they practically eliminated waste by composting and recycling. They also support local and sustainable farmers, and you can find the list of Duke's farmers on the restaurant menu.
Casting Whimsy Tea Shop
Want to get tea fancy? Stop on over to the Casting Whimsy. This shop has plenty of parking at a walkable distance from Woodstock square.
Take a few minutes to absorb this place. Look around and pay special attention to crazy colored chairs. It might take a minute, but everything here will remind you of something else. You might as well get a cup of tea and dessert while thinking.
The husband and wife team owning the store are excellent at what they do. Here you will find Lemony Snickers, cheesecake scones, and strawberry shmallows, to name a few. And of course, there are tea options. Iced Teas, Hot Teas, Fizzies, and Slushes – all of these are tea-based, but you might not know looking at the colors and flavors.
Every week Casting Whimsy posts their specials on Instagram to make sure their fans are aware of fuzzies and slushes flavors as well as their featured treats.
And to add to the shop's uniqueness, their owners are huge role play nerds and always have a spot open in the monthly hosted Tea & D.
Woodstock Food Truck Festival
Food Truck Fest is an annual event in June on Woodstock Square (the one permanently featured in the Groundhog day movie, but you might not know it if you visit the square on food truck fest day. Planning your McHenry County weekend in June? Make sure to come to this event!
The words of wisdom: Come Early, know your trucks, and have a plan! With 25 food trucks scattered around the square, many had lines forming at the time of the festival kick-off. With a great variety of food options, one could quickly get a three-course meal assuming that one had no issues standing in lines.
Here are the food trucks serving food at the Festival – Brother's BBQ, Churros Y Chocolate, El Chido Street Tacos, El Taco Filiz, Fork N Fry, Girls Got Balls, Gracie's Kitchen and Catering, Huntley's Tacos Locos, Jammin Concessions, Kissed by Fire, Kona Ice of McHenry County, La Humita Food Truck, Marine Korn, Mario's Cart, LLC, MJ'S Coffee Bar, My Funnel Truck, Que Pasta, RJ's BBQ, Serna's Grill Food Trucks, Stix and Noodles, Sweet Reds, Tropical Chill, Wisconsin Style Barbecue, Your Sister's Tomato, Yummy's Ice Cream Truck.
Meanwhile, the square offered entertainment from local favorites Gerald, Camille, and Amy Yore.
Farmers Market+ at The Dole
Visiting McHenry County on Sunday? Consider visiting Farmers Market+ at The Dole. This McHenry County weekend market attracts local farmers, growers, and artisans to provide locally sourced products to visitors. The market is open all year round – outside in the summer and inside in the winter.
In addition to produce, meats, and dairy, you will also find food trucks, a brunch drink bar, live music, children's attractions, and more.
While strolling around the farmers' market, consider going for a tour of the Dole Mansion. Bought by the Dole family in the 1860s, this Mansion started with the finest aspiration and exquisite details. Still, it was later sold for $1 by Charles Dole to his son-in-law.
The Mansion was, over the years, owned by Mrs. Lou Ringling (a widow of Al Ringling in the 1920s, oldest brother of the famous circus family) and served as a St. Mary Minor School for Boys in the 1940s. In 2002 the "Lakeside Legacy Project" was kicked off to restore this piece of history. The foundation raises restoration funds through various events and projects.
Where to Have Fun
The Quarry Cable Park
Crystal Lake, IL
Who knew that the Quarry could be so much fun? This is not your average pit stop. This quarry began life as a gravel mine more than 60 years ago. Years later, fresh groundwater eventually filled the quarry, creating a large deep lake. The Quarry Cable Park, located on North Lake, is a 32-acre cable wake park. Enjoy wakeboarding at this next-generation cable wake park, complete with jumps and features! Stay a little longer and enjoy the lakefront tap + grille, fire pit, sand volleyball, and bean bag toss game.
As it gets dark, the Quarry Cable Park puts on the lights and keeps the party going with the outdoor patio, bar, dance floor, and outdoor performance. Mackenzie O'Brien Band was performing the night we attended, and it was a fun performance!
Magic Meadows Alpaca Farm
Wonderlake, IL
Have you tried out goat yoga or possibly heard of alpaca yoga? Unlike goats, alpacas won't jump on you while you are trying to unwind and stretch. They will wander around, sharing their calming presence. I am unsure if I am ready for alpaca yoga. Still, I enjoyed hanging out with alpacas at the Magic Meadows Alpaca Farm in Wonder Lake, IL. This is a growing farm that is open by appointment only.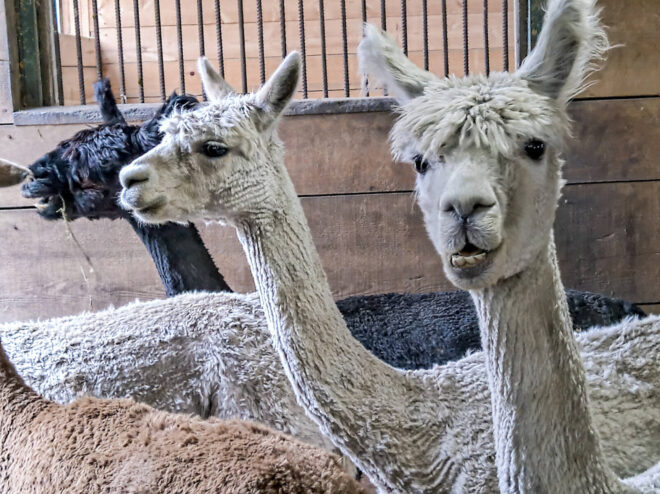 A small crowd of alpacas met our group, and their curious faces seemed to follow us around. Each of these ladies (and yes, this is a female group of alpacas) has a personality – from Shirley Temple (a very active grandma alpaca), who puts her nose in everyone's business and loves to eat a little bit too much. Chloe, Milk & Honey, Chloe, and Lady Guenevere are some of the other lady alpacas you can find on the farm (did you know that female alpaca are called "Hembras" and males – "Machos"?) trying to keep up as we carried out bowls with food for them to munch on.
Away from the enthusiastic crowd of ladies, there are young Alpaca males. Choo Choo Charlie ( the alpha and a Farms postcard star) and a rebellious teen, Rainer. Male alpacas seem to behave very differently from females. Still, they sure like females' attention and are happy to pay back with kisses.
Magic Meadows Alpaca Farm is a part of the ILLINOIS MADE group of businesses.
Kayaking the Nippersink Creek
While we haven't been able to go on this trip due to the weather, it sure sounds like an attractive way to spend a morning or an afternoon. You will have a scenic look of McHenry County from the Fox River.
Downtown Crystal Lake
Don't forget to come and explore the downtown of Woodstock. It is appealing to tourists for its small-town charm and historical movie importance.
The square look just like it did in the Groundhog Day movie.
Here you will find the street corner where, every morning, the grumpy weatherman bumps into insurance salesman Ned Ryerson – Cass Street. It is located at Benton Street on the northeast corner of Woodstock's Town Square. Watch for the plaque on the ground commemorating where Bill Murray's character repeatedly steps into the puddle.
Want to see more photos from our McHenry County weekend? Hop over to our Instagram!