I stood on the sunny street, holding the cubby bear in one hand and a camera in another waiting for the perfect moment. The background behind the bear was a cool one – wooden old Western-style road and buildings of Medora, North Dakota.
When traveling, I often take a little beanie bear with me. My Cubby Bear explores Midwest with me and even sometimes makes an appearance in my travel photos.
I tried to keep still. Right outside of my photo frame two men were about to intrude on my shot. The duo carried on their conversation as they walked into my frame… Click!
"Oh, we are sorry, ma'am. Did we ruin your picture?" the man asked

"Oh, no!" I laughed. "It's perfect!"
"With Love from Medora," I called this picture in my head – a perfect postcard.
Medora, North Dakota
Sitting between a big rocky mountain and Teddy Roosevelt National Park South Unit, here lays Medora, North Dakota…
Medora is a small town that seems frozen in time. It looks like a page from a history book. On its wooden streets, you will see cowboys, horses, and Westernwear shops. With a population of just over 130, this entire town could fit into an apartment building.
Medora, North Dakota though is unique! Its history includes the railroad, a French Marquis, an American President, and the ambitious Mr Bubble.
Marquis de Mores
Medora first came to life as a stop on the Northern Pacific Railway in 1883. Marquis de Mores, a 24-year-old Frenchmen, started his business endeavor here. He bought the land alongside the east side of the Little Missipi River.
The railroad was a game-changer, and he was here to capitalize on the progress. His plan was to connect this remote Dakota territory with big cities like Chicago.
It seemed like a win-win scenario – this area was a perfect fit for raising the cattle, and it seemed natural to start a meal packing plant here.
The businessman built a two-story ranch on the top of the mountain, found the town, and gave it a name Medora after his beautiful wife. Medora von Hoffman, a 27-year old at a time, a daughter to a wealthy New York banker. She was an artist, hunter, and an equestrian and spoke seven languages.
CHATEAU DE MORES
Marquis de Mores finished 26 rooms cabin in the most beautiful 1800's style set with the fantastic view overlooking this beautiful land
Today The Chateau is fully restored. It is a historic house museum and contains many of the original furnishings and personal effects of the de Mores family. It is open to the public year-round.
Despite its exquisite style, the Chateau de Mores was considered a rustic cabin and meant to be a family summer home. It also quickly gained popularity with Marquis's friends.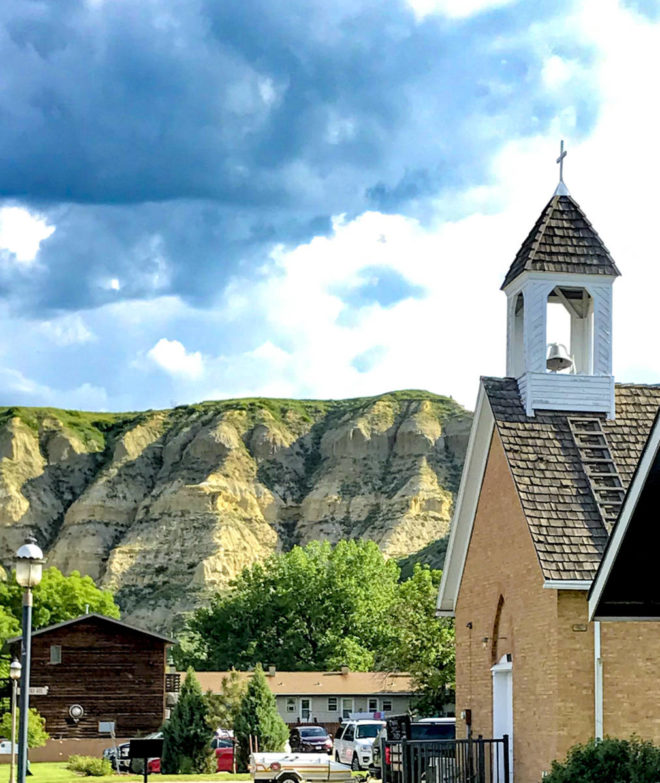 However, by 1886 after several business setbacks, the business venture officially failed, and Marquis de Mores left town. Ten years later, he was killed in Northern Africa. Medora never remarried, visited this area once more in the early XX century, and died in 1921. Later her oldest son donated the Chateau to North Dakota.
These days, you can visit the Packing Plant/Chimney Park to see the site of the plant, a slaughterhouse, three icehouses, several outbuildings, a railroad spur track, and a corral stood. The building itself burned in 1907, and the only thing left to see is the tall, native clay brick chimney. It is a great picnic area, though.
Pitchfork Fondue
After we parked our minivan on the top of the mountain, we joined a long line to the restaurant.
Have I ever spent twenty minutes in line with a view off the top of the mountain? I don't think so and that's why it was hard to stop taking photos. Every shot was an art piece that had very little to do with my photo skills.
Not your typical restaurant, Pitchfork Steak Fondue, is surrounded by picnic tables. Eat and enjoy a steak while enjoying the view of North Dakota Badlands from the Tjaden Terrace.
Every evening here, local chefs load steaks onto the pitchforks and fondue them western style for the crowds. Steaks come with lots of extras! Load your tray with fresh fruit, garlic toast, vegetables, baked beans, coleslaw, and baked potatoes. And what's for dessert? How about brownies, cinnamon-sugar donuts, lemonade, and coffee.
If you plan it right, you can spend an afternoon in this area of Medora. From visiting local landmarks, having dinner at the Pitchfork Fondue, and finishing an evening with the Medora the Musical. My family greatly enjoyed the scenery and proximity of these two landmarks.
Medora the Musical
Medora the Musical plays in the outdoor Amphitheatre sharing a parking lot with the Pitch Fork Fondue. It is a lot of fun for kids and adults. Taking viewers back into the West of the past, this show has been live since 1965 and shared its story with over 4 million people.
Medora the Musical is an ode to patriotism, Theodore Roosevelt, and the Great American West! It celebrates the 26th president of the United States and the time he spent in the Badlands.
Theodore Roosevelt in Medora, North Dakota
Theodore Roosevelt was the most famous person to spend time in Medora, North Dakota. However, he came to this area at the saddest time of his life. Both his mother and his wife died on Valentine's Day in 1884.
The future president came to Badlands to grieve and heal. After leaving the office, he traveled to the Dakota Badlands later that year, built a ranch in the rugged country, and worked as a ranchman for a few years.
He settled on Chimney Butte Ranch (also called the Maltese Cross Ranch). There he took his time to heal while he worked as a cowboy on land he loved. Roosevelt became acquainted with the Marquis and visited the Chateau occasionally.
Future President learned some hard lessons as a businessman and the cattleman while living in Badlands. Moreover, he attributes his time in North Dakota to his presidency.
"I have always said I would not have been president had it not been for my experience in North Dakota," he wrote.
If you travel to the Elkhorn Ranch, you will be able to visit the place where Theodore Roosevelt's ranch once stood.
South Unit of Theodore Roosevelt National Park
Medora, North Dakota is located near the southern entry to Theodore Roosevelt National Park – the only national park named after a person.
And trust me, you can easily spend several days in the South Unit of Theodore Roosevelt National Park. Between the scenery and wildlife, there is plenty there to admire.
The wildlife here is a real treasure! Bison roam freely in the South Unit of Theodore Roosevelt National Park near Medora. They will not yield you the way – it is their domain!
You might have to stop and wait for these giants to cross the road. You might also witness their crossover. It is an incredible experience to observe herds of these animals!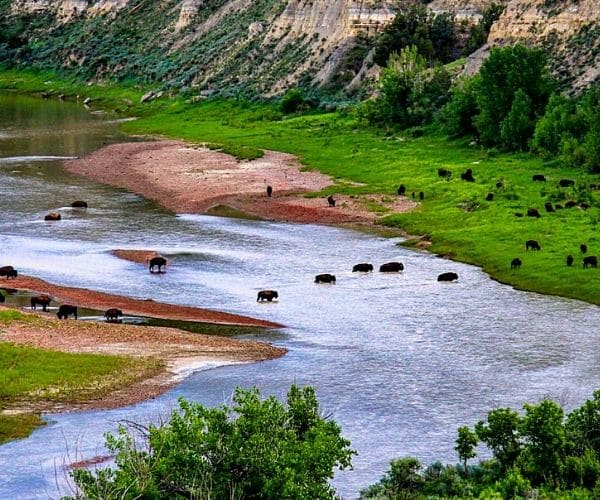 Feral horses will ignore your presence as they have more important things to do. Wild in North Dakota website and Facebook page share beautiful photos of wild horses in the National park. This Non-profit organization keeps a careful record of 150 horses. Each horse has a name, and a pedigree followers can track.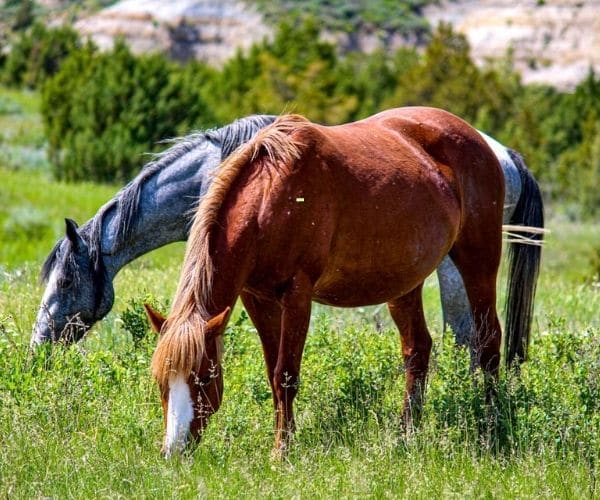 There is also Chasing Horses, an organization that documents Wild Life in the Theodore Roosevelt National Park.
For those loving bicycle riding, there is an excellent opportunity to concur with the 96-mile Maah Daah Hey Trail.
This challenging route is a part of the Mandan Indian land. It winds through spectacular geological formations – peaks, valleys, rolling prairie, rivers. The route might even be the longest single-track mountain biking trail in the United States.
My family visited the reconstructed MANDAN INDIAN VILLAGE AND FORT ABRAHAM LINCOLN STATE PARK near Bismark, ND.
A Cow-Village
So many historical things took place here in Medora, North Dakota but the town itself nearly became a forgotten history. It certainly got very close to it.
By the 1950s this was a cow-village with the worn-down buildings surrounded dirt streets. There was no running water and sewer, and previously famous The Rough Riders Hotel was a shell of what it had been when it was built in the late 1800s.
The Father of Modern Medora
That is until Harold Schafer came along. Harold had no connection to the Medora. He was a businessman who founded the Gold Seal Company, the original maker of Mr. Bubble bubble bath.
He loved Badlands, and he hated seeing the historic town of Medora, North Dakota in the state it was.
Schafer bought the Rough Rider and the townland. He even bought houses from the residents that had a hard time finding buyers for their properties.
At some point in time, Harold owned 75 percent of the town, which couldn't be easy. He repaired the roads and restored the buildings, including the Rough Rider hotel. He even opened a branch of the Gold Seal Company in Medora.
Even the Musical was his idea! Harold Schafer was looking for a way to make Medora a tourist destination. By 1963, his Rough Rider Hotel became a getaway from civilization. But how about entertainment?
Harold bought the Burning Hills Amphitheater and had it reconstructed to include the staging area and seating.
The amphitheater with wooden benches included a perfect Badlands backdrop. "Medora Musical" began to take form as a family variety show with musical numbers and dancing and opened with its first show in 1965.
Harold Schafer continued to improve the town and musical and remained a part of the city until his death in 2001.
Today Medora, a small boutique town with a population of 112, serves as a perfect "back to the past" getaway for anyone looking for a unique experience.
Have you heard about Medora, North Dakota, before?