When was the last time you took your kids to a Midwest Children's Museums? What about a museum that is made just for them? If you haven't visited a children's museum in recent years, you are missing out. Let me just say, these are not your grandparents' children's museums.
Today's children's museums are more than just a play area or full of boring exhibits!
They are now built into stunning and uniquely-designed buildings. They have interesting, educational, and interactive exhibits and play areas that can keep your kids busy for hours.
These Midwest children's museums are impressive, interesting, and fun for the entire family! These museums will intrigue kids of all ages (and I do mean all ages).
From space exhibits that test your knowledge to special exhibits that will amaze you, a visit to a children's museum is a lesson disguised as fun! If your children are homeschooled, or do online schooling, children's museums are a great option for a field trip.
Children's Museums to Visit in the Midwest
The Children's Museum of Indianapolis
Where do you start with the Children's Museum of Indianapolis? The building's exterior, where sculptures of dinosaurs are trying to crash into the museum or busting out?
How about the giant Chihuly blown-glass art piece that hangs from the top floor and runs down four levels? The museum's exhibits will challenge everyone's minds.
There is an exhibit showcasing children's impact on society. You'll feel like the law enforcement official escorting young Ruby Bridges on her first day of school in 1960, as New Orleans schools are integrated. Another exhibit will put you into outer space as part of Spaceship Earth. For sure, the Indy museum challenges you to expand your mind as you explore interactive exhibits.
You'll learn about paleontology as you explore fossil beds and archaeology as you explore the tombs of mummies. Outdoor attractions focus on sports and activities, everyone from age five to 65 will have an enjoyable and educational visit. Oh, and how about a ride on the full-size carousel on the fourth floor?
Magic House in St. Louis
Located inside a Victorian-era mansion, the Magic House is truly magical in St. Louis. Besides the beautiful architecture of the mansion, the Magic House is totally a children's museum.
There are hundreds of interactive exhibits! An art studio will let kids create their own artistic wonders. A bubble room will let them try their best to create the world's largest bubble. They can also try their investigative skills in a wonderworks room.
In each case, as children play, they learn about science, math, and ingenuity that goes into their creations. The museum also hosts special exhibits throughout the year. Magic House's backyard invites children to play in the nature area, along with a waterfall patio.
Kids love coming to the museum to play. However, parents love the education that comes with creative play. Oh, and don't forget to let your kids climb the Jack and the Beanstalk attraction!
Chicago Children's Museum
Visiting Chicago Navy Pier? Ask kids if they would rather ride the Ferris wheel or visit Chicago Children's Museum! Nine times out of 10, the museum wins!
When kids can play, they enjoy themselves. And, at the Chicago Children's Museum, playing is the name of the game. But, as always, the museum's goal is to help children learn as they play.
With exhibits aimed at children in groups – babies and toddlers, age 4-8, and 9+ – children can play with age-appropriate attractions. Babies and toddlers will be head over heels for the Treehouse Trail and Kids Town score high. That is a fantastic place for youngsters to learn about nature and get to play with toys, such as blocks.
Children 4-8 can learn about weather and how clouds form and rainfalls, as well as digging for fossils, and sharpening their artistic skills.
Kiddos nine and older with love a tinkering lab, where they can learn engineering skills, as well as physical tools involved in climbing a rope tunnel. The Chicago Children's Museum also features special exhibits.
Minnesota Children's Museum
Located downtown St. Paul, just a few minutes' walk from the Excel Energy Center and a few blocks from the Minnesota Science Center, the Minnesota Children's Museum invites children of all ages to explore nearly a dozen interactive exhibits. You kids wash a car, play with bubbles, and more!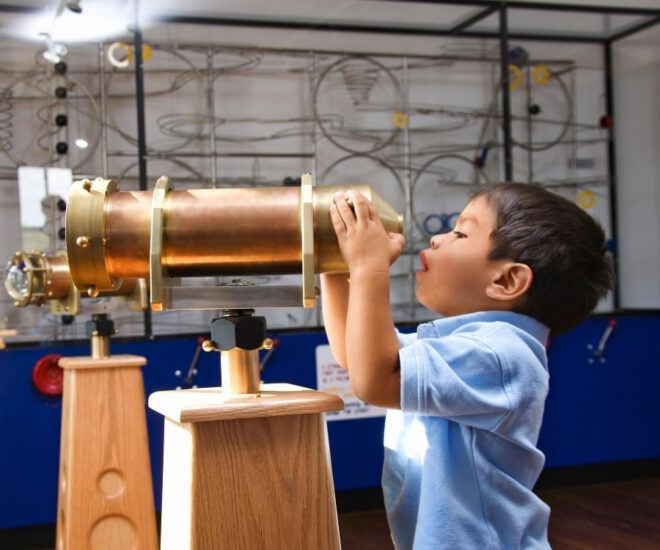 While visiting the Forces at Play exhibit to Our World, children learn about different roles in communities – firefighters, postal workers, and shop keepers. Each exhibit focuses on a specific set of skills. They will learn to collaborate with others to understand the science behind creating a successful project!
The museum offers fun and learning with outdoor activities, including a giant nest, where they can learn about how birds live, as well as animal sculptures and plants.
Washington Pavilion in Sioux Falls, SD
Sioux Falls is home to the Washington Pavilion of Arts and Sciences, which calls a former high school home. Washington Pavilion offers children (adults, too) a look into how art and science help shape a person's view of the world.
The Visual Arts Center features eight small galleries that share magnificent art from South Dakota and regional artists to pop culture icons like Andy Warhol. With special exhibits throughout the year, a visit to the museum is never the same.
The Kirby Science Discovery Center features more than 100 interactive exhibits, ranging from a giant astronaut suit that's a popular photo opp to discovering dinosaurs. With attractions covering four floors, a visit to the Washington Pavilion is an educational trip.
The museum features Forever Forest and showcases tree-based products. It also educates little ones on the role forests play in the earth's survival. A 60-foot domed movie screen shows nature- and science-related films that will keep the little ones tied to their seats.
Omaha Children's Museum
Giant O! welcomes you to the special exhibits that keep bringing you back, the Omaha Children's Museum features fun and entertaining ways to learn.
Check out a car garage, where children can play auto mechanic (learn about how vehicles work and the importance of maintaining them). Stop by at the grocery store, where children have fun taking turns playing customer and cashier. The store attraction helps children learn about food and shopping.
With almost 12 permanent exhibits, other interactive exhibits, such as the S.T.E.A.M. Cave, which focuses on science and technology and is home to a glowworm cavern. The museum's special exhibits are located on the second floor and feature unique areas of interest, such as sports (with a local connection) and how cultures from around the world impact us locally.
For parents and grandparents, Zooland brings back childhood memories. The four-piece large fiberglass animal playset – featuring a small elephant slide (that's a way to use its trunk) – was located in the old Richman Gordman's department store.
Whether you have toddlers or children nearing their 'tween years, there is something for everyone at the best Midwest Children's Museums. From climbing rope ladders to learning how a car works, children will have a blast, and parents can be rest assured their kids are learning something with each visit!
That's all we can ask for, right?
Looking for more Midwest museums for kids? Check out these fantastic places!
Discovery Center Museum
The Museum of Science and Industry
The Putnam Museum in Quad Cities