Under THREE-hour drive from Chicago
Spring! Every year I am excited to greet the sunshine and wave goodbye to the Midwest snowstorms. However, since it isn't quite the beach weather yet, and summer vacations are still a lifetime away, I wanted to find fun and exciting Midwest family vacations or even 4-day vacation ideas that would be entertaining and educational for families and easy to get to. That's how I came up with
Midwest Spring Weekend Getaways
Under THREE-hour drive from Chicago
Things to do in the midwest in spring – a list of Midwest Weekend Getaways ideas that are both eventful as a full vacation.
MARCH EVENTS NEAR CHICAGO:
March 17 Galena, IL
16TH ANNUAL SLUSH CUP
Chestnut Resort is hosting their annual Slush Cup celebration to wrap up the winter and kickstart Spring. The festival includes fun festivities for the Whole Family: costume contest, live entertainment, and of course the Legendary Slush Cup! There will also be an outdoor BBQ.
It's a fun, comical event that attracts a lot of characters. Come and participate or attend as a spectator. In any case, you will have a lot of fun! Learn more about 16th Annual Slush Cup Sunday on March 18th.
March Joliet, IL
Old Joliet Prison Guard Tour
Opened in 1858, just six years after the incorporation of the City of Joliet, the Illinois State Penitentiary, Joliet, now known simply as the "Old Joliet Prison." It first became popular with the movie "The Blue Brothers" but since it also made its appearance in movies like "Prison Break," "Derailed", "Let's Go to Prison", and "Empire". It stopped being a functional prison in 2002 and is now open as a 90-minute walking tour. A historical tour is offered for anyone 10+ and the Old Joliet Prison Guard Tour requires to be at least 16 years old. Learn more here.
APRIL EVENTS NEAR CHICAGO:
FORT WAYNE, IN: April 4
Fort Wayne TinCaps Baseball – Opening Night
A Fort Wayne TinCaps baseball game is a perfect choice for a Midwest family vacation as it's a fun family entertainment from April through September. More than just baseball, a TinCaps game has something for everyone! Parkview Field is a family destination in downtown Fort Wayne and is home to the Midwest League Champions. With tickets starting at just $6.00, TinCaps games are fun for the whole family and super affordable. Learn more about TinCaps.
LAFAYETTE, IN: April 6 & 7
Spring Fest at Purdue
Spring Fest is an annual event showcasing the lighter side of higher education. This event is FREE and is a great opportunity for students of all ages to learn about animals, art, astronomy, and much more in two full days of hands-on activities. If you are looking for things to do in the midwest in spring, it has everything to offer – education, entertainment, and all fun. Celebrate Gala Week and Mother's Weekend along with the Bug Bowl, Horticulture Show, Veterinary Open House and more. Learn more about Spring Fest Purdue and check out their others Midwest weekend getaways ideas.
Lafayette, IN: April 6
TAP for TAF Craft Brew Fest
TAP for TAF is a fundraiser for the Tippecanoe Arts Federation and a beer tasting festival celebrating regional craft brews. In its eighth year, the event offers the opportunity to sample beers from Indiana brewers, enjoy a fantastic view of this fun city, and support the arts in North Central Indiana. Proceeds benefit the Tippecanoe Arts Federation and its mission to Grow the Arts in 14 Indiana Counties. You must be 21 years or older to attend. Learn more about Tap for Tap.
FORT WAYNE, IN April 10-14
The Vera Bradley Annual Outlet Sale  
My sister went to this event last year, and she had a blast. Guess what I got for my birthday? Vera Bradley bag. The Vera Bradley Annual Outlet Sale is one of Fort Wayne's most popular shopping events that attract shoppers by a well-known quality and incredible savings.
This April 10-14, 2019, this popular event will welcome more than 50,000 shoppers from all 50 states and 11 countries to the Allen County War Memorial Coliseum. Shoppers will find up to 60% off retail prices on Vera Bradley handbags, luggage, stationery, and accessories. It made our list of Midwest Family Vacations because it's fun and budget savvy. Visit FortWayne.com/verabradley to learn more. You can put it on your list of 4-day vacation ideas, go to the sale and explore Fort Wayne at the same time.
LAFAYETTE, IN April 13
Purdue Grand Prix
Purdue Grand Prix go-kart race started in 1958 and includes time trials, a car show, a parade and so much more. The track is located behind the Schwartz Tennis Center on McCormick Road near the intersection of McCormick and Cherry Lane. Drivers and crew are students of the Perdue University willing to do what it takes to win. It was created as an outlet for engineering students at Purdue to exercise their skills, knowledge, and enthusiasm. Since its beginning, Grand Prix has matured into a successful and well-run event with fundraising efforts to provide scholarships to students.
Learn more about Purdue Grand Prix event add this fun trip to your Midwest weekend getaways.
FORT WAYNE: April 27
Fort Wayne Children's Zoo Opening Day
Did you know that The Fort Wayne Children's Zoo is "one of the top ten in the nation?" That's a reason enough for me to make the trip for the opening day and is it is one of the family-friendliest things to do in the Midwest in spring. Pet a stingray, feed a giraffe, ride a sky ride, enjoy a log ride, and so much more! Learn more at Fort Wayne Zoo.
Oglesby, IL: Starting in April-May
WATERFALL & CANYON TOURS
Starved Rock offers a variety of tours – from guided hiking tours to river cruises. However, I'd like to bring your attention to their WATERFALL & CANYON TOURS. Pick one of these three spectacular waterfalls and canyons: French, St. Louis and Ottawa. This tour is fantastic combination of a 45-minute hike, a lunch and a relaxing, historic trolley ride.
MAY EVENTS NEAR CHICAGO:
Joliet, IL: MAY 4
THE 13th ANNUAL ILLINOIS ROUTE 66 RED CARPET CORRIDOR FESTIVAL

It is all about family fun on the most famous road in America – Route 66. Sponsored by the thirteen communities which make up the 90-mile linear museum from Joliet to Towanda, the annual festival invites everyone to experience the good life in the slow lane.
Each community will produce its own events. From full-blown festivals to antique and craft sales, art sales, car and motorcycle shows, live entertainments, and plenty of yard, garage, and sidewalk sales along the way, everyone is sure to discover something unique.
LAFAYETTE, IN: May 11
Art, Bark 'n Brew!
If your dog is a huge fan of travel, plan to go to the Art Museum's second annual Art, Bark 'n Brew! There will be plenty of food trucks as well as local craft beer along with live music! Activities will include prize drawings, pup friendly arts, and crafts, and more! Kids K-12 can participate in an art show named "Dogs with Jobs" and there will also be adoptable dogs from a local shelter.
HENDRICKS COUNTY, IN: May 17-19
Mayberry in the Midwest
A fan of Andy Griffith Show? Get ready for a huge three-day Andy Griffith Show-themed festival held during the third weekend of May. Mayberry Cafe, located on the northwest corner of the historic Hendricks County Courthouse Square. This destination restaurant has become a fan favorite as people travel from all over the globe annually to eat and experience this one-of-a-kind tribute, which inspired the May festival.
You will find anything Andy Griffith Show here from the country wallpaper as well as the down-home vittles that you would swear Aunt Bee made herself makes this place a fun stop for any age.
Here is what else you can expect from the festivals: Tribute Artist Show, Squad Car Nationals, Mayberry Parade, and more! I would keep it in mind for 4-day vacation ideas list – come a day early and go to the Mayberry Cafe first as that experience is not-to-miss!
Get more information about Mayberry in the Midwest Festival.
HENDRICKS COUNTY, IN: May 18th
Central Indiana Enchanted Fairy Festival & 21+ Ethereal Ball:
The first annual Central Indiana Enchanted Fairy Festival will take place at the Hendricks County Fairgrounds in Danville Indiana! This one-day full fairy immersion experience includes Honorary Fae clan induction ceremony, Fairy tea party, Maypole dancing, and so much more. There will be food trucks, Market Place Booths which makes it my kind of festival, while I know the kids would have a great play day.
It's also a fundraising opportunity to Facilitate animal welfare by finding homes, saving lives and Educate the community on the humane care of animals. It's on our list of Midwest family vacations; it is both a fantastic event and has a great cause.
And for those over 21, there is an Enchanted Ball in the evening with a Bar, Local Food Trucks, Live Music, and costume contest. Learn more about Central Indiana Enchanted Fairy Festival.
FESTIVAL COUNTRY, IN May 24
Strawberries on the Square
Festival Country Indiana kicks off their Festival season with the Strawberries on the Square in downtown Franklin. Celebrate the arrival of strawberry season with strawberries that features food and evening events like a car cruise-in and live music. Learn more about Strawberries on the Square and other things to do in this Midwest town in spring.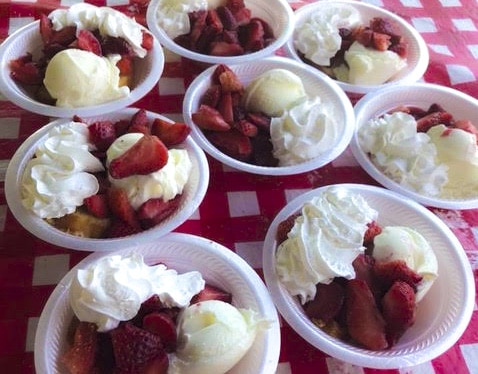 LAFAYETTE, IN May 25
Round the Fountain Art Fair
On the Saturday of every Memorial Day Weekend, this one-day art fair that features up to 100 artists from around the nation, showcasing their talent and works in a variety of pieces and media. Proceeds from Round the Fountain Art Fair go to support fine arts education in the five area public schools, after-hours arts programs, courthouse restoration projects, the restoration of the Marquis de Lafayette Fountain, outside lighting and seating, landscaping, and public art projects and installation.
Since 1973, the Round the Fountain Art Fair has grown to become known as one of the premier juried fine art fairs and would make an excellent place on our list of Midwest weekend getaways.