Travel through Midwest Tractor Museums and learn Midwest history! Even if you aren't a huge agricultural fan, you may be surprised! And can you think of a better way to celebrate Spring in the Midwest? One of my favorite things about Spring in the Midwest is the plethora of amazing, hardworking farmers.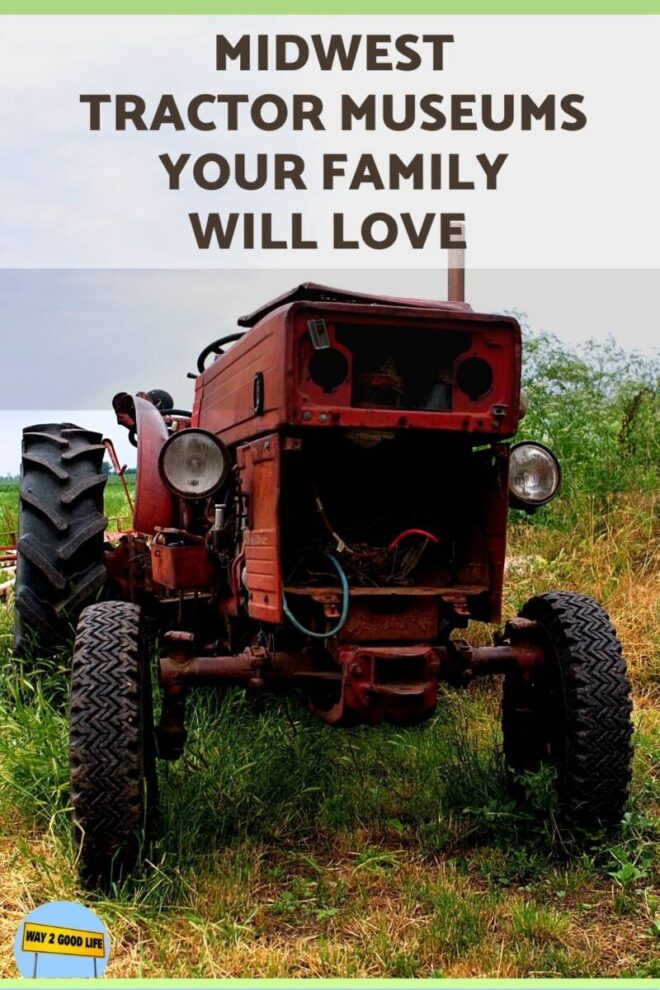 Spring also means planting season for these awesome farmers. What crops come to your mind? How about corn, soybeans, beets, potatoes, wheat, or popcorn? A variety of crops – raised in the region means farmers need special equipment to meet their needs.
No piece of equipment may be more important than the tractor. From hauling equipment and trailers to running discs and planters in the field, the tractor is an ultimate versatile vehicle.
It is imperative to teach our children all about farmers and the good that they do. Kids need to know that our food doesn't just come from the grocery store. Teach them at an early age about the hard work of farmers in our communities!
Would like to introduce your children to Midwest agriculture and farming? Take a fun trip to a tractor museum! The Midwest is home to several tractor museums that will tell the story of the farm implement. From John Deere to antique tractors, there's a lot to learn about tractors!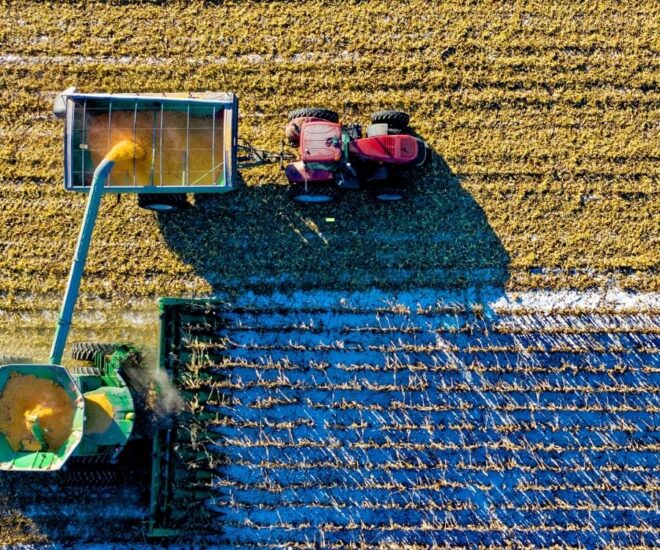 Midwest Tractor Museums that the Whole Family Will Love
John Deere Tractor and Engine Museum – Waterloo, IA
A transplant from Vermont, John Deere worked as a blacksmith in Grand Detour, Illinois. He noticed the struggles farmers had plowing their fields. They often had to stop to clean off the dirt from their iron or wooden plows.
He created a steel-based plow that cut through the challenging Midwestern soil. With this invention, the John Deere Company was born. He built 13 plows in 1837, then increased to 100 per year by 1842. By 1850, the company annually-averaged 2,000 plows.
The company continued to develop a variety of farm implements in the late 1800s.
Furthermore, in the early 1900s, the company focused on building gasoline-powered tractors. Once the John Deere Company bought the manufacturer of the Waterloo Engine Company in 1918, along with its Waterloo Boy tractor. It took off in producing one of the best tractors in the country.
Introducing the D Series in 1923, John Deere continued its streak of developing popular and efficient tractors. Moreover, each new series came with advancements that helped farmers with their operations.
Today, John Deere produces GPS-operated implements, such as tractors and combines. Farmers can program them and then operate in the field driverless.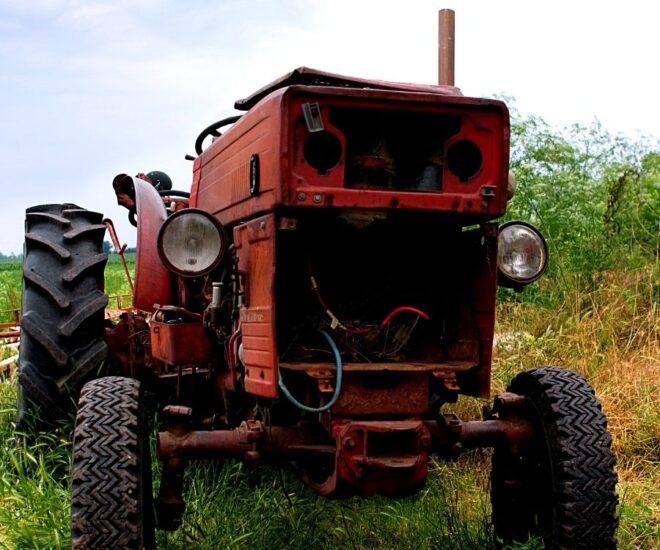 The John Deere Tractor and Engine Museum showcasing the company's history – from the first steel plow to today's tractors. Learn firsthand about farming through interactive exhibits, such as a horse-drawn plow and tractor cabs.
The museum is located at a John Deere plant. During the week, visitors can take guided tours and watch tractors being built and driven off the assembly line.
The company's world headquarters in Moline, Illinois, is also home to a pavilion with unique John Deere vehicles. Read FREE AND FUN ACTIVITIES IN QUAD CITIES to learn more about John Deere Pavillion as well as other fun and free activities in Moline, Illinois.
Larsen Tractor Test & Power Museum – Lincoln NE
The University of Nebraska-Lincoln created a tractor testing lab in the early 1920s. It helped to gauge the power and strength of tractors under the state's tractor law.
The university continued testing here until 1980 when the program moved to a new area on campus. The original lab later transformed into the Larsen Tractor Test & Power Museum.
It showcases tractors in various exhibits, as well as how testing and performance data continue to help develop efficient tractors. The museum is open Tuesday-Friday and the first Saturday of each month.
Michigan Flywheelers Museum – South Haven MI
Open Memorial Day through Labor Day, the Michigan Flywheelers Museum offers a look at vintage tractors and steam engines. Located on about 80 acres in South Haven, the Michigan Flywheelers Museum also includes old farm machinery. Visitors can also experience what farming was like before gasoline-powered implements took over the industry.
Along with old farm machinery and equipment, the museum provides a look at life in the old days. Living history town includes a sawmill, shingle mill, blacksmith, jail, and log cabin.
Visit a barn that's more than 130 years old. Besides that, children can spend time in a play area.
Kinze World Manufacturing – Williamsburg IA
A visit to the Kinze Innovation Center at Kinze World Manufacturing headquarters offers a look into technology that helps farming.
The Kinze Innovation Center traces the company's history and how technology has improved agri-business. Start with the company's original grain cart travel to a 12-disc plow to Big Blue, a twin-engine tractor all in one place.
The admission here is FREE! In addition. the center offers interesting exhibits for adults and children, as well as guided factory tours.
Case International Harvester Visitors Center – Racine WI
Take a look into the past and future with a visit to the Case International Harvester Visitors Center. Tour the 20,000-square-foot facility offers an impressive look into Case International Harvester. Find vintage tractors and other implements to the company's current crop of vehicles and equipment,
Learn about the company's future plans and how they'll improve farming operations. The visitors center is part of a guided factory tour. That means you will also see here the equipment being manufactured.
The FREE tour takes about 2.5 hours and requires a 48-hour reservation.
Floyd County Historical Museum – Charles City IA
Did you know that the word "tractor" was first used in Iowa? It happened after the invention of the gasoline-powered vehicle by John Froelich in 1892. Charles City became home to one of the first tractor plants in the country.
Located in a former animal medical laboratory, the Floyd County Historical Museum traces the story of the North Iowa area. However, its tractor collection rivals any museum in the Midwest.
Featuring gasoline and steam-engine tractors, you can take a true walk through history. Get an up-close look at tractors once produced by Hart-Parr, Oliver, and White companies. While at the museum, take in the other collections, including a look at the laboratory's story.
Who Will Love a Trip to Midwest Tractor Museums?
Even if you aren't sure that you will like to visit a tractor museum, you may be surprised!
Visit these locations and learn about Midwest crops. Travel and Learn Midwest history, agriculture, machinery, and more!