Thank you, Untapped Tours and Harley Davidson Museum for being a part of the story.
Confession time: I don't read romance novels, don't love getting flowers for my birthday, and just not into romantic gestures (lucky for my husband). Both my husband and I often forget our anniversaries, practically never go on dates, and decide on each other gifts together. However, being together for 19 years with three children, three jobs, and three business, we have to consciously make steps to stay connected as a husband and wife.
A few weeks ago, my sister-in-law volunteered to babysit, and my husband and I got a Sunday to ourselves. We decided to get away (just to make sure nobody comes knocking in an hour to return your children, hopped in the car, and went to  Milwaukee, WI which is only an hour away from the NW suburbs of Chicago where we live. A day earlier I snatched two boarding passes to a tour around town hosted by Untapped Tours. A small group tour off the beaten path on a crisp Sunday morning? Yes, please!
If you have ever been to the Milwaukee, you know the Clock Tower – that was out meet spot! For us, it has an extra special meaning – we were here on our first date! It did involve a spontaneous trip from Chicago on a late Thursday night, a few bottles of beer, and a desire of doing something crazy – great memory!
Mike, the Guide of the Untapped Tours created a fantastic combination for this city tour – from walking the iconic Black cat Alley to sharing the history of the oldest houses in the area with us. We even got to try famous Wisconsin Cheese Curds!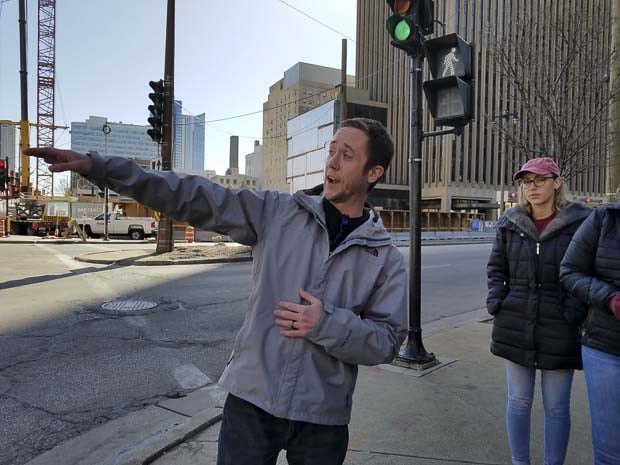 Funny enough, without the need of watching our crazy kids we got to chill and be silly –  how often can you do that? We took a walk holding hands to the Lighthouse (did you know that this is the only Lighthouse that is built out of three different lighthouses?). We also heard to Mike's story of an Indiana truck driver, who got lost and drove his 53-foot trailer onto the walkway damaging several trees, passing one pedestrian bridges and getting stuck on the second one right behind the Lake Park lighthouse.
We went through the Public Market on North Waters Street following the crowds of people looking for a great deal or a fresh catch. How did I not know this thing even existed?
We took a mandatory selfie in the Black Cat Alley – a backstreet you can see from the Farwell Ave. Yet, once you step onto the alley, you suddenly find yourself hidden from the world and surrounded by the graffiti walls.
Our last stop was the Lakefront Brewery that came with a beer tasting and a souvenir glass along with the story of a brewery that started in the kitchen in 1987 and grew to be what it is right now 30 years later. 
What's next? After Untapped Tours bus disappeared around the corner, we concluded that it was too early to come home. Next step – Harley Davidson Museum. This place is a town of its own. I can only imagine how busy the streets of the small Harley Davidson Museum area gets in summer and how overfilled it will be during the upcoming 115-year anniversary.
This museum is full of great American history. From the Harley Davidson motorcycle that won the 15-mile race in Chicago to the Ice Cream delivering sweet treats, from the Terminator's motorcycle to the bike ridden by Evil Kenevil that jumped over 19 cars, this museum has it all. May I insist that you splurge and get self-guided audio – you will be amazed by the stories? You will love the stories of the old time history and understand the history of specific objects.
My husband, who loves history was able to fulfill his thirst for knowledge, while I handpicked my stories. Of course, that didn't stop him from jumping from time to time in front of me with: Did you hear that yet? What did you think?
As we left Harley Davidson Museum, I got "I miss you so much!" message from my daughter and that was a clear sign that the date time was over. Not only we had an eventful day – this day also had no interruptions, unplanned potty breaks, and hovering over our small army of children that usually can't help but cause trouble.  It felt incredibly weird to know that we didn't have to stop our boys from climbing statues and cars, remind our daughter that she needs to hurry up or have to worry about anybody else but each other. I don't even remember the last time we did that. For this and maybe a few other reasons I am calling this date a succeess!