Mud Island River Park is a very budget friendly activity you can do as a family. The River Park itself is free, but if you'd like to ride the monorail and see the Mississippi River Museum, the upgrades are worth it!
A few months ago we were crazy enough to spend a week in a car as a family. As I am writing this old scenes from the Lampoon Family vacations, come to mind, but no – it wasn't like that. See, this was our first vacation that took us from Chicago suburbs to Austin, TX and back, yet everything in between was rather a suggestion. For the first time, I didn't plan anything – many stops were suggested by the billboards and Welcome Centers.
When we got off the highway in Memphis, TN and the first thing that jumped right at us was a Huge Bass Pro Shop! How huge was it? It was humongous – with restaurants, large fish tank, an elevator leading to the observation deck on top to give you a decent view of the city.
We spent hours browsing spacious isles, trying out boats, and tractors, and checking out the view from the top.  I almost wish we spent less time in there as we didn't get to explore much of anything Memphis has to offer. However, we did make our way to the Mud Island and yes – I wish we got there a bit sooner to fully absorb the experience.
While the Mud Island River Park is free the Monorail ride and the Mississippi River Museum are totally worth paying for – especially if you are visiting the area. $10 for adults ($7 for kids age 5-12) you'll get access to the museum, round trip monorail rides, and a guided Riverwalk tour! I promise you will get your money worth it if you spend an afternoon here at the Mud Island Park!
MUD ISLAND MONORAIL
You can take a walk to the Mud Island on a bridge and save a few dollars, or take a monorail. The monorail is a great experience of its own, especially if you have never done this before. Imagine traveling in a cabin across the harbor at a speed of 7 miles right under the 1,700-foot-long bridge with the best views of the downtown Memphis, the Mississippi River, and Mud Island River Park.
The entertainment part of the Mud Island has two main things you have to visit – The Mississippi River Museum and The Mud Island River Park!
MISSISSIPPI RIVER MUSEUM AT MUD ISLAND RIVER PARK
We didn't have enough time to spend enough time at the Mississippi River Museum, and I hope to come back here one day, as this history packed museum stores 10,000 years of Lower Mississippi Valley history separated in 18 galleries, starting from early exploration and settlement, transportation & disasters along the river. The displays and narratives are there to bring your back in time. The galleries also show the evolution of music along Ole Man River.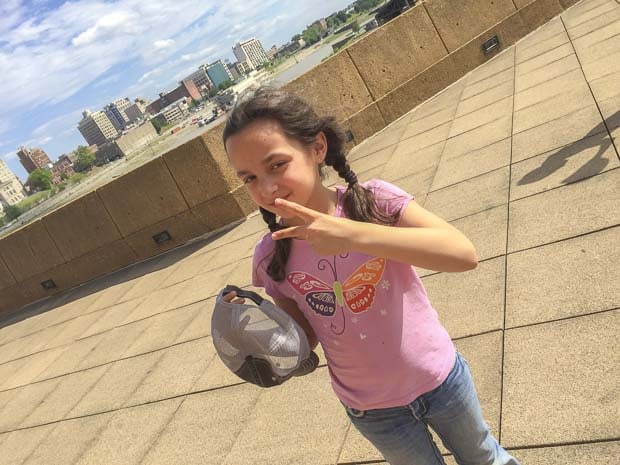 They even have a life-size replica of a riverboat complete with sounds of gamblers and revelers! We loved walking around the deck of the riverboat surrounded by sounds of history – it makes you believe that you are there, just a turn away from other boat passengers.
Five galleries of the museum are also dedicated to the Civil War era with a gunboat battle, artillery pieces, uniforms and other war-related items.
MUD ISLAND RIVER PARK
The best part of the Mud Island River Park is the Riverwalk, but the view and great picnic spots are not the only things that make this area unique. Right there in the middle of it all is an exact scale model of the Lower Mississippi River composed of over 1,700 concrete pieces.
It runs about five city blocks and makes a fantastic play area for the kids with water running down the miniature river. Even my two-year-old jumped right into the action (I only wish I was fast enough to take his shows and sucks off first)! 
This was also the first time in a day when I was able just to chill observing all three of my kids playing in the water.
If you get lucky, you might also get to see a show under the stars in the Mud Island River Park Amphitheater – what a great way to experience live music in Memphis! Their website has a list of the upcoming shows.