Have you been to Chicago lately? Have you never been? Chicago is a great place to visit with your kids. As the third largest city in the United States, there is so much to do and see with your little ones that you may not be sure where to begin. I won't lie, the fact is that Chicago is my hometown and I find myself not getting out and exploring nearly often enough, and I think it's about time I changed that!
I decided to spend a little time thinking about all of my favorite places in Chicago to visit so that I can help others decide where to go when they visit for the first time or even Chicagoans who are ready to go out and explore the great city that they live in.
One of my favorite things about Chicago is that it doesn't even matter what time of year it is, you are always going to find something wonderful to do!  You will never have to be stuck at home bored because there are so many places to explore.
Here are the must-sees and dos to do with your family on your trip to Chicago.
The Lakefront
If you are visiting Chicago during the summer months, the lakefront is a must for your list of places to go.  You can spend your day, walking, running, riding bikes or rollerblading along the 18-mile paved path along the lake.  This extensive trail will lead you through 4 of Chicago's most beautiful parks, 13 different neighborhoods and sees over 30 thousand visitors a day (during the busiest of times). The lakefront itself features, water, sand, a beach, and more.  
That means that regardless of what your lake plans are, you will find something to do. You can play in the water, picnic by the lake, take in the stunning cityscape at night, or even find a trendy restaurant close to the shore. There is so much to do right on the lakefront; your time in Chicago could be filled with just this if you wanted.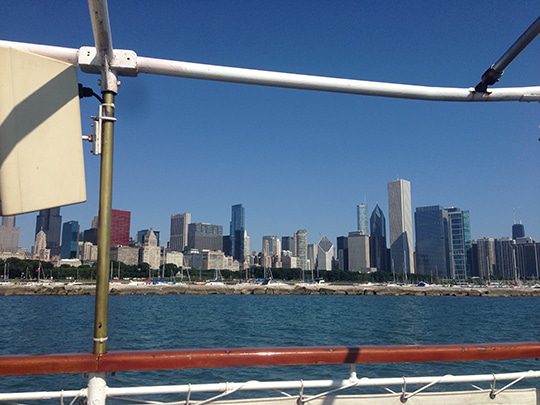 The Shedd Aquarium
If you are visiting Chicago with your family, you must visit the Shedd Aquarium.  Shedd Aquarium is one of the largest indoor aquariums in the world. It features over 8,000 aquatic animals represented from marine environments around the world.  During your visit here, you can expect to see dolphins and whales jump, dive, and even walk on their tails indoors there!
I highly recommend taking a full day to explore the Shedd Aquarium, because there are just so many different exhibits to see that you can't catch them all in just a couple of hours.  We recommend going on Tuesdays at The Shedd Aquarium offers a special event for preschoolers called "Tot on Tuesdays." They have a full day of activities that include story time, costumed characters, dancing, and singing. Don't miss out on the animal touch programs on Tot on Tuesdays too.
Navy Pier
This 3,300-foot long pier along the Chicago shoreline is a beautiful site to see.  And there is so much to do. Go on a boat cruise, ride the Ferris wheel or watch a movie at the IMAX theater.  Visit the Navy Pier Beer Garden that is host to many free concerts while taking in the gorgeous Chicago skyline.  Have dinner at the famous Jimmy Buffet's Margaritaville and order his famous 'Cheeseburger in Paradise.' The Navy Pier is also home to Chicago Children's Museum and Chicago Shakespeare Theater.
Millennium Park
One of the coolest urban parks, the Millennium Park has a cool three-story steel sculpture that has been dubbed "The Bean."  Your kids will get a kick out of running around it and catching their funny reflection. There is also the Lurie Garden and the Crown Fountain where your kids will want to spend a substantial amount of time playing in it and getting wet!  
The Art Institute of Chicago is open all year around. This is a fantastic experience. They offer "free Thursdays" where the admission for Illinois residents is free from 5:00 pm to 8:00 pm. They also provide "free winter weekdays" where Illinois residents can get into the museum free of charge every weekday from January 8, 2018, to February 15, 2018.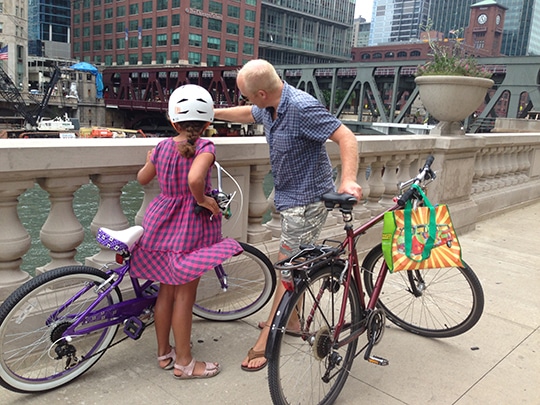 Magnificent Mile
If shopping is your thing, do not miss a trip to the Magnificent Mile on North Michigan Avenue. The Magnificent Mile is not only one of Chicago's most premier shopping destinations, but it is also the largest shopping district in the city.  It is widely considered to be one of the top shopping districts in the country.
At the Magnificent Mile, you will be welcomed into a world full of premier shopping for everything from department stores to cosmetics and everything in between.  You will also find top notch, restaurants, gourmet foods, toy stores, sporting goods centers as well as grocery stores.
The Art Institue of Chicago
Art Institute of Chicago is an amazing experience for any art lover and it is open all year round. If you are an Illinois resident, you can score free admission with their "free Thursdays" offer (from 5:00-8:00 pm) or "free winter weekdays" during the months of January and February (see specifics here).
Do you spend much time in Chicago?  What are your must-see locations when visiting?  I would love to hear your thoughts.