Chicago is a great place to visit with your kids.  As the third largest city in the United States, there is so much to do and see with your little ones that you may not be sure where to begin. 
Here are the must sees and dos to do with your family on your trip to Chicago.
The Lakefront
Visit here during the warm months and spend the day riding bikes or rollerblading on the 18-mile paved path along the lake.  There is so much to do right on the lake front.  There are water, sand, and beach.  It is a perfect place to explore or just have a nice picnic with your loved ones by the water.  At night, take in the cityscape line from here.  It is also pretty close to all the awesome shopping and restaurants.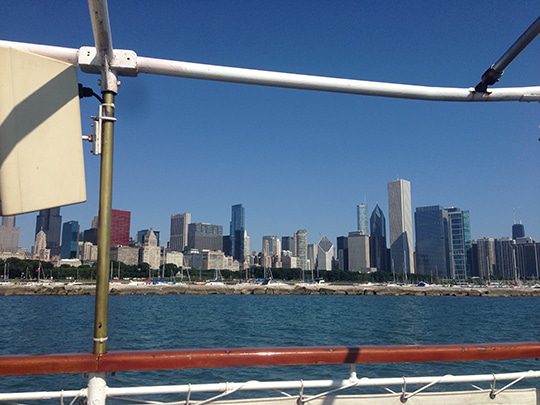 The Shedd Aquarium
This is simply a must visit when you are taking a trip to Chicago.  It is the largest indoor aquarium with more than 8,000 aquatic animals represented.  You can watch dolphins and whales jump, dive, and even walk on their tails indoors there!  There are just so many different exhibits to see that you should probably plan on spending your whole day there.  We recommend going on Tuesdays as The Shedd Aquarium offers a special event for preschoolers called "Tot on Tuesdays."  They have a full day of activities that include story time, costumed characters, dancing, and singing.  Don't miss out on the animal touch programs on Tot on Tuesdays too. 
Navy Pier
This 3,300-foot long pier along the Chicago shoreline is a beautiful site to see.  And there is so much to do.  Go on a boat cruise, ride the Ferris wheel or watch a movie at the IMAX theater.  Visit the Navy Pier Beer Garden that is host to many free concerts while taking in the gorgeous Chicago skyline.  Have dinner at the famous Jimmy Buffet's Margaritaville and order his famous 'Cheeseburger in Paradise.'  The Navy Pier is also home to Chicago Children's Museum and Chicago Shakespeare Theater.
Millennium Park
One of the coolest urban parks, the Millennium Park has a cool three-story steel sculpture that has been dubbed "The Bean."  Your kids will get a kick out of running around it and catching their funny reflection.  There is also the Lurie Garden and the Crown Fountain where your kids will want to spend a substantial amount of time playing in it and getting wet!  Don't forget to bring some extra clothes.