This post is sponsored by Spot Shot® Instant Carpet Stain & Odor Remover.
The house cleaning creative activities, thoughts, and opinions are all mine!
When my third child was born, I thought that my life was full and for a while, I was swamped juggling older kids' homework, house chores, and the little guy's needs. However, a few months ago out family got even bigger when we adopted a five-month-old puppy. Half pit – half boxer, when grown she will be 45-50, but for now, she is getting bigger fast and causing more trouble than any of my children nipping, destroying shoes, and quite making it outside to do her business.
If you a pet lover, you most likely know how awful pet stains on the carpet can be. Pet urine is one of the most difficult stains to remove from your carpet and don't even get me started on the smell! However, what is worse that the awful smell is the way it looks on the carpet – super gross! When you have a pet carpet stain, there is no guessing what it is; you just know what caused it.  However, did you know that pet stains create more pet stains? If you have more than one pet in the house, the urine scent will attract other pets to the same spot where they will happily mark their territory.
A problem like this calls for a specialized solution, and today we will put Spot Shot to the test. This carpet cleaning product is specially formulated to help you fight carpet stains caused by pets and the smell that comes with it.
What should you know about Spot Shot Pet?
Spot Shot Pet is non-toxic and specially formulated to permanently eliminate tough stains and odors to prevent them from coming back.
Spot Shot Pet is ready to tackle new and old stains alike, including: dirt, grime, soda, tracked in mud, dirt, and oil. It removes all kinds of tough carpet stains.
Dual-odor eliminators absorb and neutralize odors. It is also certified biodegradable and doesn't contain phosphates or volatile organic compounds.
The best way to deal with these types of pet stains and carpet cleaning is to get them out the first time, so you are not just fighting an endless cycle. That means that if you clean it well the first time, the pets won't come back for more. With Spot Shot Pet you can do just that, because it penetrates deep into the carpet fibers, breaking the physical bond between the stain and the carpet itself so stains can be completely blotted-out of your carpet. 
Last night once again my excited pup once again left an unattractive stain on the carpet right in the middle of the living room, and I didn't see it until the next morning. I thought the rug was destroyed.  I grabbed a bottle of Spot Shot Pet and followed the instructions step by step
First, I tested Spot Shot Pet on a piece of carpet near a corner to ensure the color wouldn't be affected by the product – it wasn't.
Then, I blotted up the stain with a clean rag.
I then vacuumed over the spot to remove any loose dirt.
Next, I sprayed the Spot Shot onto the stain.

Last, I blotted with a second clean rag.
After completing these steps, I instantly noticed a difference, but I did need to repeat the last two steps twice more before I could no longer see the stain.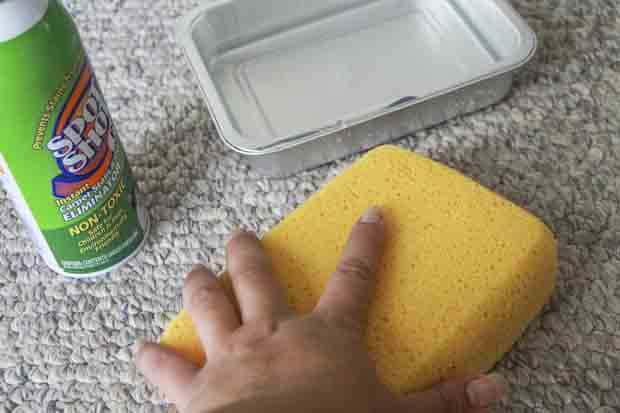 I also tried Spot Shot Pet on an older pet stain. I repeated the steps two or three times (except for blotting up the wetness as this was previously cleaned and dried) and saw the stain started to disappear, but I will check back in a few days to see if it's completely gone or if I should apply Spot Shot one more time.
Here is my final take on Spot Shot Pet Instant Carpet Stain & Odor Eliminator: It helped me remove the pet stain that had just happened and made great progress on an older stain. Based on my experience, I recommend making sure you tackle the stains before they set.
Click HERE to find a nearby retailer where you can purchase Spot Shot Pet and HERE to get a coupon for $1 off your Spot Shot Pet purchase.

Follow Spot Shot Pet on Facebook by joining the Stain Fighting Community and get the latest cleaning tips and support from other moms. I just found an incredibly helpful cleaning schedule printable there.

Do you have any tricks on handling pet stains and carpet cleaning?