My kids receive complimentary swim lessons
at the Goldfish Swim School in Mundelein
I don't know about you, but I can't wait for school to be over. I am ready for the warm sunny days and LOTS of pool time! While summer does have its challenges, most of my Midwest friends would agree that we all crave sun!
However, with a luxury of splashing int he pool comes great responsibility! I am talking about pools that we all, parents and adults have to follow. While some rules differ (like using a three buckle life vest over the one you got on a good sale), the basic safety rules stay the same across the board, and I can't think of a better time than now to refresh them in our memory to make sure a perfect lazy summer pool day.
Before we go over the list, I have to say thank you to Kristi, General Manager of the Goldfish Swim School, Mundelein for sharing this information with us.
Practice water safety
Teach your kids to act appropriately in and around the water. Teach them to walk – not run — around pools (and be ready to repeat it multiple times a day while you're in the pool). Swim with a buddy and never in the water without getting permission from a grown-up. Goldfish Swim School hosts several Water Safety Awareness Weeks throughout the year — attend one to be on top of things (and they know how to keep it fun for the kids)!
What if you're underwater?
Have a conversation with your child now, so he knows what to do in this situation. It is essential not to panic and hold breath. Knowing these two fundamental rules and practicing them around the pool will give your child confidence to deal with the waves of the lake or ocean and this also is an integral part of being safe in the water.
Basic Swim Strokes
Practice makes it perfect. Watch videos of the basic strokes, attend a demo class at the Goldfish Swim School, or check out a Jumpstart Clinic. Allow your little one practice how to swim and be able to move around the water safely.
Have Life Vest Nearby
Water safety is a top priority for us moms. Whenever your little swimmer feels comfortable in the water or not, know where lifesaving devices are and always have them available.
Put Away Pool Toys
Kids may not always assess a situation fully, so it's up to adults to address any potential hazards – including pool toys. Children and especially toddlers, may be tempted to grab a pool toy while it's in the water and may inadvertently tumble into the water. Always put away any pool toys you are not using, whether indoor or outdoor.
Have a Buddy Watching System
The pool is a great place to spend time together with friends and family and let the kids play. However, it is also easy to take your eyes off the water while the kids are having fun. Take turn being a "watcher" to keep an eye on all the kids in and around the pool.
Teach Kids How to Swim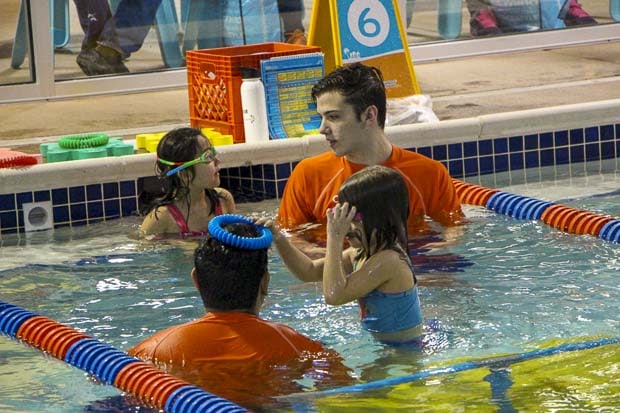 Anytime is the right time to start learning how to swim, and Goldfish Swim School will make this experience more efficient and fun. Did you know that kids as early as four months old can enroll in swim classes? My son started his swimming education when he was almost six-months-old and he still happy to go there every week.
Ask Goldfish Swim School Mundelein for their latest events and offers or (if you don't live in the Northwest Suburbs of Chicago) find a school near you.
20 Fun Swim Goggles for Kids