This is a sponsored conversation written by me on behalf of Pampers at Sam's Club.
The creative problem solutions are all mine
Have you ever wondered why people are always telling you to stock up on diapers when they are on sale even if you don't have any little ones in diapers at home anymore?  The answer is easy, and today we will share some of the ways a box of diapers just might save the day!
Reasons to Keep Baby Diapers on Hand
We have all been there when the random baby shower invite shows up in the mailbox, and you panic a little bit (or a lot).  You probably knew it was coming but forgot about that friend expecting a baby. Your first thought is probably, "what kind of gift should I get this time?"  I try hard not to get the same gift for every shower I attend.  That is why I stock up on  diapers.
Solves the last minute gift problem
Stocking up on diapers also solves the problem of not knowing what to bring to the baby shower completely.  Even if you don't have little ones in the house, I highly suggest stocking up on diapers.  Now, I don't mean go and buy 900 boxes, but having 3 or 4 boxes on hand at all times makes getting through "baby season" so much easier.
Baby's skin is five times thinner than the adults', and  Luvs' Ultra Diapers come with a leak barrier and leg gathers to help keep leaks in the diaper where they belong and keep tender baby skin protected.
 What is Baby Season?
Good Question!  Baby season takes place between July-October.  During these months there tends to be a surge of baby showers.  If you are anything like me, I get ready for this event in summer before the back-to-school season to avoid the hectic time. I don't have the time to take another trip to the store once the school year starts. An extra box of diapers will save your sanity!
Pampers is the #1 choice of hospitals and well trusted by moms. Pampers Swaddlers are Pampers' softest diaper and offer up to 12 hours of overnight protection – you can't go wrong with the quality and absorbency of these!
Inexpensive gift options in minutes
Thankfully, there are many amazing gifts you can make with diapers.  The options are almost limitless. While an expectant mother always welcomes a box of diapers and a gift card, there is more to it than that.
Make a diaper cake by rolling diapers and then wrapping with colorful ribbon.  You can tuck various baby toys or accessories into the sides for added color.

Stuff a diaper bag with diapers, wipes, soaps, and other needed items to build a diaper bag ready for action.

Donate diapers in the name of someone you love to a local Children's Hospital as a way to honor them and help someone in need.

Donate to a homeless shelter or to a women's shelter to help those in need.
Six Things I Buy in Bulk (and you should too if you have little kids)
I have discovered that Luvs' Ultra Diapers hold up very well with my little one's wiggles while keeping sensitive baby skin dry by locking wetness away. I consider it a very budget-friendly option with quality leak protection.
Always prepared for unexpected guests
Not only can you have diapers on hand for your gifts or for donations as mentioned above, but you also can have them on hand for that occasional unexpected guest.  You never know when a friend might pop over with their little one and need to change a diaper at the last minute.  Having something on hand can be a huge help and keep the visit uninterrupted.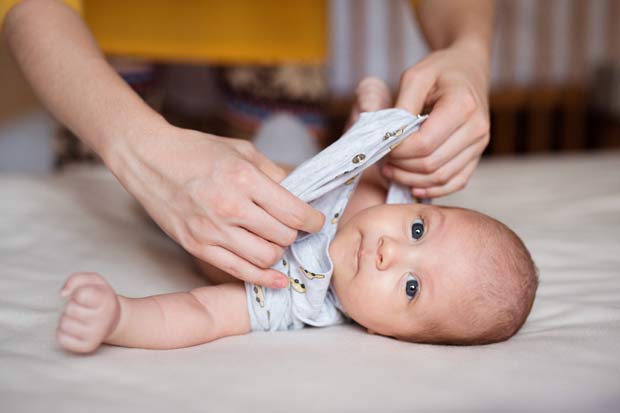 What diapers should you buy? My toddler's personal choice is Pampers Easy-Ups! While his sensitive skin still needs protection, he is always on the move jumping, running, crashing into things (on purpose). He is also very independent and always tries to prove his siblings that he is BIG TOO. I am glad Pampers Easy-Ups can keep up with him, giving him the feeling of real underwear while protecting his skin and stopping the leaks.
Quick Shopping Tips
Shop at Sam's Club or samsclub.com before August 22 and get an instant savings of $10 AND free shipping or Club Pickup (where available) when you buy two Pampers or Luvs products, or save $18 when you buy three.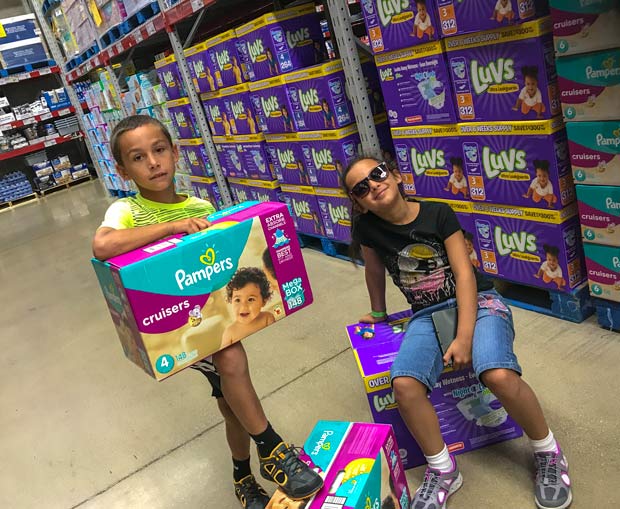 Sam's Club's Scan & Go App will save you time at the store as you can scan and check out your items with your phone as you shop – skip the checkout line and get your receipt on your phone! Download the app for Apple or Android. Savings will automatically calculate when you check out at the register in-club, with the Scan & Go app or on samsclub.com.
Club Pickup – Order your Pampers products on samsclub.com and select Club Pickup – you don't even have to leave the car.
Online – You could just skip the store trip altogether by buying diapers and other necessities on the website and have them delivered straight to your door.
Do you keep diapers on hand in your house?
This is a sponsored conversation written by me on behalf of Pampers and Luvs at Sam's Club. The opinions and text are all mine.