This post is promoted by The Museum of Science and Industry
via Mode Media #msichicago #MSIrobot
How often do you tour your home town? My family came to Chicago in the late 90's and after living on the North side for a couple years, I moved with a family of my own to the suburbs. Going from work to home, we hardly go to the city these days and when it comes to doing the touristy things – well, we practically never do. But it is time for my kids to fall in love with the real Chicago and learn some of the things the Chi-town is known for.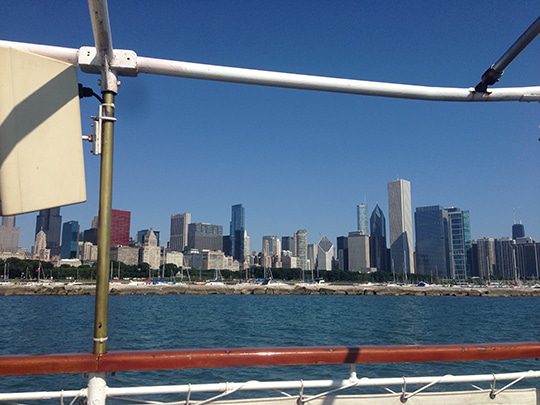 [bctt tweet="If you are a local to the Chicago area, what is the Best Time to Visit the Windy City?"]
I'd say anytime is a good time to travel to the city, especially if you are driving. Despite higher parking rates, many parking garages are very close to the attractions, which makes it incredibly convenient for families with small kids. If you have ever had to scream at your older kids at the top of your lungs to get off the street, while you are trying to maneuver the stroller around the curbs, you know exactly what I am talking about.
Our visit to the Museum of Science and Industry (also known as MSI) started with parking, which was just minutes from the elevator – without ever stepping outside – and I couldn't have been happier. But since today's topic is not about the parking, let's move into the actual experience of visiting the Museum of Science & Industry.
[bctt tweet="Have you heard of a cutting-edge collection of robots from all over the world in Robot Revolution, supported by Google.org?"]
The Robot Revolution Exhibit requires a separate entrance fee in addition to the general admission, but it is a fun exhibit that you don't want to miss.
Many of the robots here have rarely been shown to the public before and you can play and discover their astonishing skills – from controlling an all-terrain crawling robot to battling a 'bot in a tic-tac-toe match to watching a competitive game of robot soccer! With so many robots waiting to show off their skills, it was a challenge to decide which ones we liked the best, and that's why we let the kids do the picking.
ROBOTIS-OP
This was one of my daughter's favorites.
What is so special about this robot? ROBOTIS-OP uses face-tracking software to sense when you are looking at it. Once it locates your face, it can continue to look at you as you move, an important social skill for building empathy. It can also can see and recognize objects, like soccer balls, and can even kick one! Why did my daughter like it so much? Her answer was, "because it can see me!"
ROBOTIS-MINI
These little guys look just like Robotis-op, but they are significantly smaller. ROBOTIS-MINI uses buttons, gestures, voice recognition and messages to control or change movements. And the kids were excited to make these 'bots follow their commands – moving them back and forth, dance or even stand on their heads.
It was exciting to see so many girls visiting this expo: with the STEM program developing rapidly in the elementary schools, girls seem to be more involved in techie activities these days. Cutting edge technology is no joke!
PARO
When I asked my almost six-year old son, which robot he loved the best, he took me to the very far corner of the exhibit and pointed at a box with a fur ball inside.
"It's a baby-seal!", he said, "and he is a pet!" He stuck his finger into the hole to pet the furry animal.
PARO is a furry baby seal and a healing robot that has been used for animal therapy in places like nursing homes and hospitals. Sensor pads inside the robot read your touches and responds accordingly.
What else can you expect to see at the Robot Revolution exhibit at the MSI?
Check out this balancing act – robot on a unicycle:
Play a game of tic-tac-toe with a 'bot:
Or look at a drone up-close and personal:
Excited to visit the Reobot Revolution? Start your trip here – plan, discover, and buy tickets
The Museum of Science and Industry, one of the largest science museums in the world, offers world-class and uniquely interactive experiences that inspire the inventive genius in everyone and foster curiosity. Visit MSI on Facebook to learn more about MSI's groundbreaking exhibits that can't be found anywhere else and hands-on opportunities that make you the scientist.