We've partnered with Goldfish swim school to bring swim related topics to you.
Our family gets complimentary classes at their Mundelein location. 
Two and a half years after I let the kids join Goldfish swim school, my daughter finally graduated out of Pro 2 level. In Goldfish that means – you are done learning! Why Wouldn't You Quit Goldfish Swim School After Graduation? While it might be easy to say that the learning is over, the reality is a lot different as the graduate level of the swim school actually opens the door to a number of swimming possibilities.
You Don't Have to be Michael Phelps
to Rock the Swim Team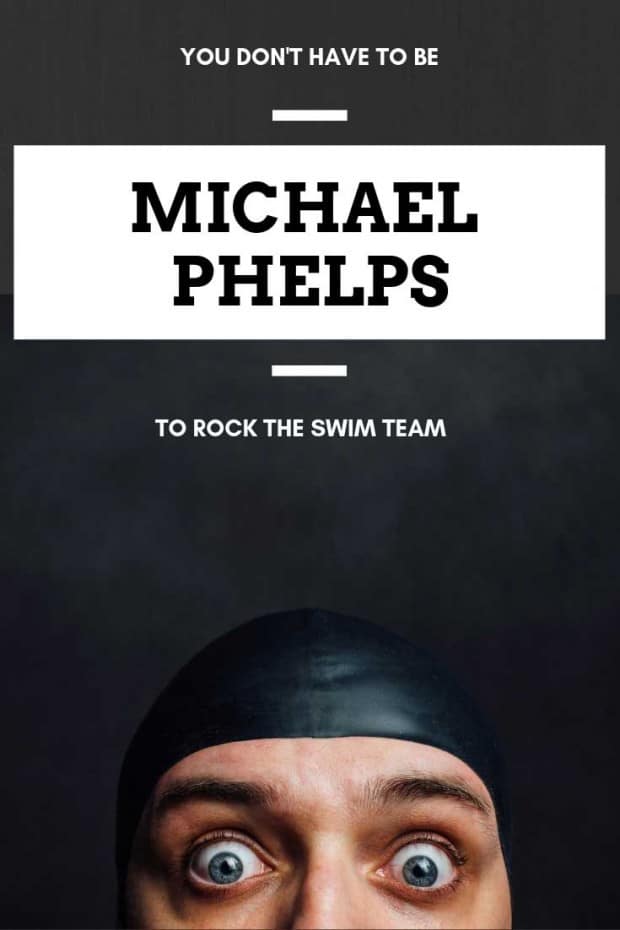 What's next?
Quit now and enjoy sunny days in the public pool or continue your swimming education in a swim team and swim all year around. While mastering legal swim strokes was a requirement to graduate out of the swim class, the swim is all about fine-tuning the technique and increasing the endurance.
Your child is probably used to shorter lanes. However, the Goldfish swim team glides along the longer lanes and the practice is an hour long instead of the 30 minutes kids are used to. There is also a swim meet every few months where kids get to compete with each other. A competition like that might just give you swimmer a taste for the real world competitions.
Pack a big snack as I can almost guarantee increased hunger after the class. However, there are other benefits to joining the swim team.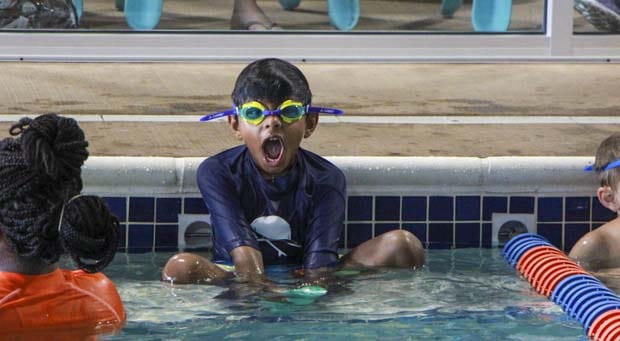 SCHOOL SPORTS
Aquatic sports is not just about swimming laps. Once your child masters swim styles, they can join the swim polo team, synchronized swimming, and diving. Swimming will keep your child in a great physical shape and will give them the base to advance to other water activities. By learning the basics of swimming and becoming a strong swimmer, they now have an extensive list of water sports that they can potentially participate in.
MAKING FRIENDS
Swimming is an amazing way to make new friends. It is also an excellent way to find out how to be a great sportsmanlike conduct and how to encourage one another. Swimming is also a great way for children to build their confidence to go out there and make friends on their own. What an incredible way to increase self-confidence and participate in fun activities like a birthday pool party, going out on a boat or even playing fun swim games with their friends.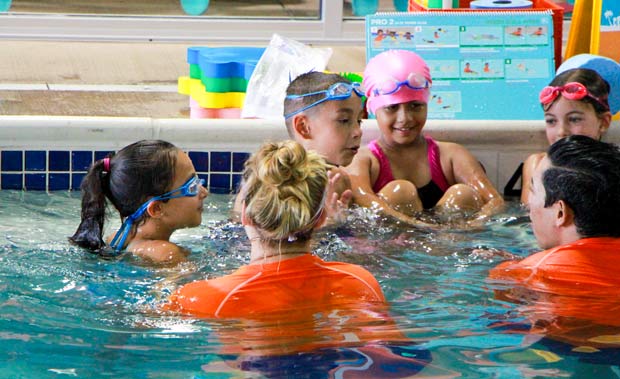 SCHOOL SCHOLARSHIPS
It is not easy to get a scholarship in any sport, but swimming at the Goldfish swim school is a great start. Build on this skill and give your child better chances of getting a college scholarship. It makes a great goal and will teach your child to balance school, swim and leisure time. Training to work towards a swim scholarship will allow your child to learn how to be independent, become a team player, and thrive under pressure to work towards a goal.
Even if they don't get a scholarship, these skills are essential that they will use for the rest of their life. Very important skill to have as an adult. Train to work towards a swim scholarship. This goal will allow your child to become more independent, be a team player, and thrive under pressure. Scholarship aside, these skills are essential that they will use for the rest of their life.
Teenage Job
Do you expect your child to work in high school? Did you know that he can get a job as a swimming instructor? Sounds like a better alternative to collecting shopping carts in the rain or spending hours deep frying?
Transition to Competitive Swim School
If you considered a competitive swim school you might've noticed how demanding it is. An eleven-year-old might expect to spend 4.5 hours in the pool and more on the weeks with competitions. Are you ready for the commitment? A Goldfish Swim Team is a great transition between a class setting and a competitive team.
I really hope you don't stop your swimming education when your child graduates from the last level of the swim school and consider advancing to the swim team and other swimming possibilities!
HAVE YOU READ THIS YET?
SHOULD THE KIDS TAKE SWIM CLASSES IN THE WINTER?
THE DOORS THAT WILL OPEN WHEN LEARNING HOW TO SWIM
WATER THEMED HOMEMADE HALLOWEEN COSTUMES
BUTTERFLY AND BREASTSTROKE – MASTER IT AT HOME!