Big Thanks to the Rockford CVB for making this trip possible
and comping our activities and lodging
Rockford, IL is only an hour away from the Chicago suburbs where we live, yet somehow, I didn't know much about it until now. Surprisingly enough during one of the Twitter chats it came up that Rockford has a Sock Monkey museum. If you are anything like me at this point you would have a big question: WHY DOES ROCKFORD HAVE A SOCK MONKEY MUSEUM? What makes this toy so special? That looked like a perfect excuse to pack and take my family to the city of Rockford to explore.
I don't know about you, but kids make more curious just about the world. I have found that I am myself asking more questions these days because I want to know the history of road signs, historical events that happened in certain places, and stories behind everyday objects. Today's big question was Why does Rockford has a sock Monkey Museum? However, along the way, we found answers to a few other questions (some more random than others). Read on to find out.
Question: What happened to Jane, young t-rex, 66 million years ago?
Location: Burpee Museum of Natural History
The Burpee Museum opened its doors to the public in the second and third floors in 1942. With four floors of natural history discoveries, it is sure is an interesting place to visit for a whole family. While my toddler was absolutely excited to run up and down the stairs, my older kids went to explore award-winning exhibit called one of the ten most important dinosaur discoveries in the past 100 years.
Jane: Diary of a Dinosaur exhibit walks you through the world that existed 66 million years ago. Not only you get to meet the giant up close and personally, you also get to learn how it was discovered in the badlands of Montana and what we since then learned about the life of a teenage t-rex. Jane was about 11 years old or so when it died, but we still don't know why. The remains where found near the water, but based on a lack of typical damage they don't believe it was due to drowning or a fight.
Question: How long can an average child hang on a monkey bar?
Location: Discovery Center Museum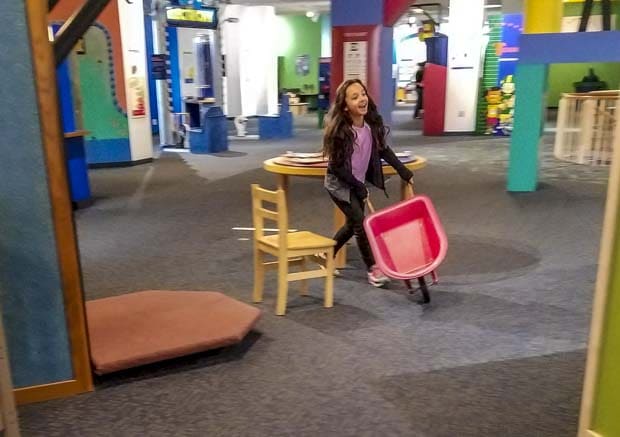 This hands-on investigation and fun-filled exploration spot offer more than 250 hands-on art and science exhibits, planetarium, TV studio, special events, traveling exhibits and entertaining classes for children and families and so much more.
The Discovery Center Museum is a fun place for both kids and adults to visit. My toddler loved the water table, refused to leave the train table for a half-hour and found his nirvana in running all over the floor while his older siblings challenged each other to stability and muscle endurance tests, made a guest appearance in the WIFR kids news studio, and found a whole bunch of other activities. The Rock River Discovery park right outside looked amazingly tempting but the tree branches out of the windows and gray skies convinced us to leave this outdoor playground for the next visit.
The ultimate battle between my competitive children took place at the Test Your Muscle Endurance exhibit where their "Who can hang the longest" competition took place. My 10-year-old daughter, who proved to be a long time monkey bars hanging enthusiast was determined she would win this competition while her 8-year old brother just loves competing for just about anything. Interesting enough kids' group 9-10 statistically shows to be the longest hangers. Just under 45 seconds, they seem to have strong enough to hang yet not carrying enough to do anything on the playground. And when it comes to our competition, years of practice helped my daughter to win this one.
Question: What's up with the Sock Monkey Museum?
Location: Midway Village Museum
The development of Midway Village Museum began in 1974.  The Village is representative of a typical rural town in Northern Illinois at the end of the 19th and the beginning of the 20th century. Midway Village features 26 historical structures, including a general store, hardware store, print shop, blacksmith shop, schoolhouse, town hall, police station, plumbing shop, bank, hotel, hospital, fire station, church, barber shop, law office, two barns, and four farmhouses. Midway Village Museum, the best institution for collecting, preserving and interpreting the history of the Rockford region.
But what about the sock monkey? The Midway Village Museum tells the story of the Knitting Fabric that supplied socks for the Army, employed families of immigrants, and went through the Depression without layoffs. Nelson Knitting also is the company that came out with a signature red-heeled socks, known today as the Rockford Red Heel. Rockford Red Heel also led to the signature look of the Sock monkey we all know and love. The timeline exhibit investigates the history of the monkey doll and its place in our culture. This exhibit houses a diverse and unique collection of sock monkeys including Nelson, the seven-foot sock monkey! 
If you are planning a trip to Rockford of your own, consider staying at the Radisson Hotel. Located close to everything, it is a quiet hotel with a Sleep number bed you gotta a checkout. If you always wanted to a try a sleep number bed, you can definitely give it a trial run here. You might also get to see a pilot or two as they often stay here between the flight because of how comfy this place is. We will tell you more about that another time.
Eat. You have to check out Stockholm Inn restaurant.
Popular with both locals and visitors, this restaurant's menu and décor echo Rockford's Swedish heritage.  In addition to American food, they cook up Swedish pancakes with imported lingonberries, Swedish meatballs, and other Swedish favorites. Always busy, this place is big enough to accommodate a crowd of people. 
Their breakfast buffet makes it a perfect place for families with kids (or a blogger with three children who is always running late). And whatever you do – stop by at the gift shop and pick up a box of delicious treats for the road.