Have you heard of Santa Claus, Indiana? According to some websites, it is where Santa Claus spends his summers. That is also where your child's "letters to Santa" go to, but could it be true? Why have I never heard of this place? Many of my friends have no idea of this magical place a short drive away from the windy city.
I was intrigued by the magical place that screams Christmas just over in the next state.
A few months later we took a drive to Santa Claus, Indiana. We stayed a Lake Rudolph campground next door to the park. Holiday World is the main attraction of Santa Claus, Indiana and for a good reason – it is incredible!
Santa Claus, Indiana is a town with a population of about 2,500 people. The city was originally called Santa Fe. When its citizens asked for a post office in 1856, they were told that Indiana already had a Santa Fe post office and that they would have to change their town's name. It became Santa Claus, Indiana and it also has The Santa Claus, Indiana post office. It gets on average half-million-holiday cards and roughly 10,000 letters from children. Santa's address is 45 North Kringle Place, Santa Claus, IN 47579, if you are asking).
Santa Claus, Indiana has landmarks like the Santa Claus Museum, Original Santa Claus Statue here in Indiana, Candy Castle, and a great Holiday World Theme Park.
History of Santa Claus, Indiana
Opened as a Santa Claus Land theme park in 1946 this theme park quickly became a landmark with a toy shop, toy displays, a restaurant, themed children's rides, and, of course, Santa! In 1984 Santa Claus Land expanded to include Halloween and 4th of July and changed its name to the Holiday World.
Today Holiday World includes Christmas, Thanksgiving, Halloween, 4th of July. There is also the Splashin' Safari – a Water Park that is covering nearly 40 acres with two water coasters, wave pools, a river, family raft rides, and water slides.
If you spend a weekend at the Holiday World  for the first time, you will ask yourself "Why wouldn't I come here every year?"
I am well used standing in long lines at theme parks and getting frustrated over my kids' impatience because they want to ride "RIGHT NOW". However, the Holiday World surprised me with a laid back old town great old town character, short lines, and an overwhelming variety of great food.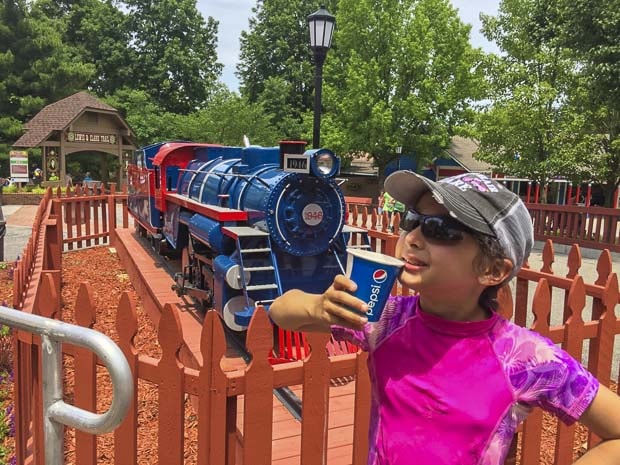 And before I talk about rides and food, let me just share a few other unique bonuses you will find here – Free and unlimited fountain drinks, free sunscreen stations, and clean bathrooms! I don't know about you, but I was sold on this budget-friendly luxury the minute I got there.
HOLIDAY WORLD RIDES
For the little kids, Holiday World in Santa Claus, Indiana has a few cool options. The Christmas Section has a great variety of Christmas rides like Prancer's Merry-Go-Round, Rudolph's Round-Up, and more. Christmas theme park is also a perfect place to spot Santa (along with a Mrs. Klaus' Kitchen and Santa's Story Time.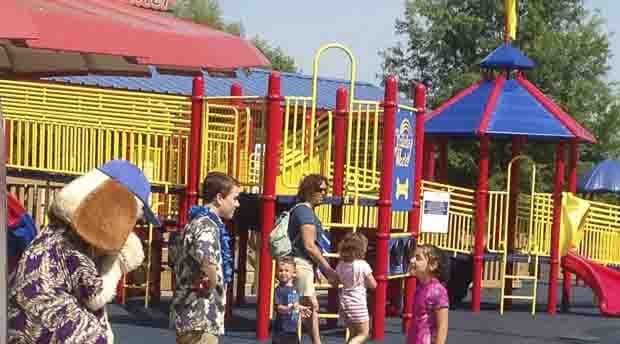 If you have little ones, you will also love Holidog's FunTown. Located on the other sides of the park it is usually less busy and provides some great activities for the kids – Holidog's Treehouse, Sprayground, kids friendly rides and more.
Halloween section was my older son's favorite with amazing The Raven roller coaster ride, spooky shows, and my personal favorite Frightful Falls – a journey that ends my with a splash are only a few things why we came back here more than once.
If you love dancing on the street, make sure to visit the 4th of July Section. In addition to great rides like Firecracker, Star Spangled Carousel, Revolution rides, there will be dancing and singing – just hang out by the Liberty Bell Shoppe you will fall in love with Legacy, a harmonious a cappella quartet.
HOLIDAY WORLD FOOD
I love that each section of the park in Santa Claus, Indiana offers a great variety of food. You will find Goblin Burgers and ZOOMbabwe Pizza in the Halloween, Mrs. Klaus' Kitchen and Kringle's Kafé in Christmas, The Alamo and Udderly Blue Ice Cream in the 4th of July and more and more and more!
I can't possibly tell you I've experienced over at the Holiday World, but feel free to check out my Holiday World highlights, as well as articles by other Midwest bloggers who visited this place:
5 THINGS TO DO IN SANTA CLAUS, INDIANA:
Drive or Fly? Santa Claus, Indiana is 5.5 hours away from Chicago. The nearest airports are Louisville International Airport (SDF) 80 miles to the east, and Evansville Regional Airport (EVV) 47 miles to the west.
How Long to Stay Here. A weekend

Will you need a car to get around? If you plan to only go to the Holiday World, you don't need a car and you can take a shuttle there.
Family Activities. Holiday World & Splashin' Safari for sure, but also check out Santa Claus Christmas Store, Santa's Candy Castle, and Santa Claus Land of Lights
Local food not to be missed. Udderly Blue Ice Cream, Goblin Burgers, Cookies from Mrs. Klaus' Kitchen
Ten ways to celebrate Christmas in July in Santa Claus
Amusement Park food at reasonable prices
6 Best Things To Eat At Holiday World, Santa Claus, Indiana
10 REASONS TO ADD HOLIDAY WORLD TO YOUR AMUSEMENT PARK LIST
The Hot Diggity Dog at Holiday World & Splashin' Safari
Holiday World, where fun and family meet
Holiday World and Splashin' Safari