Like this article? Check out other Easy Gluten Free Recipes, Articles, and Product Spotlights
Are you ready to get back to good clean eating? I hate to admit that salad was not on the top of my menu in the recent months, but I am back now and I am ready to eat.
What salad would work perfect for the whole family? Is there one salad that would keep everyone happy? In my family everyone wants something different, but lucky me in just a few minutes I can make 4 different salads without going far out-of-the-way.
I usually start with a generic salad – great box of mixed greens at Sam's Club or Costco makes a great starting point and will last a while.
Where can you go from here? The sky is a limit, but here is what we did for dinner on Sunday to satisfy everyone cravings and desires.
Incredible Flavor:
Broccoli, croutons, cherry tomatoes, sunflower seeds, and feta cheese.
Feta cheese is incredibly flavorful and really doesn't need any other dressing.
Sweet Tooth:
This salad has few cucumbers, cherry tomatoes, sweet pepper, and shredded cheese, but it is also loaded with dry cranberries, sweet toasted almond pieces, mandarins, and served with Cranberry, Walnuts & Gorgonzola dressing.
Nutritious and Delicious:
Here are all the basics – cucumbers, sweet peppers, shredded cheese, but add garbanzo beans, sunflowers seeds, and almond pieces for optimal taste. It goes great with Cilantro Salad Dressing (if you like cilantro, of course).
All Colors:
There is a little bit of everything in this one – sweet pepper, tomatoes, cucumbers, croutons, and cranberries. However, humus dressing gives it a Middle Eastern look and taste.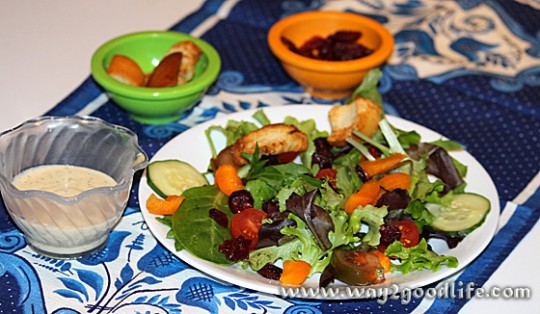 And now let's move onto the main course – I was very pleasantly surprised with our dinner options as they looked quite fancy and could have easily go as a restaurant takeout.
I also have to mention my personal favorite "No veggie is wasted" dish. To make sure that no produce gets wasted I take vegetables left at the end of the week and create something like this. Make it any way you want – roast, slow cook or grill – this side dish goes with practically anything including crackers.
Like this article? Check out other Easy Gluten Free Recipes, Articles, and Product Spotlights
If you recently discovered that you have a gluten sensitivity – don't panic: you have options. Learn what's on the market, look into nutrition, check out our spotlights and reviews – make an educated choice!
Follow Way 2 Good Life's board Easy Gluten Free Recipes and Products on Pinterest.