A few weeks ago I got gel pens for my kids, but since we got them, I can't put them down myself. In today's tutorial, we will put my gel pens to good use while creating a scratch-off Kids Valentine's Day Card. This tutorial is perfect for a fun afternoon craft with your kids!
Scratch-Off Kids Valentine's Card Tutorial
My children love making homemade kids Valentine's cards like these to give to their friends and family. It's always fun to give something handmade for a holiday, and they feel special knowing they are the ones that created them. Below, I have a list of supplies and the simple tutorial for you to follow to create your own unique kid's valentine cards!
Supplies:
Cardstock – I used 65 lb cardstock
White crayon
Dish Soap
Start with creating a card and don't forget to write something witty in a heart you will turn into a scratch-off! You can use any design or something simple like the one below!
Next, cover the heart with a white crayon. Give it a generous coat to create a barrier between your text the paint! This is a favorite part for younger kids to help you finish.
Mix acrylic paint and dish soap – use about 1/3 of soap for the amount of acrylic paint.
Coat it generously – you want to cover the words completely!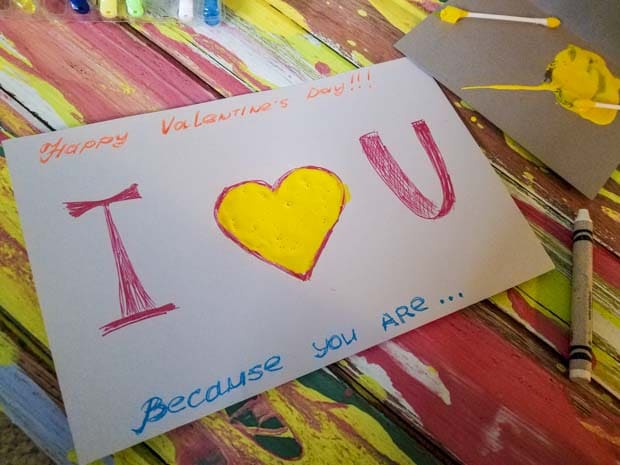 Let it dry and possibly give it another coat to completely cover the text.
Let it dry completely! And here you have it – scratch off Valentine's Day Card!
This simple homemade scratch-off kids Valentine's Day Card is a great idea to help you give the holiday of love a fun new spin. Making homemade cards like this is a great memory maker you can do with your children. Use your imagination and have fun making it unique!
More Valentine's Day Ideas:
Printable Valentine's Day Cards
How to Throw a Valentine's Day Party
Valentine's Day Cards for Veterans