I have to admit, Carter's is one of my favorite brands. The quality is great and I mastered the skill of scoring good deals at local stores when I was expecting my first born. Carter's a trusted name in children's clothing, makes it easy to find cute and thoughtful gifts for little ones this holiday season.
My recipe for shopping success:
Shop

Sale
Very often the prices on sale items start as low as $3.99.
Use

Coupons
Carter's regularly has 20% coupons available online and in print. Also often a certain purchase amount would provide you an additional incentive.
Hold on to your 

receipt
Carter's has amazing return policy – you can return it at any time as long as you have a receipt.
Come back often
Here is what I didn't know – Carter's has clothes in sizes up to size 7. And a couple of days ago I went wild in the kid section jumping between the girl and the boy sides.
Do Your Math
Make sure to understand how the math works. The coupon often doesn't work on clearance items, but you can still get incentives for spending a minimum amount to qualify for another promotion (something like $10 toward next purchase if spend $50). However, in a case of a huge store like this, you can get non-clerance items at 70% OFF plus use 25% coupon. Rock on!!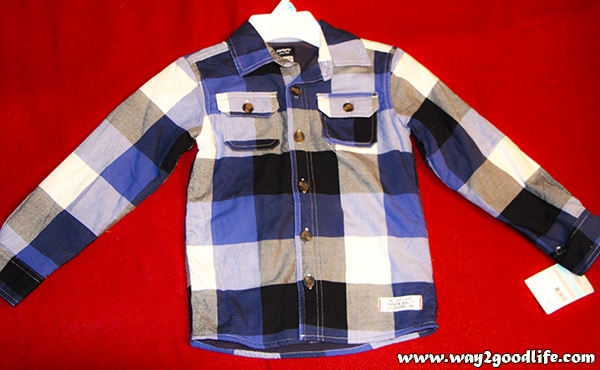 Carter's proves an easy, one-stop shop for adorable outfits this holiday season and now they are having an awesome sale that saved me even more than usual:
Up to Seven
Keep in mind Carter's sells clothes for kids up to 7 years old. I somehow forgot about it and was pleasantly surprised with awesome styles, bright colors and the same great quality.
Where can you find a pair of shoes like this for less than $10?
What Did I Buy?
Admitting now – I went WILD in the store and there was nobody there to stop me from spending a whole $160, but how can I pass these awesome deals? And for every $50 you spend, you earn a $10 coupon for your next purchase – I got $30 for my next shopping trip!
For my daughter:
For my son:
For my friend's baby:
Just remember –  baby clothes are discounted up to 70% OFF (and you still can use 25% OFF coupon)
Are you a new mom or will be one soon? Maybe you know one?
Look for more tips, tricks, and other great articles on Advice for a New Mom page