This is a sponsored conversation written by me on behalf of Pampers at Sam's Club.
The opinions and text are all mine.
There was a life before kids. I remember being busy, always running late, often trying to accomplish something. When I had my daughter, like many, I swore it wouldn't change who I was. I could still do the same things as I did before. I was positive the baby wouldn't slow me down or change my lifestyle. I was still unstoppable… until I had my son.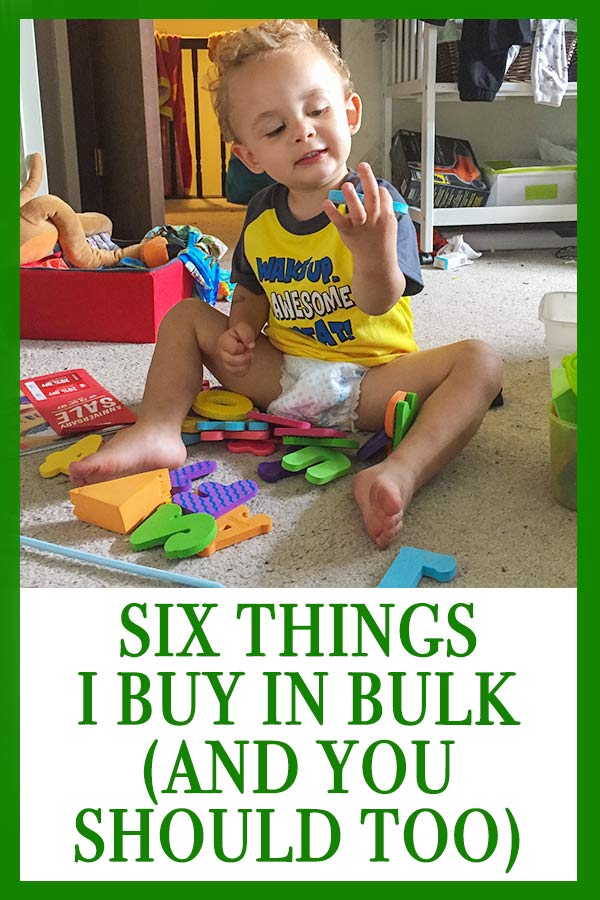 Having two kids under three changes you regardless of what you might have planned. Yes, babies do slow you down, and anyone who says otherwise should try to get an infant and a toddler out of the house in winter. My preferences are now different – I prefer takeout to dining out, playgrounds to a Botanical Garden, and Netflix over a movie theater.
While I don't enjoy going to stores, what I like even less is running out of the essentials. I am a mom of three and cannot just make a run to a store for diapers or wipes – I am always in the middle of making a dinner, putting a baby down for a nap or running kids from one activity to another. Supplies onhand will guarantee that I will not run out of the essentials when I need them the most.
Six Things I buy in bulk!
DIAPERS
Diapers only come in bulk to my house, because I know I will use them sooner or later. Every day starts with a diaper change, and ends with a diaper change, and has many of them during the day too. If you have an infant or a toddler, you probably have diapers in everything you own – your car, your purse, and your relatives house just in case, because this is one thing you don't want be without.
And as you can imagine, you will find a great deal on diapers at the Sam's Club. And yes – they have choices! Pampers Swaddlers are Pampers' softest diaper and offer up to 12 hours of overnight protection, Pampers Cruisers have Extra Absorb Channels for a 12-hour dryness and less sagging, and Pampers Easy-Ups move with your toddler, giving them the feel of real underwear while stopping leaks.
WIPES
I always try to estimate the right number of wipes for a diaper change. However, if the inside of the diaper surprises you, then things might go sideways easily.  Have you ever transported a poopy baby from a first-floor living room to a second-floor bathroom sink? That is not a challenge I want to face again. You can always get a great deal on Pampers Sensitive Baby Wipes at Sam's Club – it's perfect for baby's sensitive skin and is perfume free and hypoallergenic.
Here is a special promotion Sam's Club is running right now – get $10 OFF when you buy two Pampers diapers or wipes items or $18 when you buy three at Sam's Club or SamsClub.com.
TOILET PAPER
While you baby might think very little of the toilet paper, it is a must have item for you and anyone who comes to visit. PRO TIP: Don't store all your toilet paper in the laundry room – have a decent size storage in your bathroom and within reach.
LAUNDRY DETERGENT
With all my babies I felt like I was doing laundry consistently, but as they grow, so do their clothes and the mess they make.
SHAMPOO and CONDITIONER
I love family size bottles of these that everyone can use, and it usually lasts a while. However, still keep an eye on sales and a have a bottle around for the days when you discover that you are out because your toddler decided to fill a bathtub with your shampoo.
SOAP AND TOOTHPASTE
These are two items I only remember to buy while I am in the bathroom. Out of sight, out of mind and next thing I know, the kids have a perfect excuse not to brush their teeth and wash their hands because we have NONE!
For people like me, who have little time and too much to do – Sam's Club offers a few new tools that make stocking up easy!
Scan & Go App –  this app is available on Apple and Android, and it will save you time at the checkout line. Scan your items as you shop with your phone app, check out via the app (your receipt will appear on your phone) and you're DONE!
Club Pickup – Order your Pampers products on samsclub.com and select Club Pickup. Your purchase will be waiting for you when you arrive – you don't even need to leave your car.
Online – You always have an option to order Pampers and other necessities on the website and have it delivered straight to your door.
WHAT DO YOU ALWAYS RUN OUT OF IN YOUR HOUSE?
This is a sponsored conversation written by me on behalf of Pampers at Sam's Club. The opinions and text are all mine.
Are you a new mom or will be one soon? Maybe you know one?
Look for more tips, tricks, and other great articles on Advice for a New Mom page