Thank you Spirit Mountain in Duluth, MN for hosting my family for a fun weekend
Every time fall comes around, and kids head back to school, I start planning my next epic summer. Working full-time means, I don't spend as much time with the kids throughout the year. Yet when summer comes around, I absolutely want to have a summer to remember. However, it doesn't mean that we stop learning. One of our recent trips to Minnesota – the state of 10 000 lakes started in a kitchen with a chat with kids:
"How many Great Lakes do you know of?"
It sounded like something they should know, but they responded with silence
"You do know about the Great Lakes, don't you?"
They nodded
"Lake Michigan," my son seemed to pull it out of the back of his memory shelf.
That's a start especially considering that we live 20 miles away from the third largest Great Lake.
"I know, Lake Erie! It's by the Cedar Point park!" my daughter exclaimed
We've only taken six trips to the Cedar Point Park sitting on the beach of Lake Erie in Ohio
Learning Through Travel
Who would've guessed that visiting landmarks helps kids remember things better? Is it an excellent excuse to travel to another Great Lake – Lake Superior (the largest of the Great Lakes of North America). It's also the world's largest freshwater lake by surface area, and the third-largest freshwater lake by volume.
Buckle up! We are going for a weekend trip to Minnesota!
It takes nearly seven hours to drive from out NW suburbs of Chicago to the border of Wisconsin and Minnesota where Duluth, MN is located. It would make an excellent three-day trip to make sure you have enough time to drive and enjoy your time in this port city
Have I mentioned how much I love staying at AmericInn hotels? The rooms, the prices and don't get me started on breakfast – my kids always pick more than they can eat! And they have pet-friendly rooms! Besides that, this hotel is only minutes away from Spirit Mountain and Duluth Downtown Waterfront District attractions including the Lake Superior Railroad Museum, North Shore Scenic Railroad, and landmark Aerial Lift Bridge!
What is the best day to create a memorable day at Lake Superior?
Lake Superior, Duluth MN
One of the easiest ways to get to the beach is to enter 12th Street Beach into your GPS. Follow the directions, and you will reach free parking and a sandy beach of the Lake Superior.
Get Lazy – we all deserve it to kick back and relax a little
Float on the wooden log – Coolest and totally free way to enjoy hanging at the beach is to find a piece of wood to float on
Build something – my boys dug themselves holes in the sand and claimed them as their own houses.
Spend a few hours on the Lake Superior beach but also plan to do something epic while visiting Duluth, MN
Spirit Mountain, Duluth MN
Located on the edge of Duluth, Minnesota, the Spirit Mountain is a winter resort. Spirit Mountain's Winter Kids programs are designed to help children progressively learn new skills while having lots of fun. Kids are teamed up according to age and skill level with specially-trained instructors to build their skiing and snowboarding skills. With snowboarding and skiing classes for all age groups, it is a fantastic way to learn these skills close to home.
However, summer is another excellent time to visit Spirit Mountain in Duluth and have all sorts of fun.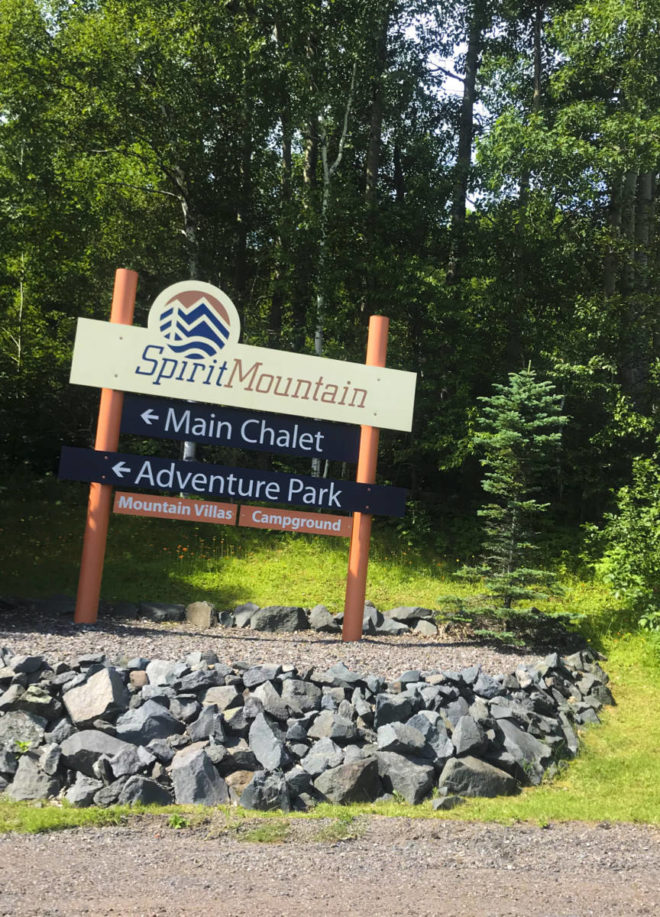 When we got to the top of the mountain, we came to face a gorgeous view of the city and the lake. It is also a starting point for many off-road trails to the bottom of the mountain. Once at the bottom, you can catch a ride on a lift back and do it all over again.
I've taken hundreds of photos here – from the breathtaking views to the bike riders. There is something about watching geared riders jump off the lift and disappear in dust clouds on steep trails. There is also a hiking trail, but it will take roughly a couple hours to get to the bottom walking.
We rode the lift to the bottom of the Spirit mountain to the Grand Avenue Chalet for generous size meals. This also was the place tired bicycle riders stopped by to catch a breath and replenish.
No Bike? No Problem!
Are you not an off-road bike enthusiast? That is perfectly fine. The Spirit Mountain has a lot to offer to families.
Camping
Nestled in a forest on the western high point of Duluth, Minnesota, Spirit Mountain Campground offers walk-in tenting as well as 73 campsites equipped with fire pits, picnic tables, and electricity. The campground is open May through September.
Timber Flyer Zipline
The Timber Flyer zipline here on the Spirit Mountain is a bench-style seat. It's secured with safety belts that take its rider through treetops for 700 feet! At the bottom, the zip line pulls you back to the top. All that in 90 seconds and even more 4-year old got to ride it.
Jumping Pillow
A fun activity to do for the little and big kids. Open for kids 2 and up, you can jump, bounce, and have a great time on this inflatable attraction. It does get hot on a hot sunny day, so if you plan to be on the Spirit Mountain in the morning, make the Jumping Pillow your first spot
Mini Golf
My kids love to play mini-golf, and it is a fantastic family activity. The Spirit Mountain mini golf is right next to the Timber Twister. That means kids can go play a game while you are waiting for your turn on the high-speed cart ride.
It takes about 20 minutes to complete the course. My four-year-old demonstrated incredible patience! He actually waited for his turn instead of just pushing everybody else's balls out of the way as he did a year ago.
Timber Twister
Vacations with kids are great. As we moms usually forget to enjoy the moment but let me tell you a thing you have to do while visiting Spirit Mountain. Take a Timber Twister on your own.
Timber Twister alpine coaster races along a 3200-foot elevated track. It goes through the forest and down the mountain. You get to control your speed, up to 26mph.
After going down the mountain on the Timber Twister with my son on my lap three times, I finally got to go on my own.
I pull the handles down on both sides. The cart stood for a second like it wasn't really sure what to do next or maybe giving me last chance to change my mind.
It tipped forward and quickly gaining speed, trying to gain momentum.
Screech! My cart rounded the corner.
After doing this a few times, I knew better than slowing down on the turn. Glancing around the next corner to make sure I am not catching up with the cart in front, I pulled forward.
Scre-e-e-ech! My cart went into another turn.
Down and turn. Down and turn. Screech!
Coming onto another hill the cart carried me to face Lake Superior! A big gorgeous lake with small islands here and there opened right before my eyes.
I hardly had a moment to fix my eyes on the majestic view when my card once again dipped down and carried me into the woods.
Down and turn. Down and turn. Screech!
I couldn't remember how many times I turned left, right or deeper down with the coaster. Finally, I approached the sign "End. Slow down"
Best Part of the Ride
I pulled both handles slowly toward me to make sure I don't stop short. The track carried me onto the conveyor lane.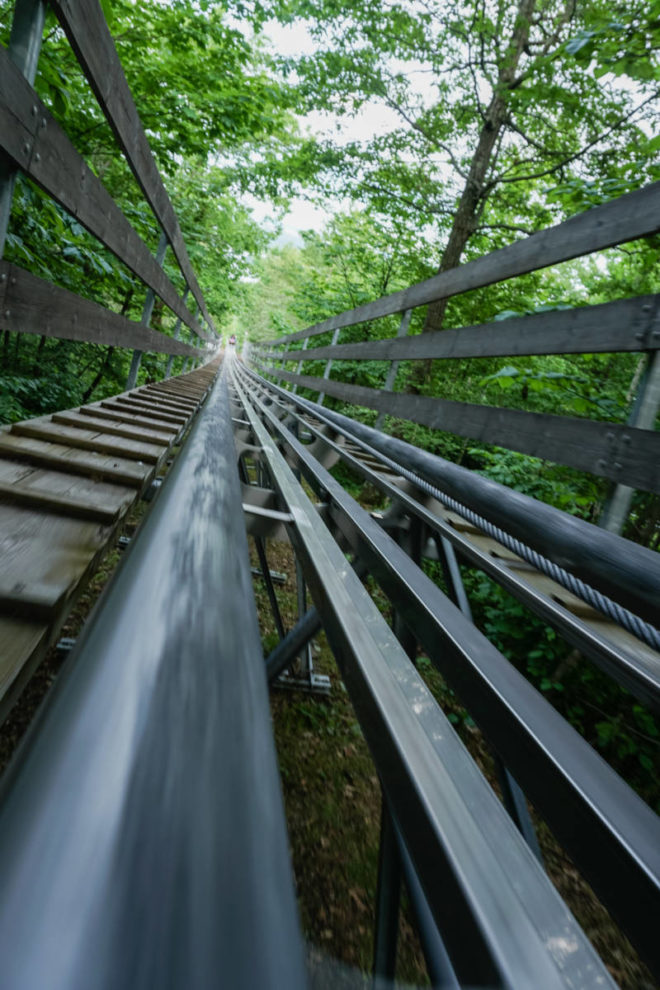 I leaned back against the seat and looked up – the blue sky above me was framed with green branches of the trees. The belt pulled my car up the mountain, and I faced the skies once again. There is no place to run to, I am not in control, and I can't do anything. SO the only thing I can do is look up and smile to the cloudless sky.
This was by far the BEST PART OF MY WEEKEND!
4 THINGS ABOUT Duluth, MN
Drive or Fly?
Drive. It's a short distance away from Bismarck, ND
How Long to Stay Here
A day to explore the park comfortably.
Will you need a car to get around?
Family Activities.
Older kids will love the historical landmarks. Younger kids will enjoy the Mandan village and a lot of open space to run around