(Tips for Busy Moms)
This post is sponsored by Kimberly-Clark and The Motherhood
Finally, you can open the windows to let that warm fresh air circulate through your home. Unfortunately, the moment you do that, you can see all the dust that circulates your nest as well. It's a reminder how holed up you and your family have been in your home during this winter season and that some spring cleaning is a must. However, with young children, this can seem like an impossible task. Especially when you feel like you are just trying to keep up with the current messes that are made by your little monsters every day. Moms don't have a lot of time to get a deep spring cleaning in. We need to be a bit creative and a bit resourceful when it comes to getting a good home scrub in. Here are some spring cleaning tips when you are short on time:
Make a Plan
With the spring cleaning season fast approaching, planning ahead is essential to make tackling a deep-clean of the whole house just a little bit easier. As a mom that is always multi-tasking, finding the time to clean your entire house can seem like an impossible task. This is where a plan comes in. Take the time to sit down and make a cleaning plan. Every day you should have an area in your home where you can take a few minutes to work on and clean. On day one, clean your bathrooms. Day two, clean your master bedroom. Day three, focus on the kitchen. And so on… Set aside an hour or less to try and get as much done as you can. Make sure you set a timer so that you feel the rush of an attempt to get as much done as you can during the allotted time.
Organize Tools and Supplies
This will help cut down time when it comes to cleaning because you won't be searching for everything that you need. It will all be at your fingertips. Grab your cleaning caddy and get to work! Keep all of your favorite cleaning supplies in this container along with all the different clothes you need to wipe down different surfaces.
Cottonelle`® by Kimberly-Clark Family Care has CleanRipple Texture, which is designed to clean better than the leading national value brand. Also check them out on Facebook, Twitter, Instagram, and Pinterest.
TIP: Need to store toilet paper, but nothing seem to work? Consider this untraditional toilet paper holder for an ultimate backup!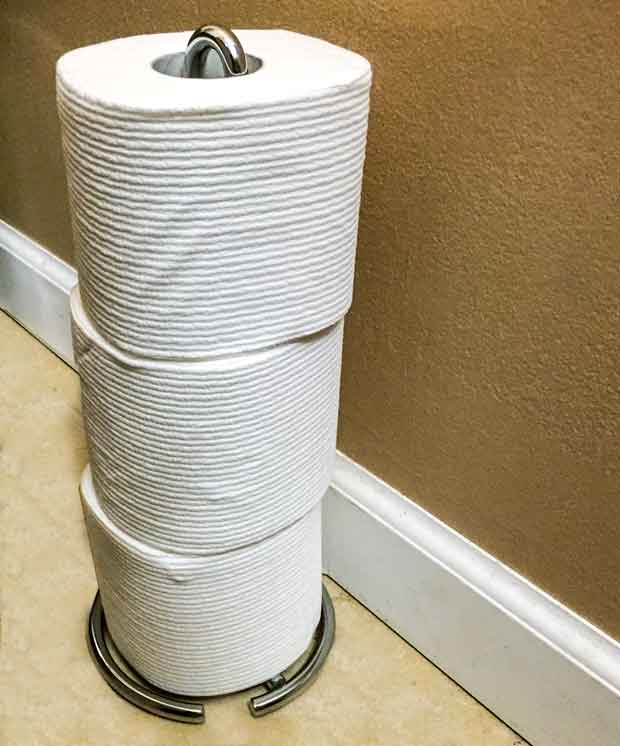 Clean Smart
There are thousands of cleaning hacks out there that not only make cleaning easier but also cut down on the time. Make sure you do some research to find ways to clean hard places a bit faster. A great tip found online is how to clean the oven. Everyone knows that it can be an hour just scrubbing away the months and months of buildup when it comes to cleaning your oven. But did you know that if you put a half a cup of ammonia in your oven overnight that in the morning you can just quickly wipe away all the dirt? No scrubbing necessary! Or that a squeegee is the best and quickest way to clean up pet fur? These are excellent, prompt and easy tips to get the most cleaning accomplished and fast.
For the annual clean and spring home essentials restock, Viva, Cottonelle and, Scott offer products, available at Walmart, that are go-to necessities to create a home that's spic and span. Viva® Towels clean more than just spills so you can unleash clean in your home. Smooth texture (like an undershirt cloth) Viva Towels are perfect for cleaning delicate surfaces like countertops and coffee tables, and even soft enough for the hands and face.
DID YOU KNOW?
Viva® Towels are so strong; you can wash dishes with it, dust baseboards, furniture and more.Viva® Vantage® is also strong enough to scrub off grime on stovetops, patio furniture and more with the cloth-like durability. Join their community on Facebook, Twitter, and Pinterest as well as check out Kimberly-Clark Family Care Walmart Website.
TIP:
Need to Clean Cooked-On Gunk from a Stove Top? Mix some baking soda with enough hydrogen peroxide to make a paste. Use a Viva towel to scrub the gunk off the surface.
Dirty Grates? Wash grates in hot water and dishwashing liquid. Use a scouring pad on noncoated grates. If this doesn't work, spray with a commercial oven cleaner and leave it outside overnight.
Laundry Basket and a Garbage Bags
You can start cleaning your home just by removing the clutter. This will give you the most spring cleaning bang for the amount of time. Gather all the items from each room that need to be relocated (such as toys or any other type of clutter) into the laundry basket. Everything that needs to be thrown away can go in the garbage bag. Having a clutter free home can make it feel like you have made a big spring cleaning difference.
Scott® 1000 bathroom tissue gives you the quality, performance and long-lasting value you want of 1,000 sheets. Learn more about Scott® 1000 on their website, Kimberly-Clark Family Care Walmart Website, Facebook, Twitter, and Pinterest.
TIP: Another use for a paper towel holder. Use it to create a garbage bag dispenser, but pull out a few bags from the middle of the pack!