I'd like to thank Visit Mason City, Iowa for inviting us to explore their fantastic city
Have you ever felt like traveling as a family blows your budget out of the water? I watch my spendings, but once I hit the road, the travel splurger in me takes over and makes a lot of unnecessary purchases. Touristy places are the worst – skilfully designed to empty my wallet, gift shops, restaurants, and visitor attractions call my name from every corner.
My solution? Take the road less traveled and go on the vacation to a place that wouldn't suffocate me with overpriced attractions. Surround me with locals – not crowds of tourists.
Mason City. To be honest I didn't know this town existed until the eight-seater plane landed me here a few months ago for a blogging conference. However, I have learned quite a bit about this place since then. And I came back here with the family for more fun. While you might not know much about Mason City, I'd love to tell you that vacation dollars go a lot further in this Northern Iowa town. To prove that to you I'd like to share a few budget-friendly activities my family fell in love with while visiting this town.
The North Iowa Fair
North Iowa Events Center grounds host a lot of events around the year. From Horse Shows to the North Iowa Fair, the event center stays busy, so plan your stay before leaving the house! I had a hard time booking a last minutes hotel right before the Fair opening.
The North Iowa Fair is free to enter, free to park at, and it is full of exciting experiences that won't cost you a dime. Hot Air balloons host a glow show steps away from you, and spectacular fireworks will keep you mesmerized.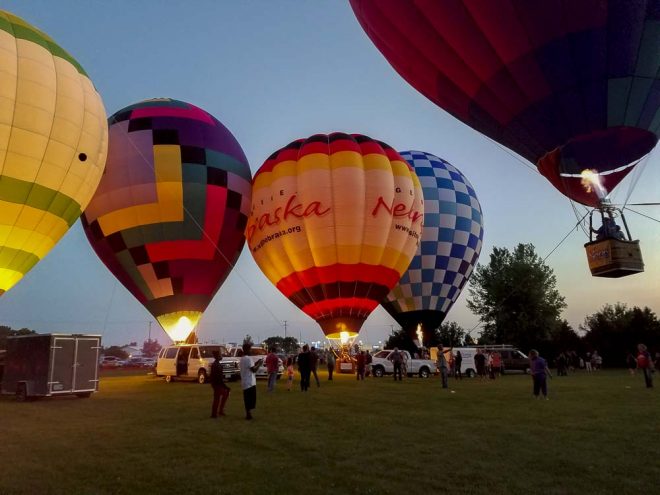 Remember Charlotte's Web? My kids looked for Wilber at the Swine Show – a unique experience we've never been a part of.
Most rides for kids here are FREE. Yes, you heard it right – ride until you drop! Other budget-friendly extras include a Jumbo $5 cup of hand-squeezed lemonade as well as five-dollar pony rides.
MacNider's Imagination Playground
Right outside of the MacNider Museum we spotted an open play. During the summer months, the Museum brings the blocks on the lawn. This interactive playground provides a hands-on experience for children and families. During the winter months, the blocks live in the museum, which is open daily except it is closed Sunday and Monday.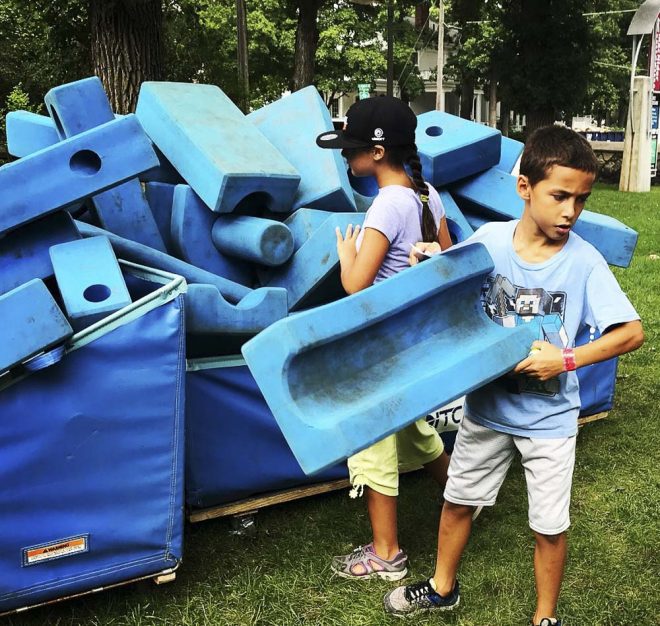 Aquatic Center
While this isn't a Waterpark, the Aquatic Center is a great place to chill for the whole family. Swim pools, water playground, and slides – a family of four can spend a lazy afternoon here under $15.
Cannonball 457
We love exploring all things history while traveling and the Cannonball 457 Steam Locomotive wasn't an exception. Built in 1912, this is the last remaining Minneapolis & St. Louis Railway steam locomotive that has been restored to reflect its appearance in the late 1920's.
On the verge of a total loss, the steam locomotive was restored in 2005 and now attracts crowds on the weekends.
Prairie Playground
Right next to the Cannonball 457 is a Prairie Playground that will let you kick back and relax while observing your little ones explore this wooden playground. The largest outdoor playground area in Mason City is located at the beautiful East Park and will keep your kids occupied at the unique construction.
With lots to do at the Prairie Playground, you won't probably see your kids back until they get hungry. I tried following my three-year-old but found out very quickly that he is a lot faster than me. I stepped back and observed from the distance my kids conquer and explore.
River City Sculptures on Parade
If you have a couple of hours for an adventure, grab the scavenger hunt map (I mean the printed route of the River City Statues on Parade). The booklet tells you about 53 statues currently spread around the downtown area. We challenged ourselves to visit as many figures as we can in one hour and mimic the images.
River City Sculptures on Parade is a 1.7-mile walk designed to lead participants on a looping route to the Cultural Crescent and back to the central core of Mason City. The sculptures are owned by the artists and loaned to the exhibit for one year.
5 Things to know about Mason City:
Drive or Fly?
Drive. Mason City Municipal Airport is only 10 minutes away. Air Choice One is the only airline that flies there, and it operates 8-seater planes. It's an exciting experience if you would like to try it and the tickets are cheap! If you are not into flying on small planes, then the drive from Chicago is about six hours
How Long to Stay Here
Six-hour is a great drive for 3-4 day vacation. Mason City has a lot to offer, but Clear Lake is right next to it too. That would make a great long weekend for anyone who lives in the Chicagoland area.
Will you need a car to get around?
You need the car to get around in this area
Family Activities:
The North Iowa Event Center – check their schedule and they often host fun family events
River City Sculptures on Parade – grab a booklet and have a scavenger hunt to discover all fun sculptures
The Music Man Square & Meredith Wilson's Boyhood Home – great stroll down memory lane
Local food not to be missed.
Suzie Q Cafe – in business since 1949 and serves a killer Spic-n-Span Tenderloins