There are so many variables in our everyday life. We don't know how it will change from one month. But here is one thing out of the few I know that takes place EVERY SINGLE YEAR – Halloween Celebrations!
I love browsing Pinterest boards looking for adorable ideas and end up doing nothing with it because I love simplicity… However, my kids are 4 and almost 6 are fully aware of the holidays, anticipate them and demand pre-holiday activities and I have no other choice, but join the army of moms, who actually make things for Halloween Celebrations.
Have I mentioned that I love simplicity?
Today we will talk about a variety of Halloween desserts your kids will love, you can make easy, and won't even need to fire up the oven.
And if you are not a fan of all things gross and disgusting, gummy worms is the grossest thing you will see here (just because I am not a fan of the vampire blood and chopped bloody hands). Also if you are making this Halloween recipes for toddlers, this has probably been a great way to show them the spooky part of Halloween without scaring them for life.
Set your working stage. Shop for the essentials, look for coupons, and go through your pantry for the other stuff.
MONSTER JAWS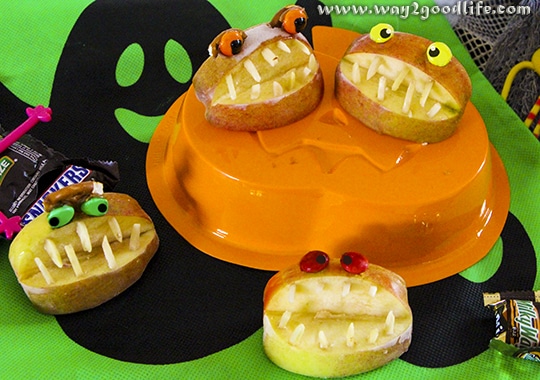 Cut your apples in quarters and take a wedge off the center. To prevent browning, dip them in water with a little lemon juice. I used slivered almonds for teeth, M&M's and pretzels for eyes and peanut butter for making eyes stay in place.
WITCHES HATS
I used dry apple circles to make these awesome hats, but you can also use a cookie for less healthy minded option. Any mini size chocolate candy placed on the middle would complete the shape of the hat. I've used Mars fun size and miniature candies. You can put it in the microwave for 10 second and molds it to the right shape. Cover the entire hat with peanut butter and decorate with sprinkles, tube frosting or anything else you find in your pantry.
MONSTER CREATURES
Let your imagination run wild with these little creatures.
I used fun size candies – Twix, Snickers, Milky Way, 3 Musketeers, and M&M's. Once again anything you find in your pantry can be used for decoration. Here I used – cut in half figs for wings, pretzels for tales, M&M's for nose and eyes, frosting for a tong, silvered almonds for claws and teeth, and so on
Unwrap your candies and place one on top of each pretzel. Put them in the microwave for 10-20 seconds for 3 candies. You will need to experiment, as each candy reacts differently to heat. 3 Musketeers will take less time than Twix and Sneakers. Ultimately you want a piece of candy to be soft and moldable without being sticky and messy. Once the candies are out, let your imagination run wild and get kids involved for creative ideas. Here are some designs we came up with.
DRINKS
Green Goblin Punch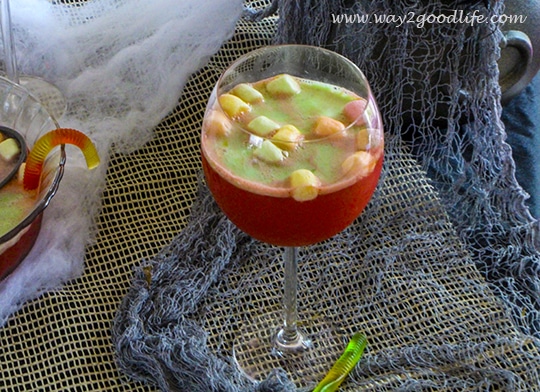 1/2 gallon Hawaiian Punch
1/2 gallon 7Up
1/2 gallon lime sherbet
1 bag mini marshmallows
Gummy worms
Mix Hawaiian punch and 7Up in a large punch bowl. Scoop balls of sherbet and add to punch. Add marshmallows and gummy worms to float in punch. Serve extra marshmallows, cherries and gummy worms as garnishes.
Bug Juice Halloween Punch
2, 12 oz.

packages

frozen strawberries, thawed
1, 6 oz. Hawaiian Fruit Punch (any color)
1 quart 7Up
1 cup raisins
1 cup blueberries, fresh or frozen
1 cup of gummy worms
In a large bowl, mash the strawberries with a fork or run them through the garlic crusher. Mix the strawberries, punch and 7Up in a punch bowl. Add raisins, gummy worms and blueberries (the bugs) into the punch mixture. The "bugs" will float to the top and make for a cool Halloween drink for the kids.
Want more recipes? Check out these bright ideas