Many years ago, my husband and I travelled to some kind of cool places. I always found it amusing just to take off and discover something new.
Fast forward ten years and we now have a family of five. When it comes to travel, we try to stick with highway journeys and our usual type of transportation is a minivan. It's my house on wheels, with plenty of room for the kids, the luggage, and other things I grab last minute on my way out.
However, on our last trip to Wisconsin with an 8-year old, 6-year old, and a 10-months old baby we had a new type of transportation waiting on our driveway.
A new Kia Sorento, an SUV with a third-row seat, looks like a great family vehicle that would be perfect for city living with tight parking spots and busy street driving. Was it a big change for us? A Huge One!
To be perfectly honest, in the morning of the trip my husband and I looked at the car and a pile of big bags, small bags, tiny backpacks and the kids with their winter coats. Can we fit it all in? Plus, we had an enormous stroller for the baby.
Loading a car was rather a creative project – with a third-row seat the trunk space decreasing the trunk space drastically and did I mention a stroller? We were surprised that we could manage to fit everything in without leaving a thing behind. We did it!
But the road to the next state was rather amazing – with a panoramic sunroof, any drive as an exciting sightseeing tour. The little one wasn't a fan of it, though –  the bright light bothered him. The rest of us thought it was pretty cool.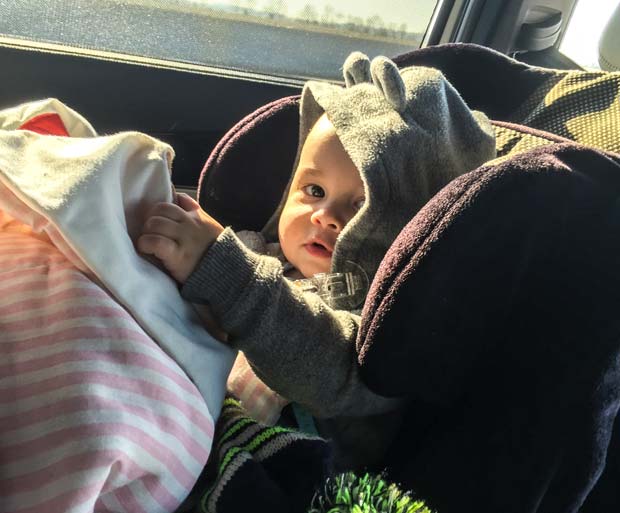 The 360-degree view came especially handy when parking and trying to get out of the small parking lots. It sure helped to know where your bumper is in relations to the things around us.
Another modern day favorite is a tablet – kids seem to think that ride in a car without one is just an absurd idea. Lucky us, Kia Sorento comes with a load of chargers including the ones for the USB wires. I loved the simplicity – no adapters required while my husband appreciated the fact that kids didn't have to argue over the outlets.
We went to the Wisconsin Dells and a House on the Rocks. It was a fun trip on the cool car and we had fun with it. Kids loved the second-row seats that went up and down whenever children needed to get in and out of the car.
This might not be the ideal car for our family due to our love for legroom and trunk space, but could totally see us driving this car when kids grow up a little and don't need big car seats and oversized strollers.