In years past, it used to be that cooking for Thanksgiving would take hours out of our days. Thanksgiving feast preparation has always been days-long event that has exhausted us before the big day even arrived. Hello, Instant Pot!
This list of Thanksgiving Feast Recipes for the Instant Pot is going to revolutionize your holiday! If you haven't yet used an Instant Pot, you will love the fact that it cuts down cooking time to a ridiculously low level and helps us save oven space for the Turkey and pie!
Thanksgiving Feast Recipes for the Instant Pot
If you haven't invested in an Instant Pot yet, now is the time! The 6-Quart 6-in-1 Multi-Use Instant Pot is a great option that works well for most meal needs, but if that is out of your price range, you may also look at the Crockpot Pressure Cooker that works similarly and has excellent reviews.
Easy Stuffing in the Instant Pot – This easy stuffing recipe takes only about 25 minutes from start to finish and comes out in the shape of a bundt pan which is unique and should get your guests talking.
Instant Pot Green Bean Casserole – This holiday favorite has gotten an Instant Pot makeover!
Mashed Cauliflower – Mashed Cauliflower is a must if you have any low-carb eaters at your holiday dinner.
Brussels Sprouts Gratin – This is a unique dish that you won't see on many Thanksgiving tables, but that's only because not many know how delicious it is.
Guinness Mac and Cheese – This Instant Pot Guinness Mac and Cheese is a yummy take on the old classic.
Garlic Butter Green Beans – These Garlic Butter Green Beans will help you spice up those boring green beans.
Cajun Shrimp Deviled Eggs – These Cajun Shrimp Deviled Eggs are a spicy, fun take on the classic.
Jalapeno Dip – This Jalapeno Dip will be a great addition to your appetizers and snack table.
Vegan Instant Pot Potato Salad with Green Beans – If you have a large group, it's good to have lots of side dishes. Potato Salad will be a hit.
Cranberry Sauce – Cranberry sauce is a Thanksgiving staple for many tables. It's so much better when it's homemade.
3 Ingredient Easy Instant Pot Dump Cake – This dump cake recipe can be made with pretty much any fruit.
Instant Pot Cheesecake – Cheesecake is remarkably easy to make in the Instant Pot.
Pear and Cranberry Cake – This cake brings together some of Thanksgiving's best flavors.
Pumpkin Cheesecake – It's just not Thanksgiving without a pumpkin flavored dessert!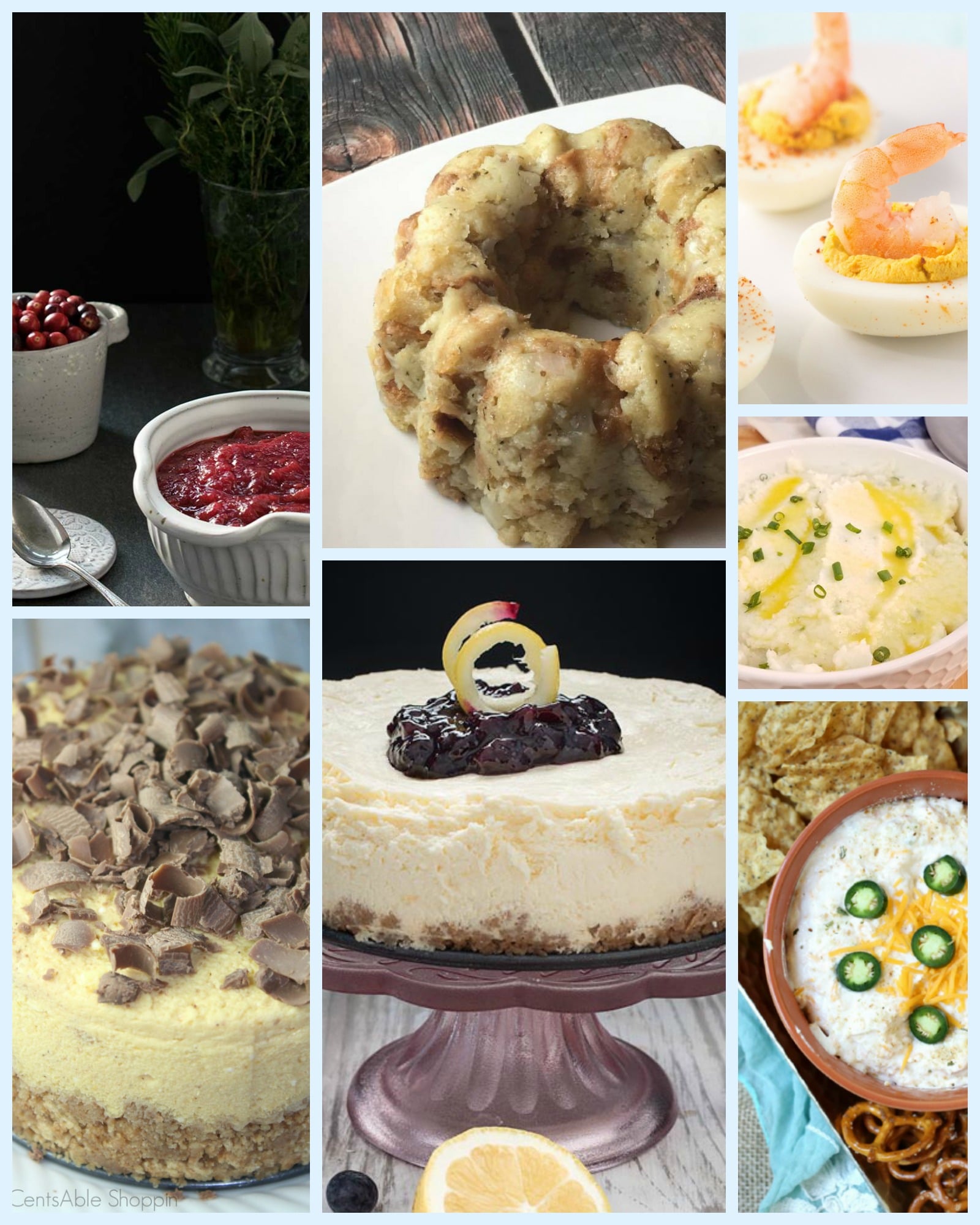 This list of delicious recipes is ideal for your upcoming Thanksgiving feast with friends and family. From the best side dishes to your classic holiday desserts, you'll love this list of recipes. Prep ahead, and use the fast cooking times involved with a great pressure cooker that will totally revitalize your holiday meal preparation!
More Thanksgiving Tips:
8 Quick Thanksgiving Treats Anyone Can Make
How to Create a Thanksgiving Sweets Buffet
Fun Things to do in the Fall Outside
Fall Activities to do as a Family