Sometimes sitting around the table waiting to eat the delicious food can seem like it takes forever. During this waiting time, why not have kids read some Thanksgiving Poems to help pass the time?
This is an excellent way to bring the family together while giving thanks and thinking about what they are blessed with throughout the year.
We hope you love these poems as much as we do and will enjoy reading them this Thanksgiving Day with your family.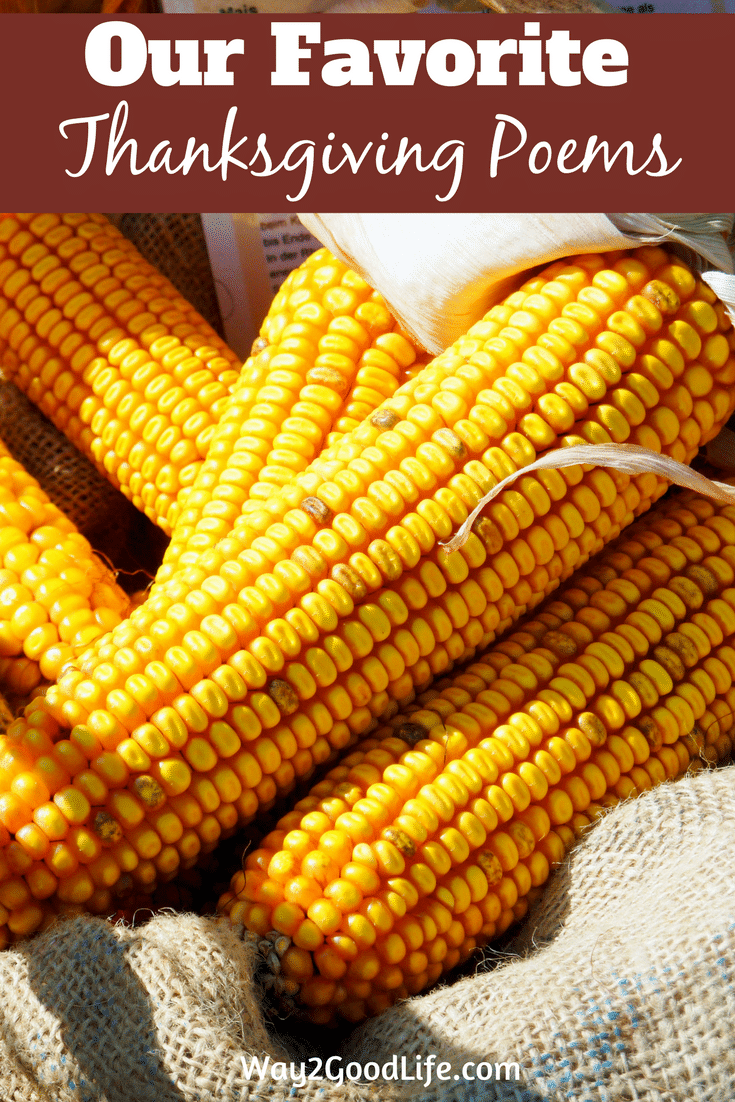 Our Favorite Thanksgiving Poems
Thanksgiving Poems for Younger Children
Gathered Again has some wondrous ideas for younger children. There are 5 simple rhymes they can learn to quote ahead of time. This makes it easy to get them excited about being part of the big holiday table.
These can also be printed out and added to simple place mats or other decor ideas that have been homemade by your children.
If your children like doing skits and plays, then this list of fun little poems and finger plays on Child Fun is ideal! Your kids can learn these poems easily, and then share them with the whole family!
A great craft that includes a Thanksgiving poem is this simple Turkey Handprint Craft from Simply Kinder. It's a great idea to get kids involved and keep them happy while you prepare dinner.
The Classroom Creative has a great list of Thanksgiving resources. Their printable Thanksgiving Poem is a perfect addition to a homeschool classroom or to keep kids busy. If you want a complete study or reading list, they have tons in their shop!
Historic Thanksgiving Poem
If you are looking for something with a more historical significance, then you want to check out the Thanksgiving poems for kids over at Kids Love to Know.
These are better for older kids, or even adults to share at the holiday table. Their focus is more on the first Thanksgiving and history of America.
Thanksgiving Poems for the Whole Family
Holidappy has amazing options, but we personally love their Thanksgiving poems that are focused on easy to remember rhymes. I love these to add to the table or print out as a great holiday decor idea!
If you want a funny poem the entire family will love, then look no further than to Mom Made Foods for her own unique rendition of a "night before" Thanksgiving poem.
For a unique twist on Thanksgiving poems, check out Hello Poetry for ideas submitted by various poets around the world. Many of these are not well known, so you may find a unique poem that nobody has ever heard before!
Funny Thanksgiving poems like the ones over at Classroom Poems are a perfect way to break the tension with a mixed family event. Everyone knows it can be hard when you have family coming from all over the country for the holiday.
These will break the tension, and make everyone have a good laugh.
As you can see, there are tons of great ideas for sharing Thanksgiving poems with your family this year. Gather around the table and remember to take a moment to be thankful.
More Thanksgiving Tips:
8 Quick Thanksgiving Treats Anyone Can Make
Thanksgiving Treats: Simple and Easy Candy Corn
How to Create a Thanksgiving Sweets Table
How to Make a Vegetable Turkey