My kids usually do very on the Halloween night, and I try my best limiting their sugar intake. The result – a bag of candy for me. If you find yourself in the same boat wishing you can put Halloween candy to good use; I have a few ideas. I have to say upfront my creations are not perfect, but I just tried to think what I had around the house (so I don't end up spending more money making these treats). I will tell you what worked and what didn't.
I started with going through my pantry and buying a couple of things – some are on great Halloween clearance.
You will need an oval cookie shaped like a corn cob. I found some cookies that resembled the shape and reshaped few round rice cakes with a knife.
Best Kernels are M&Ms and Skittles, but we also used Gum Drops and whatever else resembles the shape.
A can frosting can make an excellent eatable adhesive, but I also found a butterscotch Snack Pack pudding cup so that we can try both.
Corn leaves might look good with fruit chews. I only had the red one, so I will use that, and I wanted to give it a try with Airheads
After assembling your corny candy, put it in the freezer for a bit to preserve the best shape
Corny Candy #1
INGREDIENTS:
Cinnamon Crisp cookie, white vanilla frosting, Skittles, and red fruit chews
MY THOUGHTS:
I think it is a great combination and it sure makes a cute Indian Corn
Corny Candy #2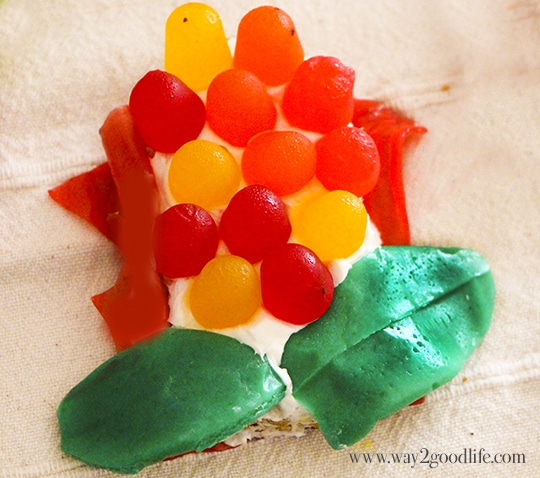 INGREDIENTS:
Rice cake, vanilla frosting, gum drops, Airheads and possibly some fruit chews
MY THOUGHTS:
The Very festive looking object, but it looks more like a convention of traffic lights than it does like corn. I like the Airhead leaves (I did use scissors), and by the way, a rice cake with vanilla frosting is delicious.
Corny Candy #3
INGREDIENTS:
Rice Cake, Snack Pack pudding, M&Ms, red fruit chews and some leftover green chew
MY THOUGHTS:
Pudding doesn't freeze well and even after 24 hours in the freezer is still quite messy. It also ruined candy dye, so the whole corn doesn't quite look the part. Definite fail.
Corny Candy #4
INGREDIENTS:
Cinnamon Crisp cookie, butterscotch pudding, random round candy, and Airheads
MY THOUGHTS:
This one looks a bit better. Does it look like corn? Mmmmaybe. The Leaves look great, but the butterscotch pudding makes everything move around way too much.
Corny Candy #5
INGREDIENTS:
Cinnamon Crisp cookie, butterscotch pudding, Skittles, and Airheads
MY THOUGHTS:
I think this is my best corny candy – Airheads make awesome leaves, Skittles would work perfectly for the small cinnamon cookie.
Look around your house and those Halloween candy bags –
The perfect combination might be right in front of you.