My son got a pair of rockingly awesome shoes from Pediped
he is rocking in this article and yes, we will talk a little about it at the end.
I am a mother! I live for the age stages and benchmarks of achievements. While the older kids are climbing the mountains of knowledge, their younger brother is doing a whole lot of learning of his own. Just last year we mastered turning, sitting, and solids – happy time for mommy and a baby (he was very frustrated with laying on his back all day long). However, this year is a jump from "The happy mama of an adorable baby" to a "Holly Elephants! We have a toddler in a house!!!" He is stubborn, very vocal, demanding, overly independent – and he can show all these awesome qualities at the same time.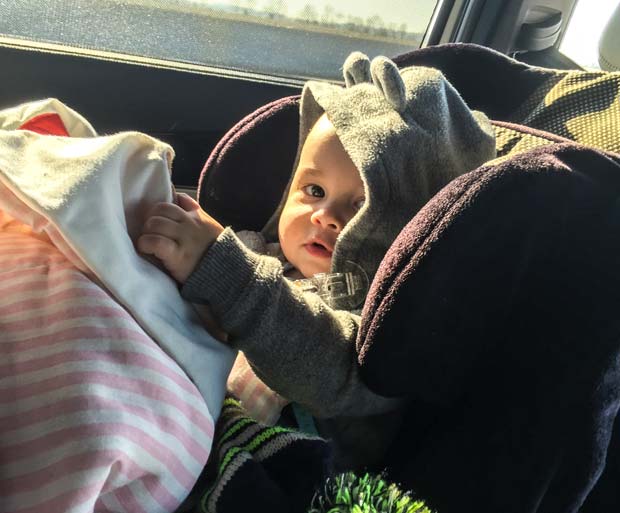 Toddler the Terrible
I've been blessed with an incredibly stubborn child. No, it isn't just a toddler thing (and I have two others to compare with) – it's something this little dude embraces on a whole new level.
"What? Do you want me to sit in my high chair? NOOOO! I am hungry. Stop trying to sit me down. I don't want to! Don't you understand the language of screaming. I am telling you I.WANT.TO.EAT. Stop pushing me into this high chair NOOOOO! …. uhmmm, what is it in my mouth? Yummm! AAAAAA! Where did the "yummy" go? URGGGG! Get this spoon our of my mouth! Where is my "YUM"?
I Want You. I Want You Not
The little dude wants to be the center of attention, but with two other kids in the house, it is hard to get noticed. That is why my lovely son came up with a technique we call "I want you. I want you not" He would spend the longest time standing by the baby gate trying attract attention by throwing things at me, demanding for the things to be delivered back to his play area, shaking the gate, and sometimes just screaming. However, the minute I approach the gate to comfort him, he runs away to the furthest point of his play area, falls on the floor and laughs.
I want to Walk
My child has recently discovered that he can get pick where he wants to go if he walks instead of rides in the stroller. Lucky us – we have a great backyard with anything a toddler could wish for (and a mom would freak out about) – green grass, plenty of sticks and broken branches, flying grocery bags, and adorable accents on the neighbors open patios.
No, Mom! I want nothing to do with you at the moment. Take your hand? Thanks, but no thanks! I have my own things to do, neighbors to see, decorations to break. You always complain you don't know most of our neighbors. See me go and try to keep up – we will call is speed meeting. How many patios do you think I can visit before dinner?
And you plan to visit all the neighborhood patios, you might as well do it in style, wouldn't you agree? My little one sure is a stylish one and anything he doesn't like, he takes right off! Here is his latest fashion find (I found it and he agreed to keep it on his feet) – Pediped Originals sandals!
The soft, flexible soles of Originals® are recommended by pediatricians and podiatrists because they allow children to closely mimic barefoot walking. Originals® are made of the highest quality leather on the market today and also feature a soft foam insert between leather layers. They are so comfortable, your child will not want to take them off!
Love our shoes? Check this rocking pair of shoes out online and see all other styles