The reviewer has been compensated in the form of a Best Buy Gift Card
and/or received the product/service at a reduced price or for free
Little kids and Technology: they get it young, they absorb the knowledge with incredible speed, and they can't seem to get enough of it. Growing up in 80's in Russia, I dream of the day we would have phone landline. Attending college in early 90's I had to spend some extra time in the lab waiting to get one the computer running Windows 95 (because it was so much cooler than Windows 311). Fast forward to 2016 and my 8-year old daughter wants to get an SIM card for her phone, my 6-year old son wouldn't let me have back my iPad, and when it comes to the 1-year old, he is all about YouTube (that seems to be the only thing that works for toddler meltdowns).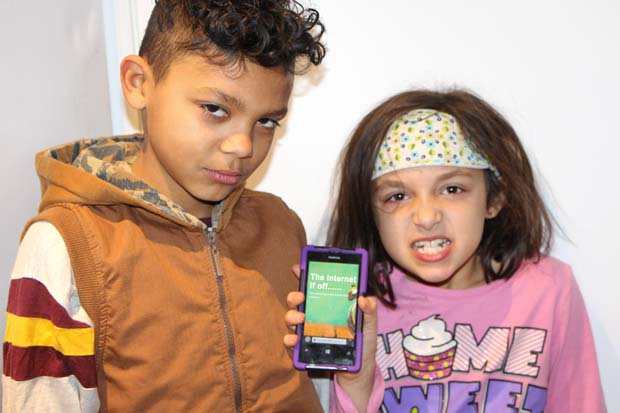 Love it or hate it, technology rules the world and we can either crawl back under the rock and dream of floppy disks and typewriters, or we can embrace the new age technology and learn how to make our life easier.
Today let's talk about three ways of handling technology and helping us make it through our kids' toddler years.
Toddler Proofing
When it comes to proofing the house most of us are well educated on different types of baby gates, bumpers, and knob protectors.  But how about the electronics?
With limited living room space, every additional gate decreases the square footage of the actual walking area. After my daughter had attempted to climb our large entertainment center, we decided to go for the simplicity – ditch the entertainment center, hang the TV up high and use a simple shelf for storage of all the electronics.
Untangled
I don't know about you. but I seem to have too many wires running in all the different directions to make sure we have everything available at our fingertips – DV player, WII gaming unit, a TV, as well as the power sources for each device. And this is the view from the playpen – it literally sends a toddler this message: Pull me. It will be fun!
If you want to avoid the temptation, consider My Wireless TV. It wirelessly connects HDTVs to most HDMI cable/satellite set-top boxes, Blu-ray players, and consoles up to 150 feet away, even working through walls and floors.
That means that you don't even need a shelf anymore. Since all the devices not longer need to be to connected to the TV, place them wherever it is convenient for you (your office, under the couch or in the basement) and have a fully controlled My Wireless TV.
You get the flexibility to network your home exactly how you want to, without investing in an expensive wiring project or string wires throughout your hallways.
Dora to Go!
Years ago we switched from the cable to the mix of Hulu, Netflix, and Amazon and our kids grew up with the sense that anything they want to watch is ready to stream at the click of the button. Imagine my daughter's disappointment when she entered the hotel room, grabbed the remote and exclaimed – I want to watch Dora! Unfortunately, the only thing available on the TV was Sponge Bob, and we had to deal with a very upset toddler.
Thia day and age you can now have a different solution to this problem that would convert any hotel TV into our entertainment system on demand with a Screenbeam. ScreenBeam Mini2 wireless display receiver gives you the power to mirror anything wirelessly from your phone or tablet onto your HDTV:  video & audio, pictures, apps, presentations, and much more.
Use ScreenBeam Mini2 to share virtually any local or online content. Beam movies, videos, music, games, applications, presentations, documents and more.  Enjoy better quality with a dedicated wireless connection directly to your HDTV!  You don't need an existing Wi-Fi network or wireless router for ScreenBeam Mini2 to work.
@BestBuy @screenbeam #BBYactiontec #ad